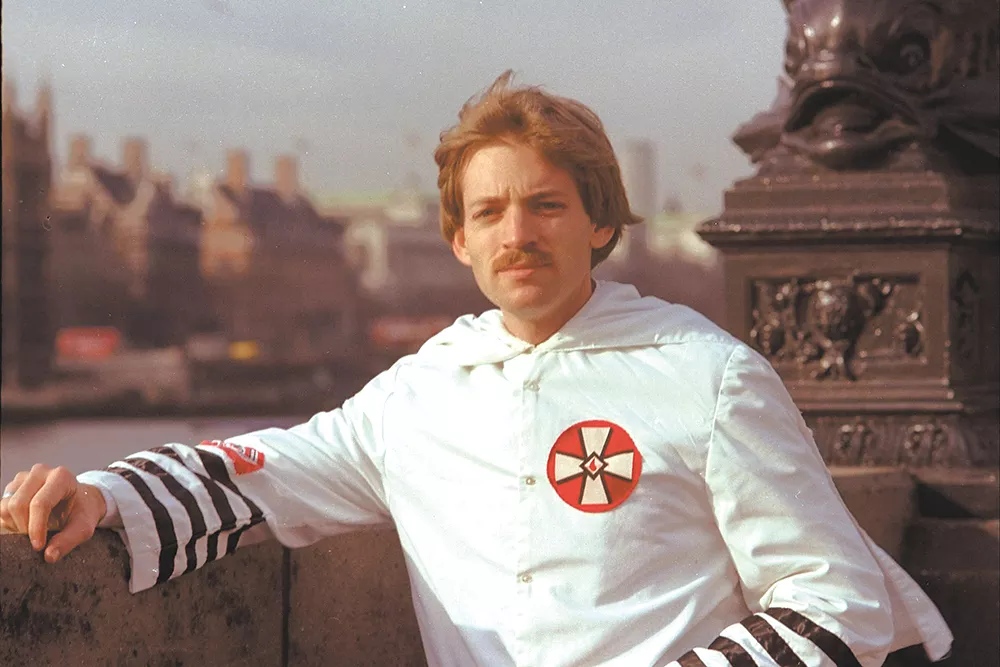 Even before Donald Trump ran for president, he was the most prominent voice in the conspiracy theory that the nation's first black president was not, in fact, born in America.
The birther movement, as it's called, continued after President Barack Obama produced his birth certificate in 2011. Trump only last Friday announced that he now believes that Obama was born in the U.S. But polls show that more than half of Trump backers still think Obama is Muslim — an idea, for many, that's driven by racism.
As Trump has risen as a presidential candidate, so has the idea that people are feeling more comfortable expressing racist or xenophobic views. Trump may be directly or indirectly responsible for this, or it may be that his message, through no fault of his own, has struck a chord with a portion of the population that his campaign says it can't control, like former Ku Klux Klan leader David Duke.
Some Republicans take it a step further, arguing that it's the fault of liberals and "political correctness" that has caused a backlash and more radical views on both sides.
"We have had to become so politically correct that people are starting to push back," says Spokane County GOP Chair Dave Moore.
Hate groups have been on the rise ever since Obama was elected to office, Spokane NAACP President Phil Tyler points out. And Trump, Tyler says, gives these groups a platform to speak about the issues they feel are not being heard.
Tyler isn't alone in this idea. A Quinnipiac poll found that 59 percent of Americans think Trump "appeals to bigotry."
"I think his xenophobic rhetoric really has changed the way we have political discourse, and you see people really being able to speak out about their true feelings," Tyler says.
Tyler says you won't need to look far to find rhetoric that wouldn't have been spoken before Trump. In March, for example, a Kennewick city councilman wrote on his Facebook page, "I went to Yakima today. Now I know why Trump wants to build a wall." The councilman, Bob Parks, issued a partial apology and explanation for the comment. But Tyler says that kind of language impacts people of color, and that today's politics has allowed people to voice those kinds of opinions.
Tony Stewart, of the Kootenai County Task Force on Human Relations, says the way Trump has talked about minority communities has been harmful to children and caused more bullying at young ages. That sentiment is echoed by a report from the Southern Poverty Law Center that found the campaign is producing more fear and anxiety among children of color and inflaming racial and ethnic tensions in the classroom.
"Words and language are extremely impactful," Stewart says.
Moore, the Spokane GOP chair, says that Trump's campaign isn't about racism, it's about a broken political system that has people angry. Even so, he says the majority of people he knows do not have racist thoughts or feelings.
The problem, he says, isn't Trump or the Republican Party, but "agitators coming in from the other side." When Trump came to Spokane, Moore says he saw that in action. It was the protestors "trying to create problems on the street."
But the language and violence at Trump rallies, as captured on video by national media outlets, can be extremely offensive in many cases. In the past, Trump has encouraged these actions. When a white man punched a black protester at a North Carolina rally in March, Trump backed his supporter, John McGraw, who was charged with assault.
He blamed the protester for instigating the violence, ignoring the evidence of multiple eyewitnesses, videos and reports contradicting that.
"He was swinging, he was hitting, and the audience hit back," Trump said. "And that's what we need more of." ♦