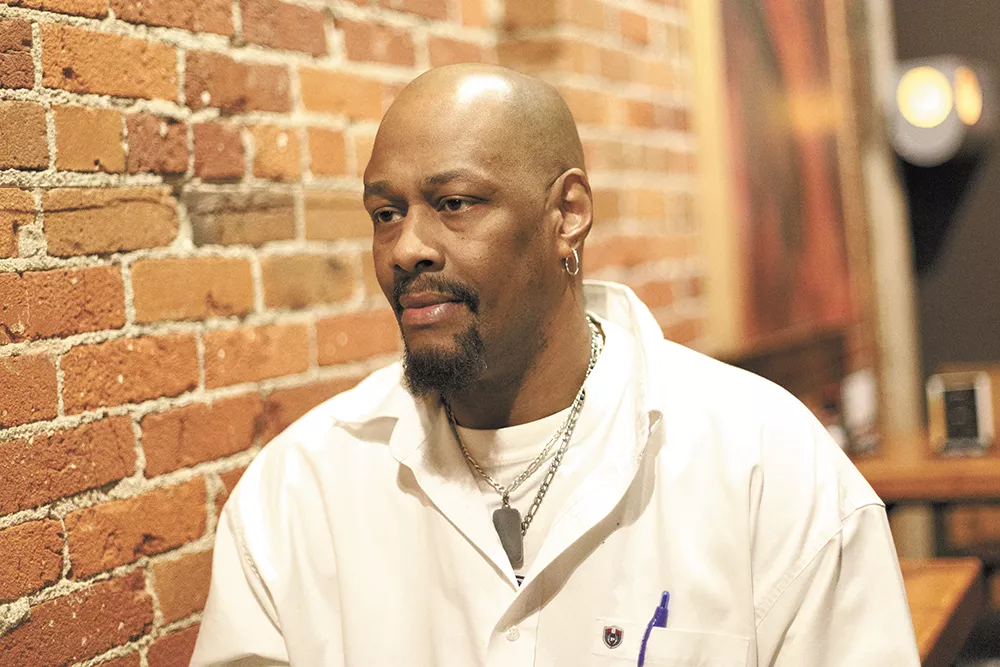 Rod Harvey breaks a chunk of feta cheese into little square pieces and lays them out on a black bar napkin at a table at Zola. The 48-year-old, a senior chef at the downtown bar and restaurant, works with the off-white cheese almost every day. He laughs at the irony.
"This is what crack looks like," he says, pointing to the six pieces of cheese slightly smaller than dice. "This woulda been a good $100 back in the day."
Harvey's crack addiction started in Tacoma in 1989. He was on his way home, he says, when he spotted a young woman walking in the pouring rain. He offered her a ride, and she introduced him to a small, dirty rock that changed his life forever. For the next 20 years, his addiction dragged him up and down the country. It destroyed his relationships with family and friends — some beyond repair — ended his seven-year Navy career, landed in him in jail, sucked up entire paychecks and controlled every decision he made.
Since he can remember, Harvey has carried a pen and pad with him. Even with his mind clouded by the drugs, he recorded everything: the break-ins and robberies, the women in sleazy motels, the court hearings, running from the police and his time in jail. For 10 years he worked to organize those notes into what is now his self-published book, "Crack, Love, N Pain," a brutally honest 280-page glimpse into the mind of an addict.
Harvey says he started the book in 2000, 11 years after that first hit. It took another decade to finish, and after several rejections from publishing companies, he decided to do it himself. The stream-of-consciousness style takes readers through Harvey's life and how he eventually beat the "monster" that ruled his thoughts.
"There are usually two ways out of crack addiction: prison or death," Harvey says. "Once you do it that one time, you give the addiction the control. Most people don't know they can cut it loose."
He hopes his book will show others how.
That first time didn't take much convincing. The woman told him to try it once, and if he didn't like it, he wouldn't have to do it again. She showed him how to pull the smoke from the makeshift aluminum foil pipe. The sensation was instant. They smoked a "twenty" and went to buy some more. Although he claims he didn't use again after that night for almost a year, he says he was hooked.
Harvey's narrative tells of nights spent going back and forth from crack houses to rooms he'd rent by the hour. By morning, an entire week's wages would be gone. There were times he'd drive around high for hours with his young son in the backseat. He didn't want to go home to face his wife. He tells of building a cave in the woods to hide from police who suspected him of rape, and of the time he was shot trying to cheat a dealer out of some money. But rock bottom was when he started stealing from his mother. Swiping $20 or $30 at first soon turned into writing himself $500 checks from her account.
"The thing is, it wasn't even painful at the time," Harvey says. "It was soulless."
Not until 2005, during a nine-month stint in a Mississippi jail, did Harvey shake loose from his "monster." He was serving time for burglary and attempted assault when his ex-wife, Sharron Myers, sent him Joyce Meyer's Battlefield of the Mind.
"That book made me realize I had a problem with thinking," he says. "It taught me how to change the channel in my head."
He claims to have been clean ever since he got out.
Although the addiction destroyed Myers' relationship with Harvey, she recognizes the huge transformation he's been through. She remembers that Harvey used to disappear for days, sometimes taking their children with him. He was always asking for money and neglected his kids, she says.
"Every time he would come back, it was a different story," Myers says. "Car broke down, or something. Typical drug addict stories."
The biggest change Myers has seen is in the relationship with his children. Chelsea Harvey, their daughter, has developed a great relationship with her dad.
"I think he's trying to right a lot of his wrongs," Chelsea says. "He's a good dad and a good granddad."
Harvey, who has sold about 800 copies of "Crack, Love, N Pain," hopes that one day it will end up in prison libraries throughout the country. You can order his book from Amazon, or from his website, sowministries.webs.com. He also self-published two other books and is working on a few more, including a children's book. He hopes to tell his story in schools and prisons throughout the country. Along with his 22-year-old son, D'Angelo, Harvey also hopes to open a nonprofit to help addicts in Spokane.
"These past five years have been the hardest of my life because I'm in reality now, and I wasn't then," he says. "Our goal is to change someone's world. Maybe not the world, but someone's world." ♦