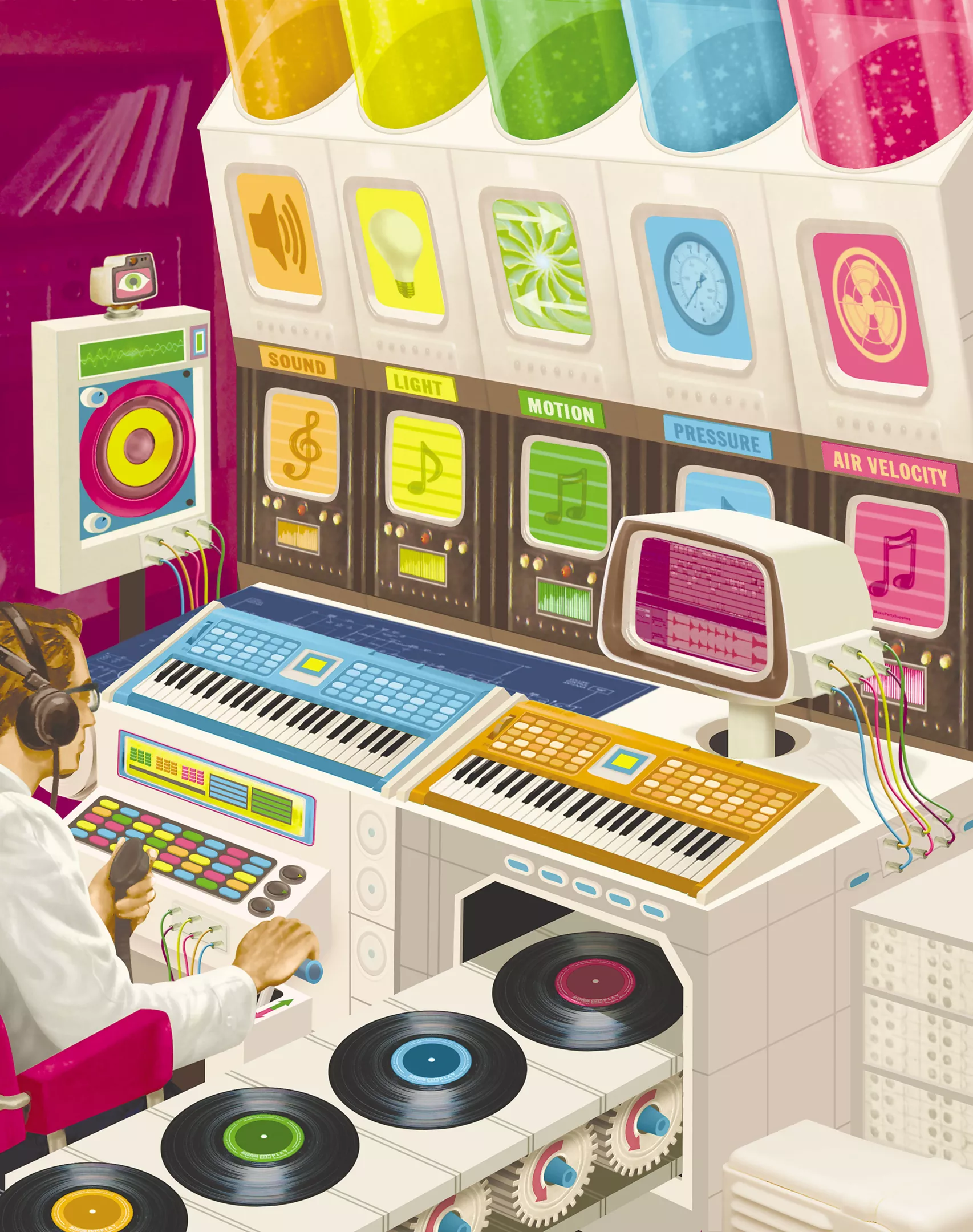 Brent Edstrom is a jazzman. His mind was never satisfied with the confines of classical piano, his chosen instrument, but within jazz music's infinite improvisation, there was pure freedom. These days, the Whitworth University jazz studies professor has taken musical interpretation to greater heights, crafting devices that are sensitive to light, breath and touch.
Last month, in his cushy North Spokane basement, his eyes brighten while talking about the process of making his own sci-fi-looking microcontrollers. Introduced to Arduino (pronounced "ardweeno") technology about four years ago, the Whitworth music theory/composition coordinator saw potential to take his music to new heights. He was soon hooked, tinkering away on the palm-sized circuit boards at all hours. He says that his family, friends and colleagues, while supportive, haven't all exactly understood his new passion. This is a labor of love.
The simple hardware materials cost about $20; it was the knowledge to build and work on the open-source prototyping platform that took time — especially applying it to music, a somewhat unexplored frontier. A computer programmer since the 1990s, Edstrom says it was still a complicated medium to learn and understand. Arduino technology, which has existed for about a decade, is often used for mathematical and robotic projects. When Edstrom started with it, there was not one blog or website devoted to the process of applying this to the standard MIDI (Musical Instrument Digital Interface) technology.
"A lot of my life right now is a result of my search for better information on this topic," Edstrom says.
So much so that he wrote the book on the subject.
At 456 pages, Edstrom's hefty April release, Arduino for Musicians, could probably crack a few skulls. But the length is necessary. Edstrom understands that many of the terms used in his tome seem foreign to those taking the leap into the technological side of crafting music, and he purposely wrote it as a how-to manual. He gives readers the building blocks, then teaches them how to construct the controllers.
So far the 51-year-old has created a custom XY touchscreen controller, MIDI hand drum, and breath/joystick controller, all of which can manipulate sound in ways acoustic instruments can't to create distinctive pitches, keys and tones.
Edstrom says that his work has the possibility to open new doors for those who aren't considered musicians in the classical sense — like people who can't read music, or may not have the best ear. Edstrom, who holds a master's degree from the prestigious Eastman School of Music and has composed and arranged for the publishing giant Hal Leonard for decades, would have every right to get snobbish about popular music today. Yet he's not as concerned about so-called bedroom DJs, who often make beats with just the help of a MacBook Pro, "ruining" music, as many pop culture critics have asserted.
"If it's an authentic expression, I would count it as music," he says. "A computer can be an instrument. I've heard artful music in every genre. I don't know that I see a huge difference between using a keyboard or another interface. A nontraditional way of creating sound, that can certainly come from music."
Through the use of Arduino technology he sees a new frontier of sound, one that he hopes to soon pass along to his college students and even infuse into the songs of his current jazz group, the Brent Edstrom Trio. He says the microcontrollers he's created probably aren't patentable, but even if they were, that's not the point. Instead, he wants anyone with a computer and a musical inkling to be able to try their hand at composing.
"I'm all for democratizing that process," he says. "There's pro and cons. In higher ed we have the standards that we teach to, but it also closes doors to other forms of expression.
"I see this product as democratizing the hardware as well," Edstrom continues. "So now a person can envision a unique controller. I can use my breath or light. You can envision something that's not even available commercially. And now have a new way of creating that music, and that's the part I get fired up about."
Edstrom says he doesn't foresee technology ever completely replacing traditional instruments. A computer can never sound as miraculous as a 100-piece orchestra, or duplicate the raw emotion of a classic rock recording. We'll still always want that human element, he says, but when it comes to electronic instruments or acoustic ones, it doesn't have to be either/or.
Experimental jazz musician Pat Metheny recently performed at Whitworth, using technology similar to Edstrom's, along with keys, brass and woodwinds. The show gave Edstrom hope for the future.
"I was right in the middle of the book at that point," Edstrom recalls. "When you're working on a book, you have so many doubts, and it was affirming to me to see a world-class musician using this technology. It gave me encouragement that I was on the right track, that there are people who are interested in this." ♦