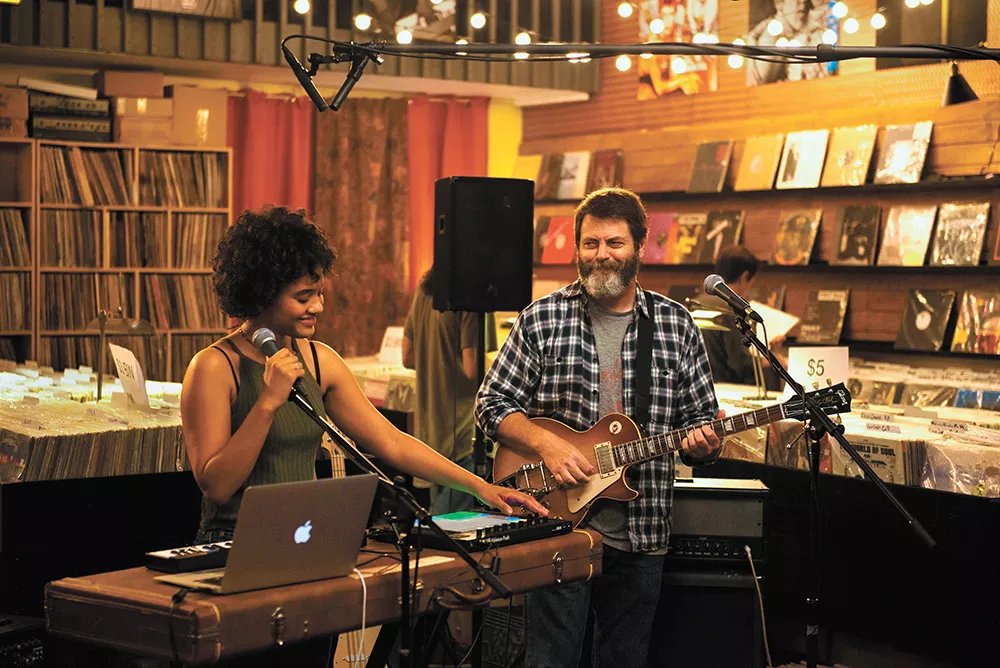 There's nothing hip about the sanitized, gentrified Brooklyn portrayed in Hearts Beat Loud, and the same applies to Brett Haley's cozy greeting card of a movie. Hearts is pleasant and sweet, with a warmth that is tough to dislike, but it's also wholly insubstantial, sometimes barely even qualifying as drama. That's mostly forgivable when the characters are as appealing as record store owner Frank Fisher (Nick Offerman) and his teenage daughter Sam (Kiersey Clemons), both of whom are facing crossroads in their lives.
Decades ago, Frank had a promising music career that never took off, and now he's having a quiet sort of midlife crisis, preparing to close his store after 17 years in business, thanks to declining sales and rising rent. Sam is about to move from Brooklyn to Los Angeles for college, with the goal of becoming a doctor. But both of them are drawn to making music: Frank to recapture the glory days he never quite got to enjoy, and Sam to express the feelings that she too often keeps hidden away.
One night Frank convinces Sam to join him for a "jam sesh," and they compose and record a suspiciously polished and professional-sounding indie-pop song called "Hearts Beat Loud," which Frank surreptitiously uploads to Spotify (key scenes in this movie could be edited down into a particularly heartwarming ad for the streaming service). Even more suspiciously, their song somehow lands on an official Spotify playlist alongside major indie-pop stars, and Frank becomes convinced that they should follow the musical dreams that he's been putting on hold.
Haley and co-writer Marc Basch satisfyingly invert the typical aspiring-musician narrative by having Frank be the one to encourage Sam to postpone college in order to sign a deal with a small record label and go on tour, and the movie's most rewarding thematic concern is the way that parents can use their kids to pursue their own unfulfilled ambitions. The tension between Frank and Sam is pretty mild, though, and there's never any real danger that they might not do what's best for both of them, or that their strong father-daughter bond will be harmed.
Both father and daughter get their own romantic subplots, too, with Frank exploring a potential connection with his very forgiving landlady (an underused Toni Collette) and Sam striking up a summer fling with a quirky art student (American Honey's Sasha Lane). Frank and Sam live in a sort of effortless melting pot of tolerance, which may not be entirely realistic (even for ultra-progressive Brooklyn) but is nevertheless refreshing, giving the movie a gentle undercurrent of social commentary without actually having to make a specific statement.
Instead, Haley focuses on emotions, and the persistent undercurrent to the story is the loss of Frank's wife and Sam's mother, a musician who once played in a band with her husband and who died in a bicycling accident when Sam was a child. The pair's musical efforts are as much about honoring her memory as they are about creating something new, and there's a catharsis to their final performance that brings together grief and love and celebration, as both prepare to move on to new phases in their lives.
That also means that the movie stops cold for long stretches to deliver full original songs, although it's structured less like a musical and more like a music video. The compositions by Keegan DeWitt are catchy and memorable, albeit not quite believable for a couple of amateurs throwing something together in their apartment. Frank and Sam's rise to indie semi-stardom (under the cutesy name We're Not a Band) is the movie's least convincing element, and Haley is better at creating low-key hang-out moments (Offerman has great chemistry with Ted Danson as Frank's stoner bartender best friend) than he is at depicting the vagaries of the music business.
Like Haley's previous films, I'll See You in My Dreams and The Hero, Hearts coasts on the likability of its characters, and Offerman and Clemons are both immensely charming, with Offerman delivering a more low-key version of his typical macho goofball persona. Frank and Sam are lovely people to spend 90 minutes with; you just might not remember much about them afterward. ♦