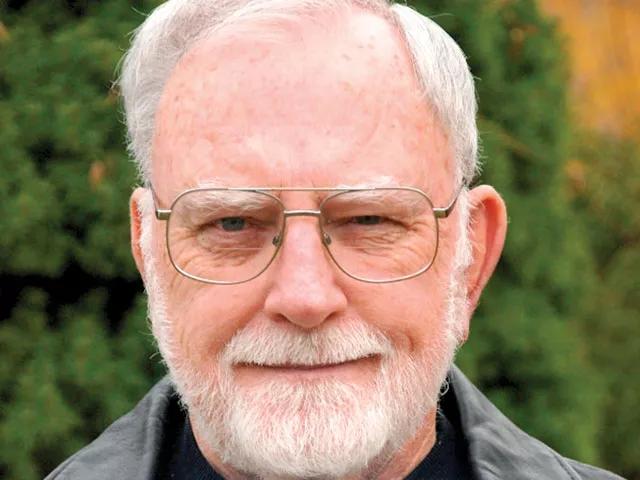 I met Pat McManus at a log cabin-style Western restaurant, which seemed fitting considering his more than a half-century of writing outdoor humor. We sat for a while talking about writing, his days freelancing for the local news, and bad movies and TV. He can't stand Criminal Minds.
He talked a bit about editors — who, in McManus' description, come off somewhat like the wild animals in his stories. He told me about a time early in his career when an editor called asking when he was going to get McManus' latest column, already overdue. It hasn't arrived yet? McManus replied, acting astounded at the state of the postal service. The editor was happy to hear it had been mailed and asked what it was called. It's called… McManus began, frantically looking around the room for a title to give his unwritten, not-even-thought-out story, "'The Green Box'…." He quickly realized how hard it is to write a story about a green box.
When foraying into mystery writing after a lifetime in the odd genre of wilderness shtick (population: one), McManus decided to write the story before showing it to anyone. Initially, that didn't help much.
The first publisher passed on the exploits of Sheriff Bo Tully, concerned that it was too "soft." There are no swear words or any graphic sex in the book, only "implied activity." McManus preferred to rely on the reader's imagination, and eventually found a home at Simon & Schuster. It turns out the approach is just the right amount of "soft": The series' first two novels sold very well.
The recently released third book, The Double-Jack Murders, follows Sheriff Bo Tully through the eccentric and fictional Blight County, Idaho. The protagonist finds himself searching for elusive killers while surrounded by gorgeous women, including a beautiful FBI agent helping him with the case. McManus explains that in his novels, the women are always interested in the middle-aged detective:
"See, this is fiction."
He's switched to mysteries for a liberating change of pace. "With [mystery] novels, the humor can come as kind of a surprise," McManus says. "If you're writing short humor, that's the whole point of the story."
McManus says he still doesn't know how his work is going to turn out until it's in front of an audience or on a bookshelf. But he thinks he'll probably be writing for the rest of his life. "You don't have to be too sharp," he says, to be a writer.
At the least, though, you have to be persistent.
Pat McManus reads from The Double-Jack Murders at Auntie's Bookstore, 402 W. Main Ave., on Sunday, Nov. 22, at 12:30 pm. Free. Visit auntiesbooks.com or call 838- 0206.