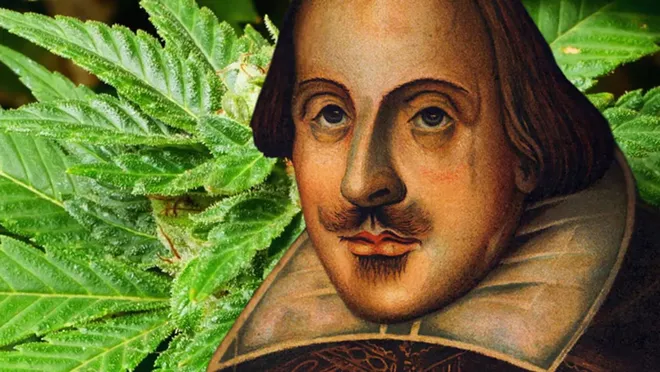 William Shakespeare wrote "A rose by any other name would smell as sweet" in Romeo and Juliet. To update the phrase, a strain of marijuana with a cringeworthy name will still get you high.
Though there are plenty of strains with mouthwatering names (Blueberry Cheesecake, Orange Creamsicle, Girl Scout Cookies, etc.), there are more than a few that seem like a hard pass at first glance. But despite their terrible names, these strains still get the job done.
Purple Dog Shit: It's hard to ignore a strain that smells like its name, but Purple Dog Shit, the hybrid of Dog Shit and Purple Urkle, also captivates smokers with a flavor that's earthy, with just a hint of grape. Depending on the environment in which the strain was grown, it can have a high level of CBD, a non-psychoactive cannabinoid that helps ease pain, inflammation and anxiety.
Cat Piss: This is another strain that requires users to ignore the smell and focus on the high — a mellow, uplifting mental high and subtle body high. The sativa has a nice blend of sweet and sour flavors, with a touch of earthy pine. Cat Piss clocks in with a THC level of 11 percent.
Sharksbreath: This indica-dominant hybrid of Great White Shark and Lamb's Bread/Lamb's Breath trades its nautical moniker for an aroma that's more reminiscent of sweet-and-sour candy. Users swear by this strain's ability to produce an alert, driven high that allows them to take on the day, with no signs of depression or anxiety in sight.
Purple Monkey Balls: This indica-dominant hybrid lives up to the first part of its name with a purple hue throughout the bud that hints at the grape aroma. Tastewise, users say this sweet strain has hints of pine and berry. Purple Monkey Balls, believed to be a mix of a Northern California purple strain and an indica from Afghanistan, is great for deep, end-of-the-day relaxation and can also help relieve chronic pain.
Alien Asshat: Grown by Seattle's Sky High Gardens, this hybrid boasts an out-of-this-world THC content, which results in a powerful bout of euphoria. As if the high it produces wasn't enough, users are also fans of the strain's earthy, citrus flavor. The folks at Leafly.com recommend that cannabis newbies start small with this cosmic strain.
Manitoba Poison: This strain definitely doesn't have the worst name on the list, but it's still a little unnerving to think of consuming something with "poison" in the title. This 50/50 hybrid is more indica than sativa, with a quick dose of deep relaxation, accompanied by a fresh, woody aroma. ♦