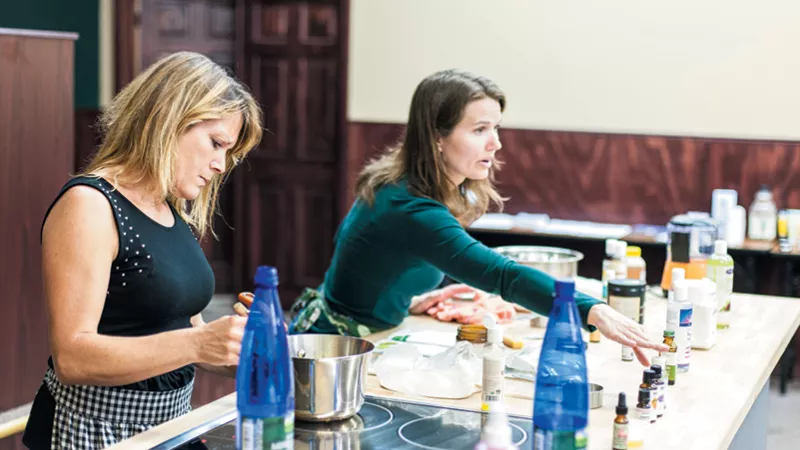 Trying to read aloud some of the ingredients listed on the back of a shampoo or lotion bottle, or even a tube of toothpaste, is a little like speaking a foreign language. Whether synthetic or naturally sourced, these compounds are generally unfamiliar to the average consumer.
Still, not knowing what these ingredients do or where they come from isn't stopping most people from using their tried-and-true lotions, deodorants, soaps and cosmetics on a daily basis.
But many may be surprised to learn that the U.S. Food and Drug Administration doesn't pre-approve cosmetic products (other than color additives) before they're marketed to consumers, though it does regulate cosmetic labeling. There are a handful of ingredients — nine to be exact — prohibited for use in cosmetics in the U.S. That number that pales in comparison to the nearly 1,400 banned for use in the European Union.
If that concerns you, and you want to know exactly what is in the products you use on your skin, the best solution may be to make your own.
On a recent Thursday afternoon as the the hot summer sun sank over the sparkling blue water of Lake Coeur d'Alene, Sue McMahon hauled pots and pans and armloads of products off the shelves of Pilgrim's Market's health and beauty department into the store's spacious health education center.
Later that evening, McMahon, Pilgrim's health and beauty department manager/buyer, and Jen Plum, the store's supplements department manager, will help a group of DIYers learn how to make sunscreen, mouthwash, foot cream, bubble bath and toothpaste from natural oils, herbs and butters.
As the two set up for the evening's instructional presentation, McMahon explains some of her own personal reasons for ditching the common makeup, soap and hair care brands found on grocery and drugstore shelves.
"Anything that has a really harsh smell — nail polish and nail polish removers — anytime you need to open a window, that's a sign it's bad," McMahon says. "But I would say anything that you leave on your body for an extended time, those are the more important things to switch [to chemical-free], like lotion and deodorant."
McMahon, who before joining Pilgrim's Market reviewed and blogged about personal care products' ingredient cleanliness and safety, also cautions against using any type of product containing a synthetic fragrance.
Because of current U.S. Food and Drug Administration cosmetic labeling rules, manufacturers aren't required to break down all the ingredients that go into making a product have a pleasant scent.
The Environmental Working Group, a Washington D.C.-based environmental health research and advocacy group, claims that tests have shown an average of 14 or more compounds per fragrance formula, none of which is required to be listed on the product label.
The biggest concern with scented products centers on a chemical group called phthalates, which in animal studies have been shown to disrupt the reproductive system, says Erika Schreder, a researcher with the Washington Toxics Coalition, a Seattle-based environmental advocacy group.
"Phthalates are used as plasticizers, and in personal care products there's diethyl phthalate, which is also used in vinyl curtains and flooring," Schreder says. "There is concern about exposure to adults because we're exposed to [phthalates] from a lot of different sources."
Schreder agrees with McMahon's advice not to use products containing synthetic fragrances whenever possible.
"Avoid fragranced products and find a brand or two that you trust, because it's really hard, every time you want to buy something, to do a full analysis of the ingredient list," Schreder says.
Phthalates aren't the only chemicals raising concerns among natural-product advocates. In recent years there has been plenty of negative hype surrounding parabens, a group of preservative and antimicrobial substances used in makeup, lotions and other products. A study published in 2004 in the Journal of Applied Toxicology suggested parabens could be linked to breast cancer. Though the FDA has dismissed the study's findings as lacking credibility, the EWG and Washington Toxics Coalition continue to maintain that these preservatives may interfere with hormones.
Some cosmetic companies aren't waiting for more definitive results — they've already started removing parabens from their products, McMahon says.
But for attendee Laura Sankovich, that's not enough. She likes knowing exactly what's in her personal care products, and as a bonus having some fun. "I enjoy making the products, and saving money. Conventional products have a lot of garbage in them, like parabens, etc. … I don't want my daughter or me using them if possible."
As the evening winds down, the recipes seem mostly foolproof — except for some sugar wax that didn't get sticky enough. The dozen students take home samples of all the homemade concoctions, as well as recipes and the know-how to duplicate them at home.