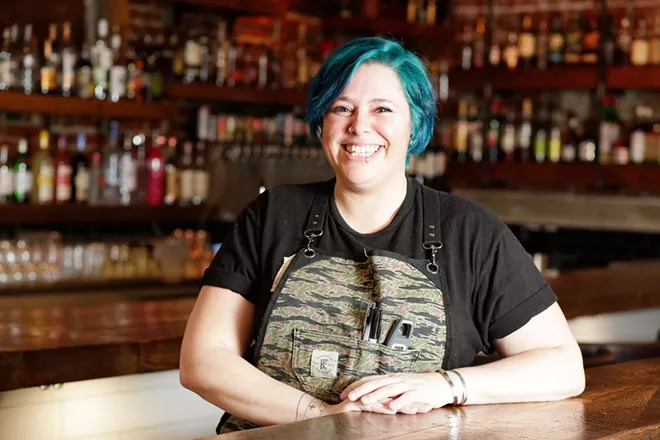 Chef Kadra Evans took over the kitchen at North Hill on Garland several months ago, and has since been bringing creative weekly fresh sheets and a Friday pho special to the small restaurant and bar in the heart of the Garland District.
Before North Hill, Evans worked in the kitchens of Cochinito Taqueria, Clover, the Wandering Table and other local eateries. Mostly trained on the job, Evans got her start in the culinary industry about two decades ago as general manager of a now-closed Asian eatery on the South Hill.
We stopped by to chat about what influences her cooking, what's coming up at North Hill and more. Responses have been lightly edited for clarity.
INLANDER: Tell us about your current role, and how you got here.
EVANS: I've been sous chef for a few places around town, now it's back to being a chef at North Hill. I learned from some of the best [chefs] in town.
I live a block away, and bought my house 15 years ago. When North Hill first opened, I was so excited to have a nice bar with better options of food, not just sandwiches and fryer food. When it opened, they were doing pizzas and nachos and sandwiches, which you could get down the street. I said 'I want to take over your restaurant and make it match the front of the house.' We have great cocktails and craft bartenders, but the food should match it in the back. We're in the process of changing the menu.
We do fresh sheets every Wednesday, and those step outside of the box of what's around here. We also do Pho Fridays; it's my favorite to cook, and I do a lot of catering for just pho.
Who's a chef you look up to, and why?
Travis Dickinson [Cochinto Taqueria]. He's been the most influential chef I've worked with. He's such a great guy; so nice and so informative, and he teaches things in a great way. He never makes you feel stupid for learning.
What's a dish or ingredient you hated as a kid, but love now?
Brussels sprouts. That is my favorite thing to do now. Even for Thanksgiving, I do a creamed Brussels sprout with chicken liver pate. My family was like 'that sounds so awful,' and they love it and make me bring it every year. I was very picky as a child, but now I try everything.
What's your favorite kitchen gadget?
Probably the immersion blender.
What's the hardest thing about your job?
Getting consistently good cooks with the cost of labor going up, and trying to get them hours. For me, personally, it's been a little tough to get my name out there, being in smaller restaurants and not under the big chefs like Jeremy Hansen or Adam Hegsted.
Name one restaurant in the Inland Northwest you return to over and over.
Ruins.
Where would you travel just for the food and why?
Vietnam. I really want to learn the food straight from the source, since that is one of my favorite things to cook. I plan on going there in the next year, and hope to try all the street food.
What's next for you, in five to 10 years?
To own my own restaurant. Here in Spokane, in the Garland District.
What's coming up with North Hill in the next few months?
We're doing a Pacific Northwest-focused menu. Even though not all the products will come from here, locally, the idea is more seafood. There's not really anything in the neighborhood or close to us doing seafood.
We're doing a six-course bitters dinner on Jan. 19 with Skidmore Alchemy bitters. I'll cook with the bitters and they'll make cocktails.
Brunch is new on Saturday and Sunday from 10 am-2 pm.
We're also teaming up with Kris Kilduff for Secret Burger on Feb. 6. [Evans is making a Vietnamese "phoritto"; find details and tickets, $18, at secretburger.com.] ♦
North Hill on Garland • 706 W. Garland Ave. • Open Mon-Thu noon-11 pm; Fri 11 am-1 am; Sat 10 am-1 am; Sun 10 am-9 pm • facebook.com/drinkeatnorthhill • 279-2054