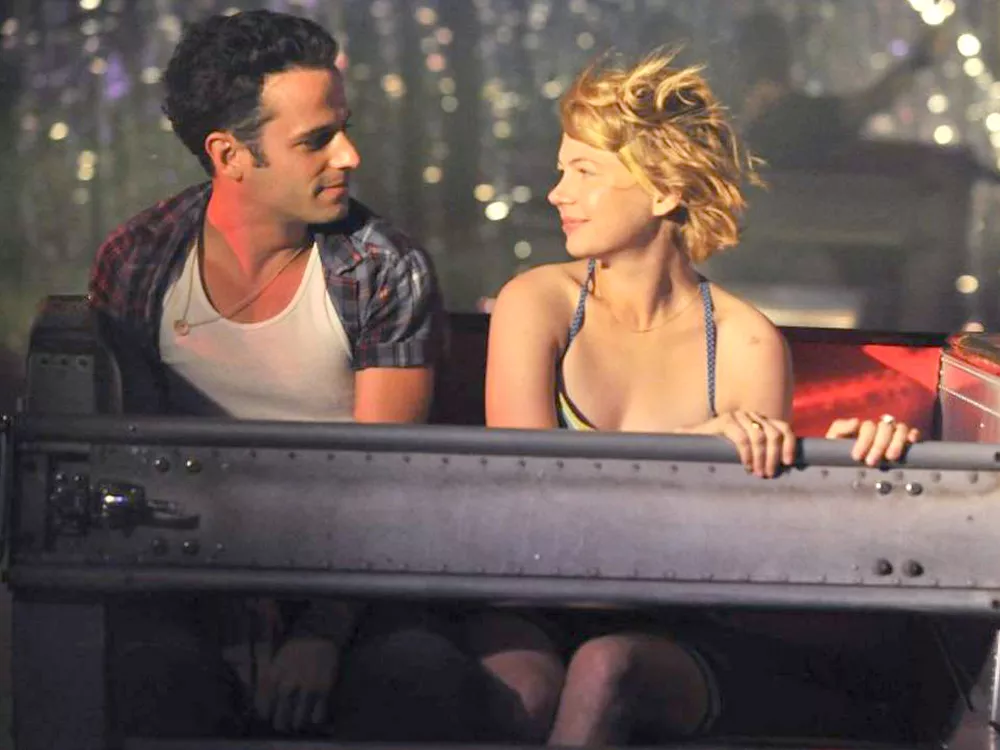 A
n awkward young woman
(nerdy, aspiring writer) meets a not-at-all awkward man (artist, rickshaw operator). They are drawn to each other on a flight from somewhere on the coast of Canada back home to Montreal. They share a couple of meaningful glances. She watches him sleep. They share a cab home. When he hears her address, he says he'll be able to walk to his home from her stop.
Sexual tension builds. At the end of the cab ride, she tells him, in a rush of anxiety, that she is married. He says, "that's too bad," and walks into the building across the street.
Michelle Williams is in the flush of back-to-back lead-actress Oscar nominations (Blue Valentine, My Weekend with Marilyn). Critics, with justification, call her the best actress of her generation. Her work in Take This Waltz — as the awkward young woman, Margot — displays the other end of her range beautifully. Where Marilyn Monroe and Cindy, her character in Blue Valentine, display a kind of ease with life that belies their inner trouble, Margot's nerves and uncertainty live uncomfortably on the surface.
All three of these characters seem congenitally unhappy, though, and have a notion that there is a void in life that must be filled. All three bring varying degrees of ruin by trying to fill that void with a person. Partners. Friends. Lovers.
What makes Margot's plight unique is that there's nothing wrong with her husband, Lou (played with characteristic Seth Rogan-ness by Seth Rogan). He's every bit the nerd that she is. They have endearing couple games they play together that verge on the absurd or the annoying, but they both seem to love them. They're a good couple.
Like all couples, though, they're not always in sync. Her needs are not always his, and their life together begins to feel prosaic to Margot — especially compared to the encounters she begins to have with the artist next door.
Writer-director Sarah Polley does a good job of taking a polished idea and roughing it up with the minutiae and nuance of relationships. There's nothing new about the adultery angle, but Polley deftly crafts Lou and Margot's relationship. There are enough foibles and missed connections to make her malaise understandable, and enough expressions of love to make the audience think she's crazy to stray.
The film is a hodgepodge of clashing cinematography that mashes mumblecore realism with some truly surreal dreamlike sequences. It feels disjointed, but by the final scene, Margot riding a tilt-a-whirl alone at night, you realize disjointed is exactly what this film needed.