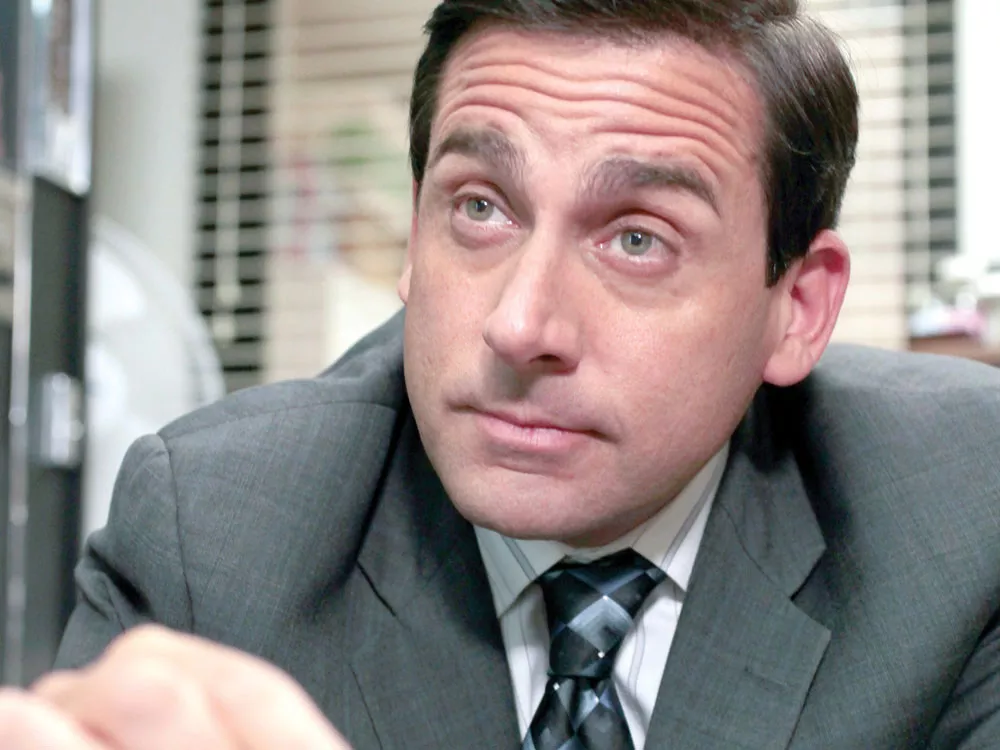 "It is my responsibility as manager of this branch to profiligate great ideas," said Michael Scott (Steve Carell) in Season 5.
'Profiligate' killer TV ratings for NBC is more like it — but not for much longer.
Change is nigh for an Emmy-winning mock-reality show about an attention-seeking boss, his gaggle of quirky employees and a company that produces limitless paper in a paperless world.
What we're witnessing this season is the end of an era, essentially. The seven-year reign of Michael Scott, self-proclaimed "World's Best Boss," is coming to a close.
Deciding not to try to replace the irreplaceable, producers have decided The Office can survive without its star. Yet with that comes the inevitable downsizing of comedic attributes specific to Carell himself — attributes that heavily define the nuances of the show's humor.
Scott's fondness for idiosyncratic analogies ("Business is like a jungle.
And I am like a tiger. And Dwight is like a monkey… that stabs a tiger in the back with a stick"), butchering of axioms ("I'm an early bird and a night owl. So I'm wise and I have worms"), song-parody writing and confounding ineptitude for social propriety have coined myriad Office moments.
Likely, the next regional manager of Dunder Mifflin won't be naive enough to look for Gaydar online, or think "Dink and Flicka" is legit hood slang, or equate "hotel concierge" with "geisha."
Enjoy it while it lasts, people.
The first two episodes of Season 7 garnered laughs, but the flow is notably disjointed, with a handful of dead-energy lulls and unnecessarily awkward (not funny-awkward) moments. Michael spanking the incompetent intern? Meh.
A bigger draw this season is the increased spotlight on supporting roles and mini-subplots, like Andy's (Ed Helms) participation in a Scranton community production of Sweeney Todd, the fact Dwight now owns the office building and the fallout from Pam's (Jenna Fisher) gutsy self-promotion to office administrator.
I think Carell's ideal replacement, to be incorporated later this season, would be Glee star Jane Lynch. I just hope it's not sales rep Todd Packer (David Koechner). His asininity is better in small doses.
The promised return of Michael's goofy soul mate, Holly Flax (Amy Ryan) — along with confirmed appearances by psychotic ex-lover Jan Levinson (Melora Hardin) — is what I'm really holding my breath for. It could be pretty big.
That's what she said.

The Office (Thursdays, 9 pm, NBC)
---
TIVO-WORTHY
30-Rock live episode
Filmed in famed studio 8H (home to Saturday Night Live), there's no telling what could transpire when Tina Fey, Alec Baldwin, Tracy Morgan and the 30-Rock gang go live (there's two broadcasts; East Coast viewers get the first at 7:30). Fey and Morgan are SNL alumni; Baldwin is a seasoned host. It was only a matter of time. (Thursday, Oct. 14, 11:30 pm, NBC)
Beast Legends
Secretly, I do wish flying dragons and griffins and krakens existed. And I don't care who knows it. Beast Legends indulges nerd fantasy by exploring lore, cultural significance and anatomical logistics of a different mythical creature each episode — then builds a replica and creates computer-animated footage for eye candy. There's no overarching purpose … but who needs one? (Thursdays, 1 am, Syfy)
Sister Wives
TLC loves unusual families; so it's not surprising they've tapped into the "multiple wives" Pandora's box, exposing the rarely seen dynamics of a polygamist household. That's not something you get to see every day. It's kind of like Growing Pains. With a triple dose of estrogen. Or Big Love … with the same amount of estrogen. (Sundays, 10 pm, TLC)