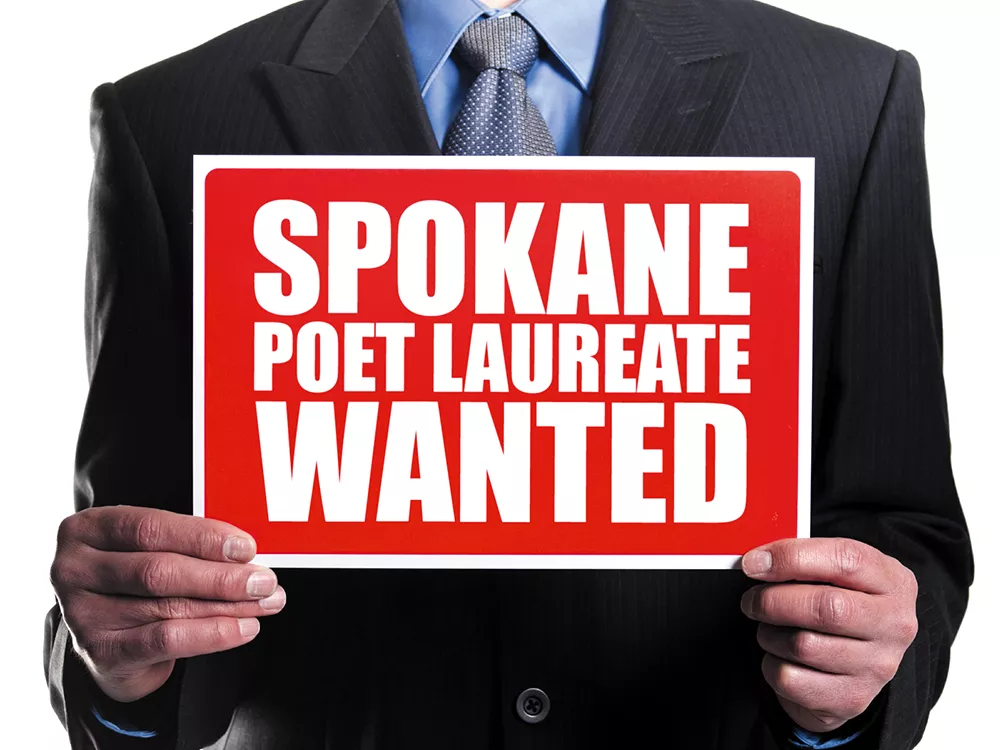 Spokane is making its love affair with the written word official. For the first time in the city's history, someone will soon be able to put the words "Poet Laureate" after their name.
The Spokane Arts Commission is following the example set by other American cities and naming an official wordsmith to represent the values, society and environmental setting of their hometown. Both Los Angeles and Houston have long employed a poet laureate. Closer to home, you'll find a poet laureate in Boise, Idaho. The state of Washington also has its own resident poet, a position currently occupied by Kathleen Flenniken, a former engineer who once worked at the Hanford nuclear site before diving into the literary world.
The position here in Spokane, which is taking applications through Aug. 20, is the pet project of City Council President Ben Stuckart, who also serves as a board member of the arts commission. Stuckart says he can see this writer being a key element of the city's cultural structure.
"I envision it as someone who is going to be writing specifically about Spokane," says Stuckart. "If you have a big convention in town, I'd like to bring Spokane's poet laureate with me and he or she could read a poem about Spokane. It's a way we can give ourselves some literary identity."
This isn't a full-time job, and the chosen poet doesn't get an office or even a name tag. But it's not merely an honorary title, either. The two-year term of Spokane's poet laureate requires that he or she, in exchange for a $2,000 annual stipend, write original poems for three different events each year while also serving as an advisor to the literary community. The poet laureate would also be expected to select a list of reading recommendations to be disseminated by the Spokane Art Commission and the Spokane Public Library.
Karen Mobley, the program manager of the Spokane Arts Fund, says that the naming of a poet laureate comes during a boom in the city's literary scene. Poetry readings and spoken-word slams are more popular than ever; youth creative writing programs are taking off. At the same time, recent years have seen local writers like Jess Walter and Sherman Alexie become international literary giants.
Mobley feels the poet laureate could serve as someone who students and younger writers could look up to.
"I think that in this case the poet laureate has a chance to be a mentor, but also a literary civic spokesman," says Mobley. "I think there will be opportunities for young people to see this person, whereas in the old days we'd think of poets and writers as being sort of quiet people who sit in a room — and they can be — but artists and writers do a lot of other things. In many cases in this community, we have people who can be signifiers for a greater cultural change."
Mobley can readily rattle off a long list of local writers she thinks would be a good fit for the job, but she's nevertheless excited to see what sort of names roll through the application process. The only requirements for the job are that he or she be an established poet and currently reside in the greater Spokane area.
Whoever is chosen, Stuckart sees it as a chance to build on the literary reputation Spokane's writers have already contributed to the community.
"I'd love to see us — with the writers we have here who've been writing for so long — to build on the years of work they've given us," says Stuckart.
To apply for the poet laureate position, applicants must send a résumé and between four and six poems to artshelper@visitspokane.com by Tue, Aug. 20.