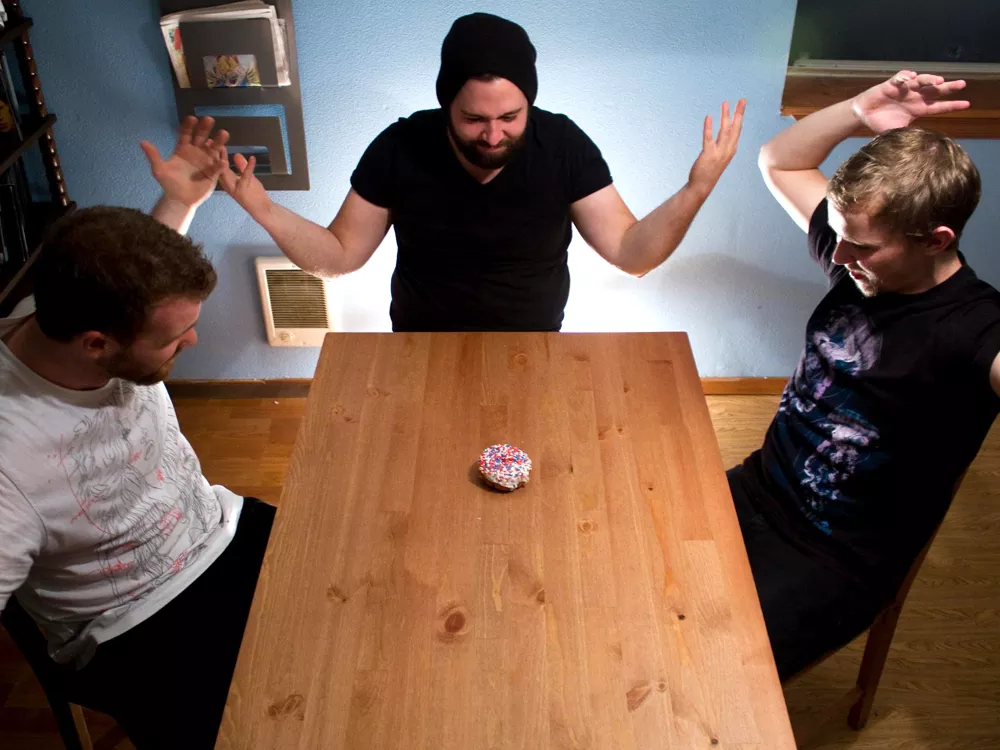 W
hen I e-mail Chris Scott,
guitarist and vocalist for Beaverton, Ore. band Bearcubbin', about setting up an interview he's enthusiastic. But his reply ends strangely: "If you wanted to talk to Mike, he won't be back for (another week) but you can call then if desired."
Now this is unusual. The Mike in question is Bearcubbin' drummer Mike Byrne. And the reason Byrne isn't available for another week is because he's over in Asia touring with his other band: The Smashing Pumpkins.
Scott and Byrne formed Bearcubbin' in 2009 and have been the band's two constant members ever since. Bearcubbin' began with a melodic math rock sound in the vein of Maps and Atlases but, over time, morphed into something much heavier and more angular. The group's latest release, the aptly named Get Your Heavies Out, makes no effort to hide the fact that Bearcubbin' is informed by bands like These Arms Are Snakes.
Bearcubbin' is a band centered on its instrumental sound: compositions are driven by Scott's frenetic and jagged guitar riffs. Songs bob and weave endlessly due to frequent and abrupt changes in tempo — but it works flawlessly, thanks to Byrne's deft stick work.
It's a sound the pair has perfected in the gaps between Byrne's work with the Pumpkins. But Scott says that's something he's used to by now: A mere four months after the Bearcubbin' formed, the then 19-year-old Byrne was selected by Corgan to be The Smashing Pumpkins' new drummer. Corgan dug a video Byrne submitted as part of a nationwide search to replace longtime drummer, Jimmy Chamberlin. Because Byrne is constantly being summoned away by Corgan, it's very difficult to set up a Bearcubbin' tour. In fact, the first Bearcubbin' tour never materialized.
"The whole thing fell apart when Mike told me we had to cancel because Billy Corgan was like, 'Oh, we have to be doing demos in Los Angeles during the time that you're supposed to be on tour.' And he told him super last minute in Portugal. So I had to cancel all the dates," Scott says. "And the crappy thing is they didn't even go to do demos. Mike was home during the time we were supposed to go on tour."
For his part, Scott doesn't begrudge Byrne's dominance of the band's schedule. Thankfully, Scott isn't just wasting away when Byrne is traversing the globe with Corgan and company. He studies electrical engineering at the University of Portland and eventually plans to use what he's learning to build amps and pedals.
For now, Scott is fine being "that guy in the band with The Smashing Pumpkins drummer."
"I do my best not to trade on his name and be like, 'Hey, he's in The Smashing Pumpkins, so we deserve this.' I do my best not to use his job as a way to launch this band," Scott says, starting to laugh. "Because I really think that people who are into The Smashing Pumpkins would f---ing hate Bearcubbin'." 
Bearcubbin' with Drag Like Pull and Richard Dryfish • Fri, Aug. 24, at 8 p.m. • Mootsy's • $5 • 21+ • 838-1570