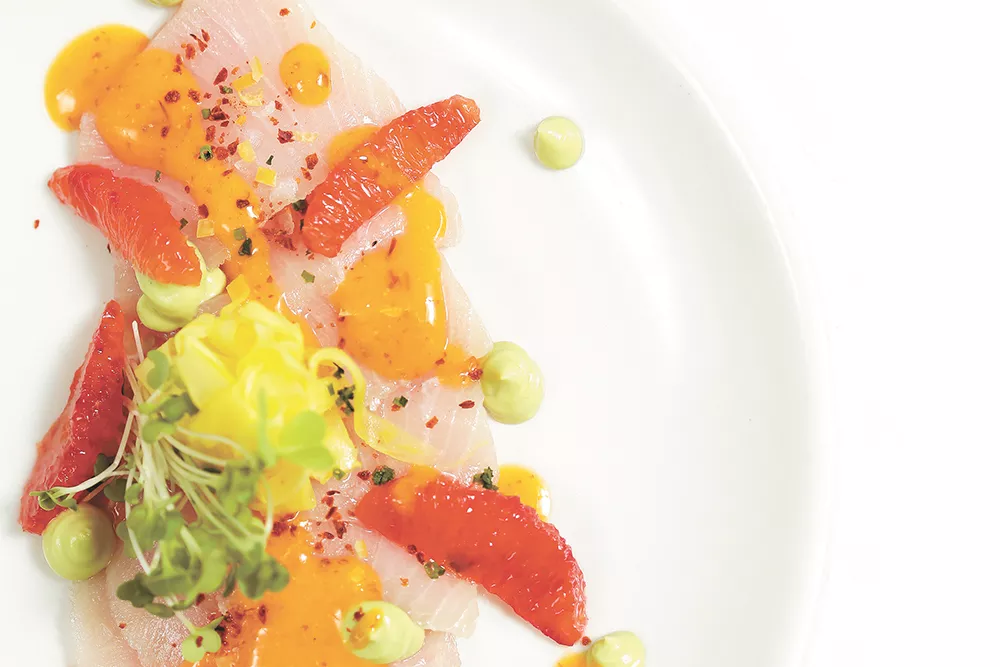 The Gem State offers plenty of dining gems for Inlander Restaurant Week 2020. Whether you reside in the Idaho Panhandle or plan to make the drive over from Spokane, here are a few of the many highlights offered by eateries in Post Falls, Coeur d'Alene and the surrounding area.
315 CUISINE in Coeur d'Alene is serving a diverse Restaurant Week menu, with lamb tacos, rabbit and dumplings, bison sliders, potato cakes and mushroom toast.
Meanwhile at COLLECTIVE KITCHEN PUBLIC HOUSE, diners can find well-executed takes on classic entrees: chicken cordon bleu, bistro steak and vegetable tortellini pasta. For dessert, choose from creme brulee, cheesecake or a warm chocolate brownie.
Don't miss out on an amazing bargain on an excellent meal paired with stunning lakeside views while dining at BEVERLY'S at the Coeur d'Alene Resort. On its menu this year is a five-spice crispy pork belly for course one, and as for entrees, there are a crispy duck leg confit and 12-hour braised beef zabuton.
At HONEY EATERY & SOCIAL CLUB, one of Adam Hegsted's many restaurants, creative options on its $33 menu include shrimp hush puppies, and the Pacific Northwest cassoulet of chicken confit, white bean and pork ragout, andouille étouffée, crispy lentils and a duck fat biscuit crumble. Finish off the meal with a gingerbread cake or winter citrus tart.
Also in Coeur d'Alene at the European-inspired small plates spot VINE & OLIVE, a standout first-course choice is the colorful hamachi crudo, with blood orange, pickled fennel, onion, microgreens and a citrus-chile vinaigrette.
In Post Falls, check out the newly opened SAWMILL GRILLE, which offers a family-friendly atmosphere and cuisine, including its jalapeno artichoke dip, house chili and a Korean barbecue sandwich featured on the Restaurant Week menu.
North Idaho's Restaurants
315 Cuisine
Anthony's at Coeur d'Alene
Bardenay
Beverly's Restaurant
The Bluebird. A Midtown Eatery.
Cedars Floating Restaurant
Chinook Steak, Pasta & Spirits
Collective Kitchen
Cosmic Cowboy Grill
Current Kitchen
Dockside
The Filling Station Post Falls
Flame & Cork Wood Fired Pizza
Fleur de Sel
Honey Eatery & Social Club
MacKenzie River Pizza, Grill & Pub
Oval Office Bistro & Martini Bar
Radicci Italian Bistro
Red Tail Bar & Grill
Republic Kitchen + Taphouse
Satay Bistro
Sawmill Grille
Seasons of Coeur d'Alene
Sweet Lou's
Restaurant & Tap House
Thai Bamboo
Tito's Italian Grill
Vine & Olive Eatery and Wine Bar
The White House Grill