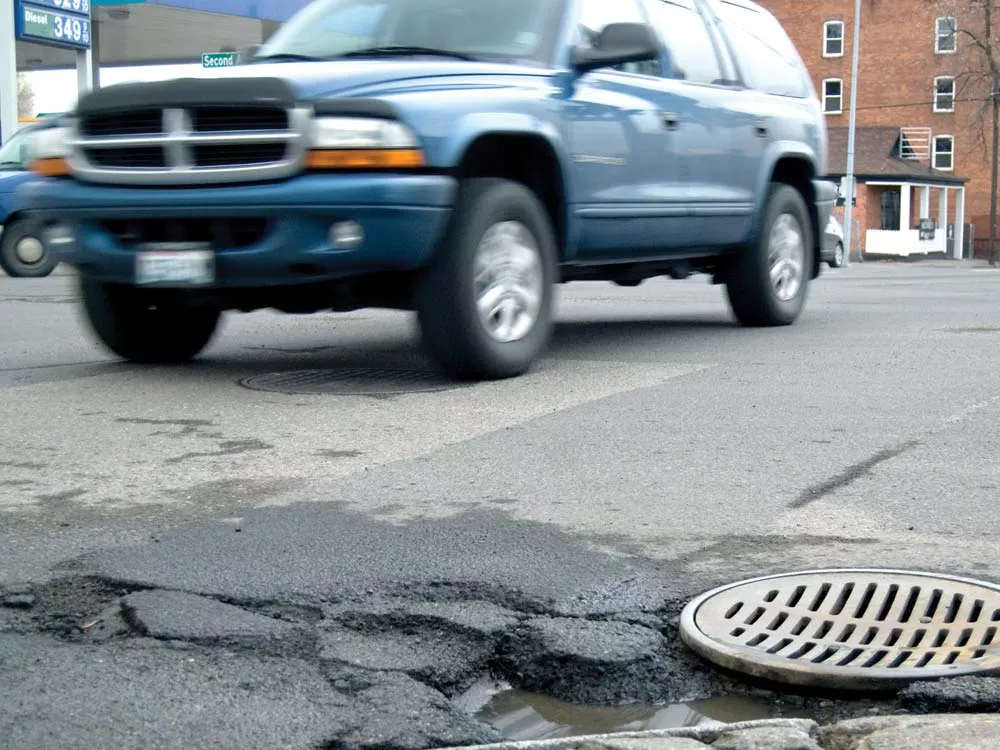 As soon as the snow melted, the full damage became clear: Local streets, blasted with craters, looked positively war-torn. A single pothole on Nevada, according to one report, took out tires on 30 different vehicles. Police had to set up road flares.
In the first two weeks of the year, Spokane had to fill over 160 potholes — with many more still unfilled. And some potholes are bad enough, Spokane Street Director Mark Serbousek says, that they're impossible to fill until it gets warmer.
Blame the wishy-washy winter. Water seeps through the pavement, and then expands when it freezes, breaking up the pavement above. The ice melts, leaving weakened, fractured pavement chunks — pavement that's kicked up and scattered when the traffic passes.
Maybe Spokane's streets are just doomed to a fate of potholes. Unless, of course, there were a way to design tougher, stronger — and ultimately cheaper — roads.
The Search for Pothole Immunity
Many of Spokane's streets, built years ago, Serbousek says, failed to predict the volume of traffic or fully account for the composition of the soil beneath.
"Let's put it this way. … We're learning to build our roads better," Serbousek says. Today, he says, custom sub-structures and depths are tailored to the North Side's sands, Spokane Valley's alluvial rock and Five Mile's muck. The South Hill's clay soils can't support the weight of the traffic alone, so geotextile structural fabric bases are installed in the sub-base.
Those improvements help. It's long been possible, however, to construct a road nearly immune to potholes. One Spokane example: I-90.
"We build the highways thick enough that we don't have the freeze-thaw," state Pavement Engineer Jeff Uhlmeyer says. "We have a statewide policy when we design new roads — we try to design for the depth of the frost penetration."
Thicker roads stop the moisture from seeping down — any cracks remain on the surface. And thick roads can weather the full weight of semi-trucks and tractor-trailers.
These highways were designed to last. "We go for a 50-year design period," Uhlmeyer says.
But there's a downside: upfront expense.
"You're talking anywhere from $1.5 to $2.5 million a lane-mile. That's just for the pavement portion," Uhlmeyer says. "It depends on the budget of the agency, how thick they can design their roadways."
Concrete roads are another, more durable option. Concrete can weather heavier loads with less damage. Generally, a concrete road has twice the lifespan of an asphalt one. That's why 60 percent of the nation's highways — and most bridges — are made of concrete.
"Concrete is far more durable," Spokane County spokeswoman Martha Lou Wheatley-Billeter says. "But it's also incredibly expensive, so it's only used in some very high-traffic areas."
Generally, that means intersections: Division and Wellesley, Division and Francis, and Nevada and Francis.
"Over the past few years, concrete has been about 150 percent more expensive than asphalt," Wheatley-Billeter says. With oil prices — and thus, the price of asphalt — rising, that may not always be the case.
Concrete can save municipalities money in the long-term — but only if they can afford the initial investment.
Tuning Up the Street
Think of the cash-strapped automobile-owner who can't afford to get an oil change, and so ends up needing an entirely new car.
"We don't have the ability to keep up on the general maintenance. We don't have a program for it," Serbousek says. "We're just playing catch-up. We're just trying to fix the bad streets that aren't on the bond program."
Spokane could regularly apply a coating formula to the pavement, which would repel pothole-creating moisture. It could apply a "grind and overlay," in which the first 1 1/2 inches of asphalt of a problematic street are removed and replaced — at one-third the cost of a full street replacement. Idaho's Ada County spends $200,000 to apply a chip-seal coating — a fine asphalt aggregate mix that prevents water from seeping through— to 200 miles of Boise roads a year. It costs about $2.4 million a year for the mix, but they're spending a lot less on asphalt to fill potholes.
As a part of routine maintenance, Spokane uses none of these techniques.
Filling street cracks can stop potholes before they appear — but the city of Spokane, Serbousek says, can only afford to fill cracks on arterials.
Ultimately, untreated streets have to be rebuilt curb-to-curb — at an incredibly high cost.
Thanks to former Mayor Jim West's $117 million street bond in 2004, there's money for that reconstruction, but not for the sort of preventative maintenance that could lengthen the life of the average, degrading city road.
"It's going to get worse and worse before it gets better," Serbousek says. "They're cutting my budget, and they want me to do more. I can't do more."
Six street positions were eliminated during budget cuts, Spokane City Council member Jon Snyder says, since police and fire are a higher priority for citizens.
"The money we have for [the street budget] has just evaporated," Snyder says. "It's all been based on real estate excise taxes." When people aren't buying or selling houses, you've got nothing to tax.
The city's Transportation Benefit District was supposed to improve that. Money from annual $20 car tab fees would have gone to — among other things — general maintenance to preserve roads.
But last week, a vote to fund the TBD failed, three to four. Voting against it? Jon Snyder.
For Snyder, the failure of the TBD to provide enough funding for sidewalks was unacceptable. But Snyder still believes that the streets are in need of maintenance and repair. He's hopeful the county will eventually establish a TBD — but suspects that it may be 2012 before the county discusses it. He suspects the city may return to the TBD issue but doesn't know when.
For now, potholes continue to pockmark the streets.
"It's a black eye to the city," Serbousek says.