On a hot, dry and dusty August afternoon, the main street through Harrington is mostly deserted but for the occasional wheat truck roaring in off the highway, heading towards towering grain elevators at the south end of town.
It's the peak of the region's wheat harvest, and nearly everyone's out in the fields pitching in. Of the few signs of life today are the occasional dusty-booted farmers stopping in for an ice cold drink at a bright cafe on the corner of Third and Main streets.
The Post & Office, a cozy coffee shop in the town's original post office building, opened in October 2017 and is part of a dedicated local movement to bring a sense of community and economic vibrancy back into the town of around 400 residents.
Owned by Heather and Justin Slack, the Post & Office serves as a new community gathering place for Harrington, hosting chamber of commerce meetings, arts and crafts classes and other meetups. Four years ago the couple fled Seattle's hustle and bustle, seeking a calmer place to raise their two children.
"We made a quick decision to move to Harrington. It was pretty risky and we had no idea how it would go or not go," recalls Heather Slack, whose parents grew up in the town, about 50 miles southwest of Spokane.
A year into their new life in rural Eastern Washington, the couple decided to buy the brick building now housing the Post & Office. It was built in 1902 for Harrington's first bank, later becoming its post office.
"We felt the community needed a place to sit down and have a conversation," Slack says. "Being from Seattle and being coffee lovers, we felt a little coffee shop was the way to go."
The Slacks then began work to fully renovate and restore the building, incorporating as much local history into it as they could, including salvaged wood flooring pulled from a decaying schoolhouse outside town.
"A lot of people around here thought we were crazy for buying that building and couldn't understand our vision," Slack says. "But after coming here, we saw everything as an opportunity: a tight-knit community that is slower paced, but still has everything you need. You could still run a business here, easily," she adds, noting that Harrington has a high-speed internet connection, allowing her husband to work remotely as a real estate appraiser for a bank in Seattle.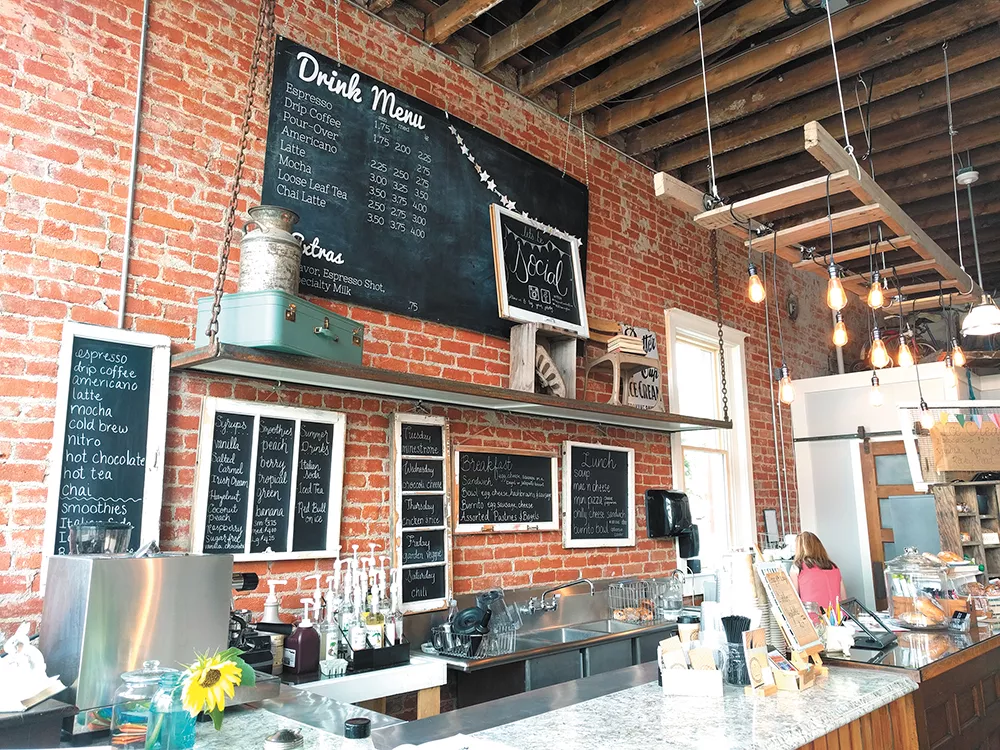 The Post & Office serves a simplified selection of traditional espresso drinks — lattes, Americanos and mochas — along with pour-over, drip and cold brew coffee, all brewed from beans roasted by Tom Sawyer Country Coffee, based in Spokane's Kendall Yards neighborhood. The menu also includes smoothies, Italian sodas, hot chocolate, chai, cold brew on nitro and loose leaf teas. All drinks range from $1.75 to $4, with the option to add specialty milk, flavors or an extra espresso shot for 75 cents.
For customers needing for a quick snack, the cafe offers a grab-and-go menu of premade sandwiches and other items in a cold case. Since the Post & Office doesn't have a full kitchen, most of these items are purchased for resale from Costco. There's not a local kitchen in town or nearby that the Slacks have been able to partner with yet to procure prepared foods, like sandwiches and pastries. It's an avenue the couple hope to continue exploring as time goes on, though they don't plan to expand the cafe's kitchen or model to a full-service establishment.
The cafe also serves a small selection of ice cream from Eugene, Oregon-based Cascade Glacier, as well as Haden's Hummus, a product made in the small Central Washington town of Wilbur. A rotating soup of the day comes from a regional food service supplier.
To fill another void in Harrington, the Post & Office also houses a small gift shop in its back corner, offering stationery, jewelry, throw pillows, locally made soaps and lotions, candles and more. The selection is tastefully displayed in antique cabinets and on A-frame ladders with shelving placed horizontally through the rungs. A line of T-shirts and hats with Harrington's zip code, 99134, have been popular with former and current residents of the town.
Though the town may, at a glance, appear to be sleepy and forgotten — vacant buildings with peeling paint and dusty windows line the town's main drag — community support and pride for Harrington isn't found solely at the Post & Office.
Harrington Chamber of Commerce President Tim Tipton outlines several other active businesses and forthcoming historic preservation efforts helping breathe new life into the tiny town.
Harrington, he says, is home to a well-respected nine-hole golf course and country club that's open to the public, and an old Ford dealership building that's been transformed into the Studebaker Garage, a museum and event center. A group of locals have also tirelessly worked to restore and preserve the town's historic opera house, landing it a listing on the National Register of Historic Places. Concerts and other events are regularly hosted there.
Two high-profile, ongoing projects are complete restorations of Harrington's Hotel Lincoln and the Harrington Haus Tavern, Tipton says.
"The chamber wants the town to stay relevant and thrive as a rural community that you would see in a movie on the Hallmark Channel, and is putting in the work to see it happen before our eyes," he says. "It's very gratifying."
Slack credits this momentum for helping her family's business succeed in its first year.
"We've had excellent support from the community. People are excited to see a building actually used and restored. One of my favorite parts is having people come in and someone else comes in behind them, and they turn around and say 'Oh, how are you? I haven't seen you in forever!' These connections are just what we wanted. There was no where else in town that could happen." ♦
The Post & Office • 2 S. Third St., Harrington • Open Tue-Fri 8 am-4 pm; Sat 8 am-3 pm • facebook.com/thepostandoffice • Instagram: @thepostandoffice