The news of late has been full of stories of male celebrities' sexual misdeeds, most aimed at women they've taken advantage of — often women who work for them or depend on them for their livelihoods. These women are victims, and such abuse must stop.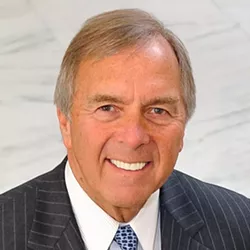 Comedian Bill Cosby's problems of alleged sexual predation started it all — shining a light that has only grown brighter in the years since. His alleged drugging of the women who've testified that he abused them was followed by revelations about Hollywood's Harvey Weinstein, whose "outing" was followed by evidence of television star Charlie Rose's penchant for taking short-term advantage of female underlings within his sphere of control. Rose was summarily fired from his lucrative CBS and PBS jobs amid the accusations. Hollywood actor Kevin Spacey was tagged for sexual advances against at least one younger male actor. There have been many others, as well.
Congress has not been spared, as assertions against Sen. Al Franken, Rep. John Conyers and Rep. Trent Franks surfaced. More allegations could be forthcoming. The actions taken against Cosby, Weinstein, Spacey and Rose were appropriate. Conyers, the most senior member among House Democrats, announced his resignation, as did Franken and Franks.
Meanwhile, in perhaps the most notorious example, Alabama Republican Senate candidate Roy Moore has been accused of dating and taking advantage of underage girls (assertions he has denied). His Dec. 12 special Senate election became a referendum on whether people believed him or his accusers. President Donald Trump has also been accused of unacceptable behavior.
Men have likely taken advantage of their positions of power to abuse and manipulate women forever, in one form or another. What's new here today is that women have had enough and are courageously speaking out. The world is starting to change. These men are finding out that their pursuit of short-term sexual encounters can ruin their reputation. Perhaps this kind of publicity will create a strong deterrent effect in men who have this character flaw.
I once asked Nethercutt Civics Foundation college-aged Fellows if they thought everyone is corruptible. Most answered "yes," that faced with temptations — of money, beautiful women or advanced position — most men would succumb to human nature in its most base form.
I don't agree.
It's my belief that, when raised with solid values, most men model and live by the golden rule. For those perhaps more corruptible, they can now see the pain these women have gone through, along with knowing what violating normal behavior can do to a career and a life.
My argument is based on religious faith. If a man is corruptible, he can be corrupted: If one is looking for a quick relationship outside marriage, it's probably available. The key is not to be looking, and that's where love, faith and propriety enter in. When we marry, we take an oath to be faithful and true to only our spouse. When we pray the Lord's Prayer, we pray not to be led "into temptation." Succumbing to sexual temptation over a person of lower position in the workplace is the worst kind of abuse. It's bullying for self-satisfaction. And it always leads to pain for the victim and, more recently now, the perpetrator. It's destructive behavior.
Bill Cosby, Charlie Rose, Harvey Weinstein, Kevin Spacey and many others have all experienced severe consequences in the wake of recent revelations — job loss, divorce, pariah status. Acting on improper temptation carries a steep cost, as they are finding out.
If one is in an unhappy marriage, seek a dissolution. Apparently this doesn't go without saying: Don't cheat, and don't abuse those under one's work control.
Men should ask themselves that same question I asked the Fellows: Am I corruptible? The answer gets to the core of your character and will prompt a lot of necessary reflection. Today, in light of this movement, we can hope that such reflection will lead to the end of this kind of unacceptable behavior.♦
George Nethercutt served Spokane and the 5th District of Washington in Congress from 1995-2005.