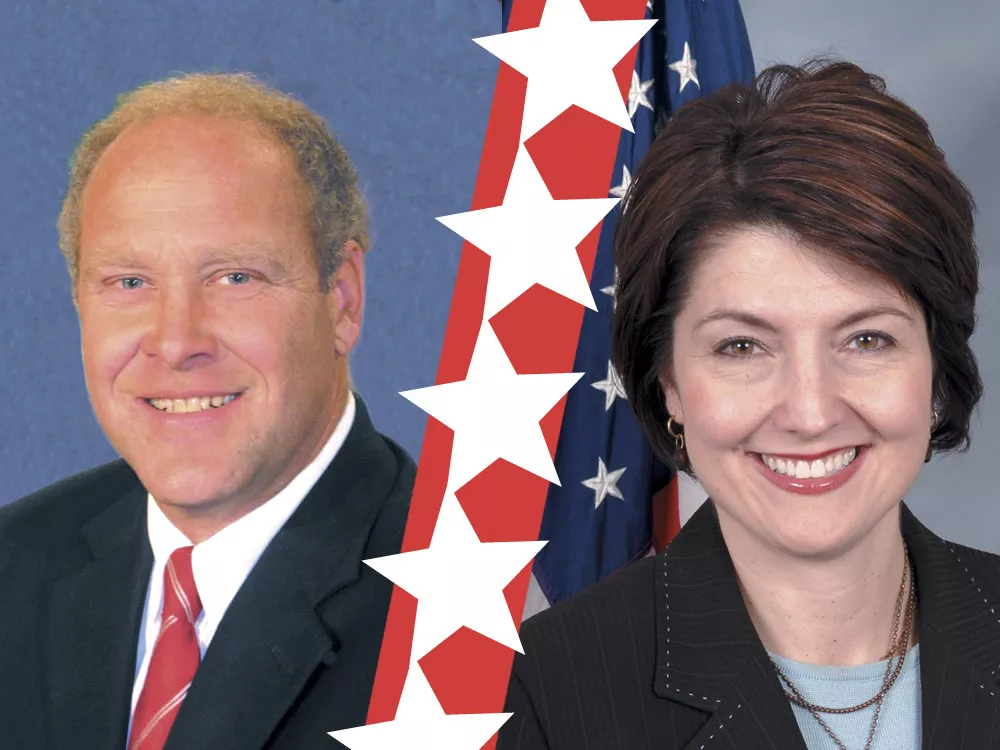 You'd think the election of the one member of Congress who represents Eastern Washington would be a pretty big deal, at least in Eastern Washington.
But ask political observers about the contest for the 5th District's seat in the U.S. House of Representatives, and they'll say they barely notice much of a campaign at all: Few yard signs, and even fewer TV ads.
There is a gap — to put it lightly — between Republican incumbent Cathy McMorris Rodgers and Democratic challenger Daryl Romeyn.
"This is an entirely one-sided race with a certain outcome," says Blaine Garvin, a Gonzaga University political science professor. "You have a strong incumbent with overwhelming resources running in a one-sided district … [against an] underfunded candidate."
McMorris Rodgers has been elected to the position three times before, and in August's primary she got 62.5 percent of the vote. She's raised 100 times more money than Romeyn, who has only $13,362 — and about $4,000 of that comes from "in-kind contributions," as in items or services, not cash. (As a comparison, GOP state legislature candidate Kevin Parker has raised $163,018.40. And Parker doesn't even have an opponent.)
So if the whir of Romeyn's political machine sounds quiet, it's partly because he doesn't much cash to fuel it.
"Forget the word 'machine,'" Romeyn says. "I don't have any paid staff. I have myself and three or four key people. That's it." If you're complaining about his low visibility, he says, donate $100 to pay for another TV commercial.
While McMorris Rodgers has increased the number of radio and print ads compared to previous campaigns, she isn't doing any TV ads this year.
"Quite honestly, our polling looks good," McMorris Rodgers says. "A lot of people know who I am and what my positions are."
In the past few months, McMorris Rodgers says she's been shaking hands all over the district — serving chili at a lentil festival, meeting with Spokane Rock Products and speaking at a Fairchild Air Force Base ribbon-cutting.
When it came time to debate Romeyn, however, she said she was too busy. There wasn't any room on her schedule for the one originally planned for this past Tuesday on KSPS.
Romeyn, frustrated by McMorris Rodgers skipping debates and public forums, thinks it's hurting his ability to get his message out. "I really can't do anything to bring her out of the castle to engage," he says. "When she says no to the League of Women Voters, they deny me a voice as well."
After some public outcry — including placards reading "Respect voters! Debate Daryl!" — McMorris Rodgers moved her schedule around and decided to debate him after all.
Then, it looked as if Romeyn would be the one preventing the debate from happening. Romeyn had scheduled several candidate forums in the moments between when McMorris Rodgers said she wouldn't attend the debate, and when she said she would after all. But by Monday, Romeyn had sent out an e-mail saying the debate — finally — was back on.
PARTY LINES
If you want to know McMorris Rodgers' stance on the issues, all you have to do is look at the Republican Party platform. She votes with the GOP 97 percent of the time, according to opencongress.org. (She opposed Bush's Trouble Asset Relief Program bailout — but so did a slight majority of fellow Republicans.) Only three representatives in the House vote more reliably with the Republican Party.
Because of this, Romeyn is glad for the "anti-incumbent" mood so many Democrats are worried about nationally.
"She's part of the establishment," Romeyn says. "If you think the establishment is doing well for this country, she's your candidate."
McMorris Rodgers cites her support for Fairchild Air Force Base and her Seclusion and Restraint legislation — which draws guidelines as to how students can be disciplined — as some of the work she's accomplished during the last two years.
"I really want to be a problem-solver," McMorris Rodgers says.
She also helped develop sunshine.gop.gov to track earmarks and, this year, she joined the Republican proposal to ban earmarks — even though she sponsored 37 earmarks the year before.
Romeyn, meanwhile, is hardly the typical Democrat. True, as an organic asparagus farmer, he strongly supports farm subsidies. And he says a major issue he plans to fight for is stopping outsourcing, perhaps by legislating import fees and closing corporate tax loopholes.
But he also wants troops out of Afghanistan. He'd be fine with a balanced budget amendment. He supports allowing all non-criminal illegal aliens to become permanent residents, but says we could "close the Mexican border tomorrow if we want to" using National Guard troops, fences, aerial surveillance and dialogue with Mexico. He's strongly in favor of logging select trees in national forests to create firebreaks.
HANDICAPPING THE RACE
Romeyn was never the Washington State Democrats' first choice. Their anointed man was Desert Storm veteran Clyde Cordero. But Romeyn, a former TV weatherman with name recognition, won the primary. And the state Democrats never leapt to show their support for Romeyn.
"They have this wild notion they have to pick a horse, and if they pick a wrong horse, they're done," says John Waite, a local political activist. "There's bruised egos."
The Inlander's questions about whether the Washington State Democrats specifically endorse Romeyn — and whether they plan to give him any money at all — were sidestepped by their spokesman.
"The Washington State Democrats maintain support for Democrats running throughout the state of Washington," spokesman Benton Strong writes in an e-mail. "We are committed to electing Democrats and defeating Cathy McMorris Rodgers, whose policies helped lead our country into an economic crisis."
There are ways to campaign visibly without much money — but Romeyn hasn't been very active using free social media either. His website doesn't have a blog. Since the primary, he's only posted on Facebook half the number of times McMorris Rodgers has. His last tweet was Aug. 31.
But despite the dramatic uphill climb, Romeyn forecasts his chance of winning at 50.1 percent. He says he's counting on voters looking past party affiliation and at the facts of the election.