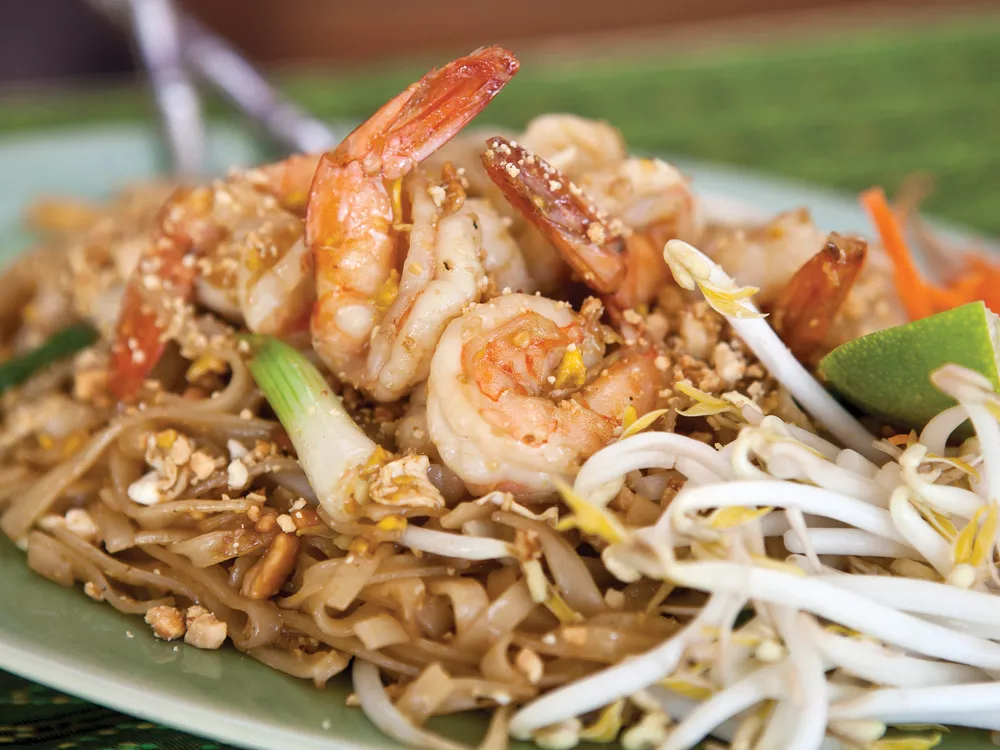 Across from Joe Albi Stadium in north Spokane, you'll find Fieldhouse Pizza and Pub, which has taken over the former Stadium Pizza location. The new owners, Todd Phelps and Curtis and Liz Nelson, gutted the place, and the result is a bright, spacious restaurant with one side dedicated to family dining and the other to a full bar. Open since September, it hasn't taken long for people to find the venue, thanks in part to an efficient, amiable and knowledgeable staff. On a recent Saturday evening, the dining areas hummed with activity while other customers stood at the counter, ordering their pizzas to go. With 25 toppings and six sauces to choose from, there are countless create-your-own combinations.
My dining companion and our martini-drinking friend chose a large half-and-half pie from the 14 signature pizzas on the menu: the Alley-Oop ($12-$21) and the White Flag ($15-$21). The pizza arrived hot and quite large, at 12 slices, with crisp crust stable enough to hold the toppings without overpowering their texture. The Alley-Oop, with olive oil, mozzarella and tomatoes topped with freshly grated parmesan, was our favorite, but the White Flag, with firm artichoke hearts, moist grilled chicken and creamy white sauce, held its own. Our server, Jennifer Karaca, suggested we try the White Flag with some Frank's Hot Sauce, and we are so glad she made the spicy recommendation.
We also visited the salad bar ($4-$5) and found it pristine and well-stocked with fresh mushrooms, an iceberg-and-romaine lettuce mix, red onions, kidney beans, hard-boiled egg crumbles, pepperoni slices and much more.
With good pizza must come good beer, and Fieldhouse doesn't disappoint in that area. Their tap list includes Blue Moon, Manny's Pale Ale, Rogue, Irish Death and more. We drank some beer and engaged in some food voyeurism as we watched servers deliver nacho platters (multicolored tortilla chips layered with fresh tomatoes, olives, jalapeños, cheddar cheese and sour cream, $8-$14) and pasta dishes like the drool-worthy linguine (lemon basil, sautéed cherry tomatoes, feta, $11). Some menu items seemed bizarre but worth a try: the Traveler (Canadian bacon, mozzarella and mayonnaise toasted on a hero roll, $9), or That German Pizza (German sausage, salami, sauerkraut and onions, $15-$21).
This is the sort of place where you can spend a good chunk of your evening, and we did exactly that, pleased that we'd found this neighborhood bar. (Annemarie Frohnhoefer)
Field House Pizza and Pub • 4423 W. Wellesley Ave. • Open Mon-Wed 11 am-1 am, Thu-Sat 11 am-2 am, Sun 11 am-1 am • 474-1991
Grandma's Cooking
A mustardy evening sun casts a glare on our windshield as we head west on Sunset Boulevard in Airway Heights. As my companion cruises in the slow lane, I keep a lookout for our destination. Motels, skeletal strip malls, fast food joints and heavy equipment rental lots pass. In the distance, I spot the sign that marks our destination: a kitschy yellow-and-red number framed by two stylized dragons. Crooked letters on the reader board belie the building's outward appearance, stating, "Grandma Jai's Excellent Thai is now open."
Upon entering, we seat ourselves and are immediately met by none other than Grandma Jai herself. Jovial and attentive, she sets us up with refreshments and spring rolls ($6). We mull over the entrees and ask Grandma what she recommends. Other than Grandma Jai's ginger rice (they were out for the day), she speaks highly of the pad thai ($10), so we opt for that, as well as the fried rice ($9).
Our dishes arrive quickly and are both heaping and liberally garnished with sprouts, matchstick carrots and green onions. Spice-ophiles will be glad to know that, in addition to choosing the heat level of the dish, dinner is accompanied by three condiment jars with tiny spoons: dried Thai chili flakes, pickled Thai chilies and Thai chilies pounded into a paste with fish sauce.
Grandma chuckles and refills my water as I attempt to recover from biting down on a whole chili. We strike up a conversation, and she informs me that the menu will be expanding, as she wants to get a feel of what the clientele will respond to. But for now, they've got the basics covered with curries ($11), as well as a few Chinese dishes, such as beef noodle soup ($10) and cashew chicken ($11).
We finish our meal and pay our bill at the counter, which is a glass display-turned-curio cabinet littered with little trinkets from around the world, including a stuffed cobra wrapped around a pissed-off dead weasel. Grandma gives us each a piece of hard candy and then sends us on our way into the now-gray night. (Alicia Purvis-Lariviere)
Grandma Jai's Excellent Thai 12526 W. Sunset Hwy., Airway Heights Open Mon-Sat 11 am-9 pm, Sun 3-8 pm 244-3914