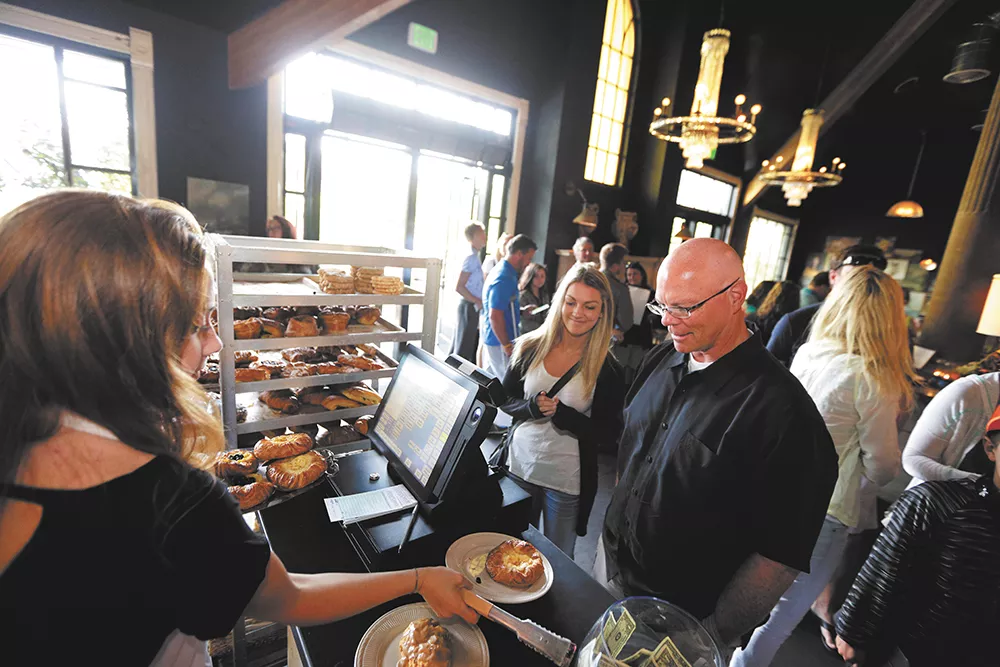 Brunch isn't difficult to whip up at home. It contains a lot of eggs, bacon, sweet breads, perhaps the occasional mimosa. Restaurants know this. It's cheap for them to make, and they can charge up to $15 for an omelet without batting an eye. Despite that, people are more than willing to pay for the breakfast-meets-lunch experience these days. Here's how to get through brunch, whenever your friends or family suggest meeting up on weekend mornings.
Expect to wait for a seat
Unless you're hitting up the Davenport Hotel champagne brunch (pricey at $45 a plate for adults, but so worth it), most joints that serve brunch don't take reservations. So there could be an hour-plus wait time, depending on when you arrive and how large your party is. Be nice. Especially to the hostess; none of this is her fault. Many places offer free coffee/water stations during the wait; some offer baked goods at the front of the house. Send someone early to get your party name on the list, but know the wait is inevitable, so plan your day around the meal. PRO TIPS: Show up before 9 am or after 2 pm, and your party will most likely be seated right away. Bring purse/pocket snacks to alleviate the wait. If you're so hangry that you're going to take out whole cities with your rage, a brunch spot is not for you.
Know your order, but expect a wait here, too
Once you've gotten to the table, know that servers aren't quite ready to take your food order yet. Order drinks first, then patiently wait for those to arrive before getting to the meal.
PRO TIP: Look at a menu while you're waiting for seats. Decide what you want then.
Get your money's worth
Order items that you can't get anywhere else. We're talking about the baked oatmeal at Chaps Diner and Bakery and the fried chicken biscuit at Casper Fry. If you're going to wait for the whole thing anyway, don't order something ordinary that you could most likely make in your own kitchen.
PRO TIP: At brunch buffets, they want you to fill up on bread, salad and eggs. Don't get distracted. Piling up on the meats and seafood is where you're getting your money's worth.
Pay on one tab
As Yards Bruncheon lead server Tracy Agnew explains, if a server has to ring up eight different debit cards, it's going to take longer to pay the bill and get out of there. "Paying on one check is the best thing in the universe," Agnew says.
PRO TIP: Everyone in your party should bring cash to chip in for the meal. Then it's all done.
Stick up for yourself
Yes, you should be kind, and as understanding as possible at busy restaurants. But if something goes terribly wrong, you still have rights. If you're paying for food and it's cold or completely burnt, let your server know. They want to correct the error.
PRO TIP: Tip 20 percent whenever possible.
BRUNCH
A handful of local favorites
The Cottage Café We dare you to try to find better breakfast potatoes. Anywhere. The cottage fries here are worth the drive out to this charming English-themed breakfast-and-lunch spot that's isolated from virtually any housing or neighborhood and situated amongst a bunch of car dealerships. The OJ is always fresh-squeezed, the biscuits are always tender, the freezer jam is always homemade and the parking lot is always full — so be prepared to wait. It's worth it. 6902 E. Appleway Blvd., Spokane Valley • Wash. • 928-8888
The Historic Davenport Hotel Here in Spokane, you can't bring up the word "brunch" without someone saying "Davenport buffet" in the next breath. And for good reason. This decadent spread is a wonder to behold, with its artful platters of seafood, cascading chocolate fountain, petit fours, carving stations and of course, mimosas. Holiday seatings fill up fast, so plan ahead and budget accordingly. The Sunday Champagne Brunch buffet is $44.95 for adults, $21 for children 6 to 12. 10 S. Post St., Spokane • Wash. • 455-8888
The Garnet Café The Garnet Café dishes up locally sourced, hearty fare, and that's why Inlander readers love it here, once again voting the Garnet Café their favorite North Idaho breafast. Breakfasts, like their Northwest omelet or corned beef hash, will leave you full all day. 315 Walnut Ave., Coeur d'Alene • Idaho • 208-667-2729
Little Euro Little Euro in the Valley is the Northside's Old European mini-me. Same owners, same (though reduced) menu, same breakfast and lunch favorites, but a smaller, sleeker interior. You can have a mimosa made with fresh-squeezed orange juice, or red beer with your German potato pancakes or Danish aebleskivers. 517 N. Pines Rd., Spokane Valley • Wash. • 891-7662
Michael D's Eatery Brunch is a big deal at Michael D's. So go big, with an order of chicken-fried steak, or feel like you've skipped right to dessert with some paleo pancakes or waffles. Michael D's is only open for breakfast and lunch, but you can still get a Bloody Mary or Irish coffee. 203 E. Coeur d'Alene Lake Dr., Coeur d'Alene • Idaho • 208-676-9049
Old European Old European is a stalwart of Spokane's breakfast scene, beloved for its scratch-made goods made from recipes that crossed the Atlantic from France, Denmark, and Germany. Think crêpes, Dutch babies, German pancakes and aebleskivers. The whipped cream is always real, the orange juice fresh squeezed and breafast is always served all day. 7640 N. Division St., Spokane • Wash. • 467-5987 | 1710 E. Schneidmiller Ave., Post Falls • Idaho • 208-777-2017 | 455 S. Grand Ave., Pullman • Wash. • 334-6381
The Yards Bruncheon In Kendall Yards, across from the Inlander offices, The Yards offers both classic and innovative diner fare. The banana pancakes are delicious, of course. The Dutch babies come hot in a cast-iron pan. Want something bolder? Order the French toast burger — a burger in between two maple-syrup-soaked pieces of French toast. Our favorite is the roasted avacado omelette with candied walnuts and goat cheese. It might seem like a strange combination, but it totally works. 1248 W. Summit Pkwy., Spokane • Wash. • 290-5952