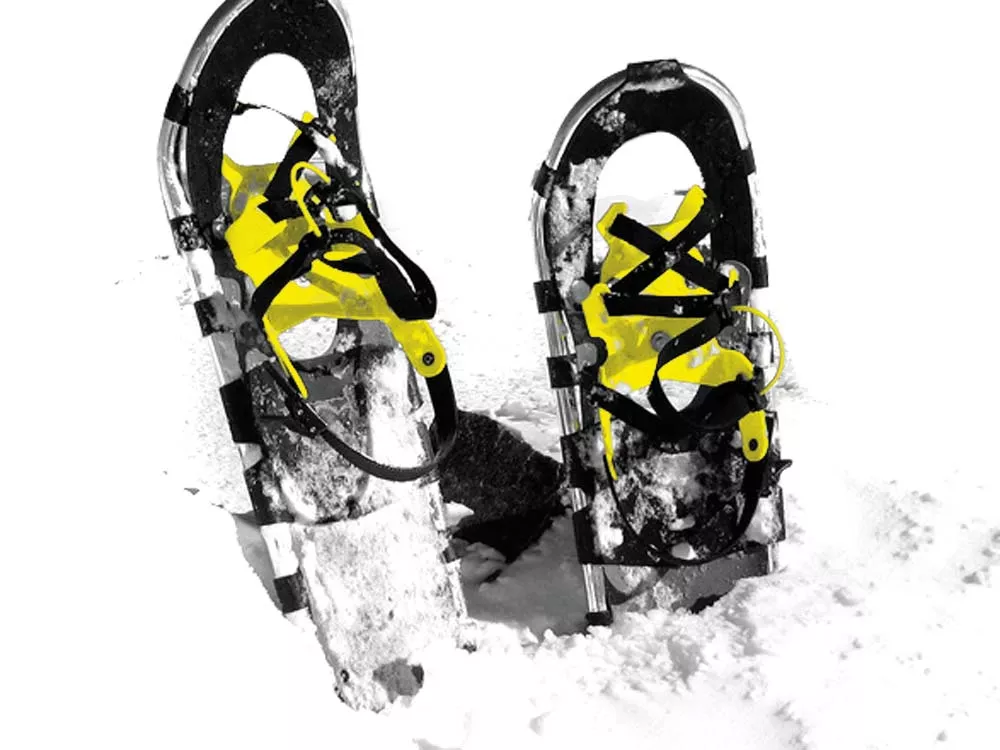 Snowshoeing is a futuristic act of the past. You see, thousands of years ago, humans were strapping some impossible contraptions to their feet to walk upon the snow, slowly trudging out into the wilderness to hunt some now-extinct beast to haul back to the clan. That's pre-historic.
Snowshoeing is a form of levitation. There have been times while snowshoeing when the tip of a 10-foot Douglas fir is about even with my waist. Trapped within the crunching snow below is a lot of cold air. That's levitation, that's futuristic and — when slowly trudging out into the wilderness — that's at least something to think about.
Or think about the view, or the trees, or the silence, or just think out loud to your companion. Because it really is that easy: Strap on a snowshoe and walk, albeit a bit more clumsily, like you would on a city sidewalk.
"You don't have to spend a ton of money on it to get out and have fun. Really all you need is some snowshoes," says Ryan Griffith, the recreation supervisor for the I-Outdoor programs from Spokane Parks and Recreation. "Most of the clothing you need we've all grown up with and have in our closets. We just don't realize it."
Every year, Griffith's program organizes about 20 snowshoeing trips and classes, from rudimentary lessons (put foot here, strap it down, walk) to big day trips. This year, they're headed up to Lake Gillette in Colville National Forest.
For $43, you get everything: snowshoes, food, a ride up to the forest. Everything.
"It's quite a trip, and the area is just excellent," Griffith says.
The program also offers a moonlight hike and dinner three times this winter, on the full moons in December, January and February. This hike is especially rewarding. Headlamps are handed out and the group meanders up Mount Spokane for a quick one- or two-mile hike. Back at Selkirk Lodge, a hot plate — or two — of great Italian food from Greenbluff's Trezzi Farm awaits. And it's just $39.
The program will offer free demo use of snowshoes at 49 Degrees North on Jan. 8.
It's a cheap, fun way to orient yourself with snowshoeing. Once you've done that, you'll likely be hooked.
At REI, snowshoe rentals begin at $12 for the first day, $6 each day afterwards for members. For non-members, the first days cost $24 and each day thereafter costs $12.
But beware. After a couple of trips up to Mount Spokane, reason and your arithmetic skills will be hounding your thoughts of escape to a winter wonderland. Why, you'll ask yourself, am I wasting my cash renting these tennis rackets? The lower-end snowshoes go for around $100 — many multiples of that for the best shoes. Your choice.
Once you own your own, the world beckons. Try the Hermit's Hollow trails on Schweitzer. Or Mineral Ridge near Coeur d'Alene. Or, hell, the Sawtooth National Forest, plodding along from yurt to yurt.
But when all's said and done, snowshoeing is meant to be easy and enjoyable. For those wintry Sundays when you don't want to drive too far, strap on the shoes and hit Riverside State Park, Dishman Hills, Camp Sekani or the new Dwight Merkel Trail, which connects the Merkel Sports Complex and Riverside State Park.
Any of these places can offer a great prehistoric, levitating time.