At the dawn of the '20s, the motion picture industry was heading into its second decade, and it made big strides before 1930 rolled around. Here are a few films that show off the stars, styles and obsessions of the 1920s.
The Kid (1921) & Sherlock Jr. (1924)
Which superstar 1920s comedian was better — Charlie Chaplin or Buster Keaton? It remains the great debate amongst silent cinephiles, but a double feature of Chaplin's The Kid and Keaton's Sherlock Jr. might help you pick a side.
Safety Last! (1923)
Another silent-era comedy genius was Harold Lloyd, and he's best known for this film's central stunt: Pushed out of a 12th-story window, he dangles from the hands of a giant clock that can barely support his weight. Tom Cruise, eat your heart out.
Sunrise (1927)
Sometimes called the greatest of all silents, F.W. Murnau's fable of heartbreak and forgiveness contains the most ingenious visuals of its era, and a fantastical sequence set in a bustling city center shows off the cars and clothes of the time.
Wings (1927)
The first-ever Best Picture Oscar winner, this WWI melodrama is influential in the realm of spectacle cinema. Its thrilling flying sequences laid the groundwork for all action filmmaking.
It (1927)
No killer clowns here, just '20s icon Clara Bow (also the star of Wings) as a working woman fending off men entranced by her je ne sais quoi. Bow became a superstar, and the film helped popularize the term "it girl."
Pandora's Box (1929)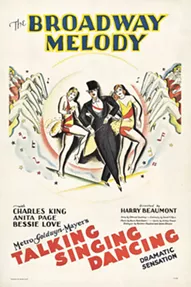 The story of a laissez-faire flapper and her many dalliances scandalized audiences at the time, cementing lead actress Louise Brooks and her distinctive bob haircut as a symbol for an entire era.
The Broadway Melody (1929)
1927's The Jazz Singer is the first movie musical, but to avoid that pioneering film's blackface numbers, check out this one instead. It also features an early use of Technicolor, a true harbinger of the innovations of the '30s.