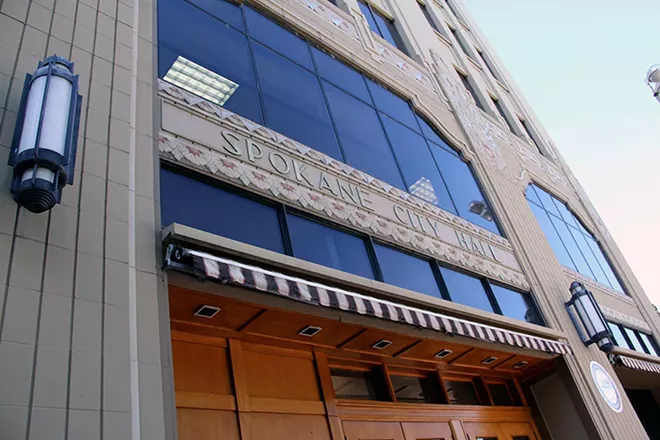 If you're looking for an ideal spot to live downtown, you can't do much better than directly across the street from Riverfront Park. So as the city of Spokane looks for new ways to make downtown more dense, the parking lots across from the Riverfront Park Rotary Fountain are a prime target.
But right now, there are a number of height restrictions preventing that sort of development. That's the dilemma that city officials and the Plan Commission have been wrestling with: On the one hand, loosening those restrictions would allow a lot more dense development and prime housing downtown. On the other hand, you don't want sections of Riverfront Park to be frequently wreathed in shadow.
And shadows aren't the only relevant issues.
"Temperature, wind, humidity, vegetation, are just as relevant as shading," says Todd Beyreuther, vice president of the Plan Commission.
After a report of a workgroup tasked to study the issue, the Plan Commission in February approved a proposal to loosen the height restrictions.
But at a meeting with City Council last week, the Plan Commission was hesitant to immediately push their recommendation forward. Beyreuther says he wants to reassess, to make sure the City Council has all the information and options available.
He says it may be better to make the design standards more flexible — allowing projects to be assessed in detail on a case-by-case basis.
While the group will meet on June 13 to discuss how to move forward, ultimately, the zoning decision is in the hands of the City Council.
"I'm listening to my constituents who are overwhelmingly saying they don't want unlimited building height there," City Councilwoman Lori Kinnear says. "There aren't too many saying, yes, sky's the limit, literally."
But City Council President Ben Stuckart says that without a taller building, the cost of construction on the parking lots simply isn't worth it.
"If we're going to say we should leave it as is, you're making a value judgment that you'd rather have a vacant lot there instead of a building," says Stuckart.