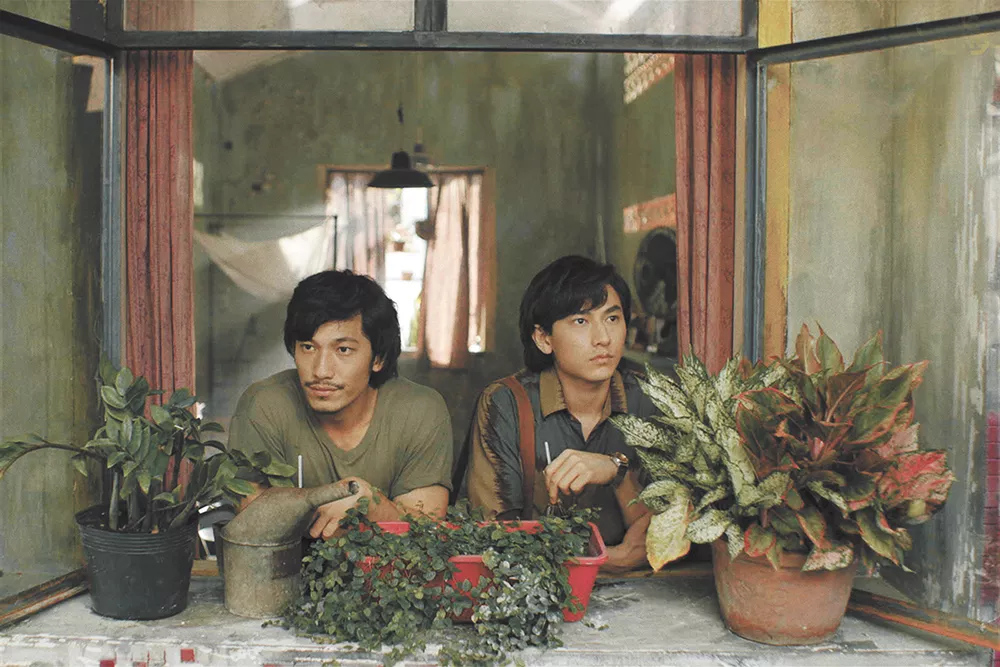 This year's Oscars broadcast had a notably international flair (at least more so than in the past), and you can continue indulging that adventurous cinematic spirit at the upcoming Spokane International Film Festival. Starting this Friday, SpIFF 2020 will showcase dozens of features and shorts — documentaries, dramas, comedies and animation — from all over the world, including some from right in our own backyard.
Below is a rundown of the features you can see over the next week; all screenings are at the Magic Lantern Theater unless otherwise noted. For a full schedule of films, including short film programs, visit spokanefilmfestival.org.
— NATHAN WEINBENDER
Feb. 28 at 7 pm
QUIET EXPLOSIONS: HEALING THE BRAIN (U.S.)
Genre: Documentary
Athletes and veterans, including longtime Spokane resident and Super Bowl champion Mark Rypien, speak about the process of recovering from traumatic brain injuries. The festival's opening night gala is at the Garland Theater and will also showcase the Best of the Northwest shorts program. (NW)
Feb. 29 at 11:30 am
BAMBOO & BARBED WIRE (U.S.)
Genre: Documentary
Docs about criminal justice and racial inequality don't typically center on the Inland Northwest, but Karen Day's film does. It follows 17-year-old Syrian refugee Minidoka as she attempts to make a life for herself in Idaho and demonstrates just how far systemic racism reaches. (ISAAC HANDELMAN)
Feb. 29 at 1:30 pm
THE WOMAN WHO LOVES GIRAFFES (U.S.)
Genre: Documentary
A portrait of pioneering zoologist, animal activist and feminist icon Anne Innis Dagg, whose studies of South African wildlife paved the way for Jane Goodall and Dian Fossey. (NW)
Feb. 29 at 3 pm
EAGLE BOY (U.S.)
Genre: Documentary
Every summer in Omak, Washington, equestrian enthusiasts gather for the Suicide Race, so called for a particular 70-meter downhill stretch that sits at a comfortable 62-percent grade. (IH)
Feb. 29 at 3:30 pm
THE WOLF HOUSE (Chile)
Genre: Animation
An abstract fairy tale told through stop motion animation, with papier-mache figures and wall paintings telling a Red Riding Hood-type story. A mixed media art project that took five years to make. (NW)
Feb. 29 at 5 pm
BOOK WEEK (Australia)
Genre: Comedy
In the great tradition of educational dramedies, an English teacher's professional confidence is thrown into jeopardy after a publisher passes on his novel... opting instead to publish one of his student's works. (IH)
Feb. 29 at 5:30 pm
SONG LANG (Vietnam)
Genre: Drama
This romantic/historical drama chronicles the budding relationship between two men, a debt collector and an opera performer, against the tumultuous backdrop of 1990s Saigon. (IH)
Feb. 29 at 7:30 pm
BALLOON (Germany)
Genre: Drama
In Michael Herbig's historical drama, a pair of families attempt to flee East Germany during the height of the Cold War. The catch? Their chosen transportation is a hot air balloon. (IH)
March 1 at noon
BIAS (U.S.)
Genre: Documentary
This plainly titled documentary makes no attempt to hide what it is: An exploration of the implicit biases that govern our society. In a world dominated by divisiveness, a confrontation of our deep-seated, subconscious beliefs should prove worthwhile. (IH)
March 1 at 3:30 pm
MARONA'S FANTASTIC TALE (France)
Genre: Animation
If you've got room in your heart for another big-screen canine, this French animated offering about a cute dog passing from owner to owner begs for your attention. (IH)
March 1 at 5 pm
CLIMBING BLIND (U.K.)
Genre: Documentary
Climber Jesse Dufton may not go ropeless a la Free Solo's Alex Honnold, but there's a different kind of edge to Dufton's hobby: he's blind. This British film tracks his ascent up Old Man Hoy, a famous Scottish climbing destination. (IH)
March 1 at 5:30 pm
STITCHES (Serbia)
Genre: Drama
This fact-based drama centers on a Serbian seamstress' steadfast search for the child she believes was taken from her at birth, more than 20 years prior to the film's events. (IH)
March 1 at 7:30 pm
SAINT FRANCES (U.S.)
Genre: Drama
Carrying on the proud tradition of films about disgruntled adults softened by adorable children, Alex Thompson's family drama follows a reluctant nanny whose personal life gets even more complicated thanks to the spunky titular child. (IH)
March 2 at 7:45 pm
CHANGING THE GAME (U.S.)
Genre: Documentary
Michael Barnett's critically acclaimed documentary chronicles the trials and tribulations faced by transgender high school athletes. The feature will be paired with a program of shorts concerned with LGBTQ themes. (IH)
March 3 at 6:15 pm
BURGERS, FRIES & FAMILY TIES (U.S.)
Genre: Documentary
Since Richwine's Burgerville opened in 1962, the family-owned fast food stand in Polson, Montana, is still running in its original location and headed by the daughter of the original owners. Meet the people behind its delicious patties. At Movie & Dinner in Airway Heights. (IH)
March 3 at 7:30 pm
BUILDING THE AMERICAN DREAM (U.S.)
Genre: Documentary
Filmmaker Chelsea Hernandez spotlights the Latinx immigrants at the core of America's construction industry, which is sure to prod at important and uncomfortable issues surrounding the country's poor treatment of, and extreme dependence on, immigrant families. (IH)
March 4 at 7:30 pm
STORIES OF US and THE HIDDEN HOMELESS (U.S.)
Genre: Documentary
A pair of short-form documentaries focused on homelessness: Stories of Us is set in a Seattle homeless camp preparing for winter, while The Hidden Homeless profiles homeless families living in Spokane. (NW)
March 5 at 7:30 pm
CHINA LOVE (Australia)
Genre: Documentary
Director Olivia Martin-McGuire's film begins as a peek behind the curtain of China's pre-wedding photo industry, but it also explores the country's increasingly capitalist economy and its strict expectations when it comes to matrimony. (NW)
March 6 at 7 pm
SUPER FRENCHIE (U.S.)
Genre: Documentary
SpIFF closes with this white-knuckle portrait of professional daredevil Matthias Giraud, who becomes one of the world's preeminent BASE jumpers. But the birth of his son and a shocking accident change his priorities. (NW) ♦
Tickets for individual screenings are available at spokanefilmfestival.org. Passes for the opening night gala are $15; general admission for most screenings is $12, and matinee screenings cost $10.