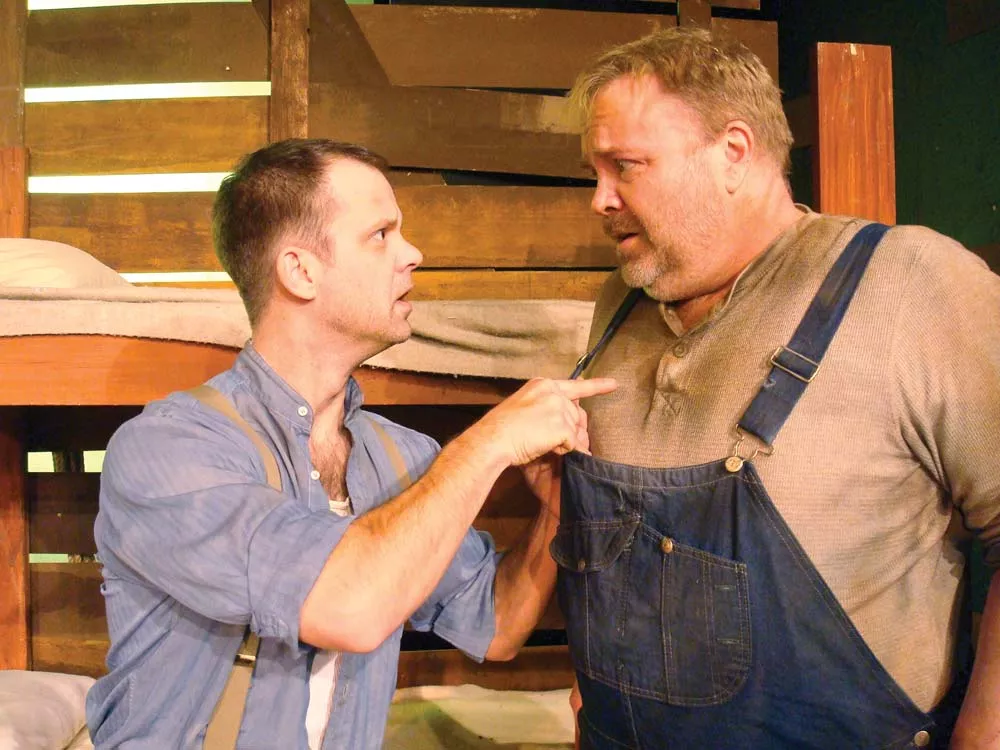 When your job involves systematically reviewing an entire season of local theater, as mine does, you find your interest in next year being rekindled because of all the great moments from last season: a burial at sea followed by floating candles. Tap-dancing nuns. A misshapen body back-lit and exhibited on a clinical screen. Infectious mob-dancing that protests racism while providing release for teenage hormones. Widows whispering at their husbands' gravestones. Lovers huddled for warmth on a park bench in winter. Two veterans of the Spokane stage, slow-dancing and wisecracking their way through a high school production. A blind teacher's self-doubt. A dimwit junior high kid falling off the top row of the bleachers.
Don't know what I'm talking about? Regret missing those shows? Then get out to a theater, and soon.
Nominations for the 2011 Spokies were announced on July 14 on the blog at inlander.com, with some categories having as many as 11 nominees. Reading through them provides the pleasure of remembering just how many talented directors, designers and actors there are around here.
Nominations, after all, are what matter; the awards themselves are just the icing. (But winners are what readers want, so read on.)
Eligible productions (those that I managed to see from June 2010 to May 2011) include shows at four local theaters and five local schools.
Here are one guy's choices for the best of local theater.
LEADING ACTRESS, MUSICAL
Jean Hardie as Sister Mary Regina in Nunsense, Spokane Civic Theatre
The swan song of a Spokane theater tradition — still glowering at the other nuns, still laughing at herself as she tumbles offstage
LEADING ACTOR, PLAY
David Gigler as Lennie Small in Of Mice and Men, Lake City Playhouse
A man-child who didn't just settle for giggling over simple pleasures but was dimly aware of his limited perceptions
LEADING ACTOR, MUSICAL
Brian Gunn in the title role of Buddy: The Buddy Holly Story, Civic
When somebody around here has more guitar-shredding talent and onstage charisma — well, that'll be the day.
LEADING ACTRESS, PLAY
Susan Hardie as Lucille in The Cemetery Club, Civic Studio
Underneath the Dolly-Partonon-the-prowl exterior, puddles of insecurity and loneliness
BEST COMEDY
Nominees: The 39 Steps, Interplayers Almost, Maine at Lake City Together Again for the Next Time, Interplayers
Winner: No award (While enjoyable, all three nominees had flaws and did not rise to the level of past winners in this category.)
BEST DRAMA
Nominees: Frost/Nixon, Civic Studio Metamorphoses, Civic Studio Opus, Interplayers Race, Interplayers The Scarlet Letter, Lake City The Things They Carried, EWU
Winner: The Things They Carried, EWU
The graveside mourners, the manic soldiers, the steamy jungle heat — all emphasized the guilt haunted Vietnam vet's distrust in his government and himself.
BEST MUSICAL
Nominees: The 25th Annual Putnam County Spelling Bee, Civic Studio Buddy: The Buddy Holly Story, Civic The Full Monty, Civic Hairspray, CdA Summer Theatre Urinetown, Lake City Playhouse
Winner: The 25th Annual Putnam County Spelling Bee, Civic Studio
Amid all their scampering silliness, this ensemble harmonized well and created moments of beauty.
SET DESIGN
Peter Hardie for White Christmas, Civic
LIGHTING DESIGN
Joel Williamson for Hairspray, CdA Summer Theatre
COSTUME DESIGN
Jessica Ray for Hairspray, CdA Summer Theatre
CHOREOGRAPHY
Christopher Moll for Hairspray, CdA Summer Theatre
DIRECTOR, PLAY
Marilyn Langbehn for Race, Interplayers
DIRECTOR, MUSICAL
Yvonne A.K. Johnson for Buddy: The Buddy Holly Story, Civic
SUPPORTING ACTOR, PLAY
Thomas Heppler as Sam in The Cemetery Club, Civic Studio
SUPPORTING ACTRESS, MUSICAL
Tamara Schupman as the Female Authority Figure in Hairspray, CdA Summer Theatre
SUPPORTING ACTRESS, PLAY
Nike Imoru as Susan in Race, Interplayers
SUPPORTING ACTOR, MUSICAL
Mark Pleasant as Leaf Coneybear in The 25th Annual Putnam County Spelling Bee, Civic Studio
ENSEMBLE
The 25th Annual Putnam County Spelling Bee, Civic Studio

---
LOCAL THEATER DEVELOPMENTS
Three of the biggest trends in the Inland Northwest theater scene this year
3. National news coming out of Interplayers
First, David Mamet allows the first outside-of-NYC production of his latest play to take place in ... where's this "Spokane" located again, exactly? And then Patty Duke completes her Helen-to-Annie-to-director trifecta in The Miracle Worker, attracting theatrical envy elsewhere. But if you follow local theater, you know this. What's been underappreciated is how much credit is due to Interplayers' artistic director, Reed McColm (who had the connections to get through to Mamet's agent and who became Duke's trusted friend after they appeared together here in Gypsy in 2003). Striving against a recession and a recalcitrant board, McColm keeps providing Interplayers a handhold.
2. Packed houses at the Civic
For their most popular shows, theaters add extra performances all the time. But seldom, if ever, has a local theater extended the run of one of its hits nine months later. Yet that's exactly what Yvonne A.K. Johnson is doing with her Buddy Holly production, reassembling the cast and crew from last September and raving on for eight more performances this month. Despite a notorious personnel issue last November and the phenomenon of some actors and directors fanning out to other local theaters (which, after all, can result in helpful cross-pollination), the Civic continues to thrive — in spite of the recession and in spite of the ticket-buying public's myriad other entertainment options.
1. Resurgence at Lake City
More sponsors, less debt, increased staff size. New paint. New roof. New actors and directors. Lake City Playhouse Artistic Director George Green is even finding a way to cram big musicals (Evita, Fiddler) onto a small stage while still presenting musicals with bodily-function titles to (one assumes) some skeptical North Idaho patrons. In his first season at the helm of Coeur d'Alene's community theater, Green has improved his theater's finances, physical plant and artistic product. Playgoers from Kootenai County (and Spokane!) shouldn't assume that the NIC campus during the summer is the only place and time to see good acting in Coeur d'Alene.