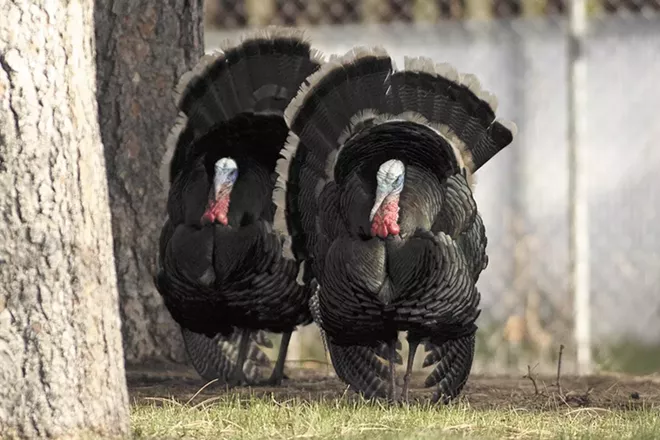 By KIRK JOHNSON
© 2017 New York Times News Service
It turns out that genuine, free-range wild turkeys are increasingly finding their free range to include suburbs from New England to California and lots of spots between. Human-turkey conflicts are on the rise.

A few weeks before Thanksgiving last year, for example, Ashley Kruse noticed that glass from a second-story window of her house in Council Bluffs, Iowa, had shattered onto her driveway. She walked upstairs to find a room covered in blood and turkey feathers. A turkey had smashed its way inside, for reasons only a turkey could say.
"He left a mess, but he was no longer there," said Kruse, who works for the city. "It was disgusting and hilarious at the same time."
Starting in the early 1950s, wild turkeys were reintroduced into states where they had fallen on hard times as their habitat shrunk, and newly introduced — often with enthusiastic state participation — into places like the Pacific Northwest, where they had never existed in nature.
Every state but Alaska now has a hunting season on wild turkeys, which have an estimated population of about 6.2 million across the nation, up from about 1.3 million in the mid-1970s.
Wild turkeys, relatively new to the suburbs, do not always know how to behave. Sometimes they climb on the roofs of houses, which, it seems, can freak people out. Other times they descend as a flock to roost on back fences or high in trees, quietly or often not-so-quietly waiting for dinner, or a cue to action, like something from a Hitchcock film.
Texas has the most turkeys in the nation, with an estimated population of half a million, followed by Alabama, Kansas and Wisconsin.
In Boston and its suburbs, where nuisance complaints have soared in recent years, wild birds stumble into the streets in front of cars or relieve themselves in doorways. Others gaze at length at their reflections in storefront windows.
"We've seen them go from being a novelty, a rarity, to now it's just a normality," said David Scarpitti, a wildlife biologist with the state of Massachusetts.