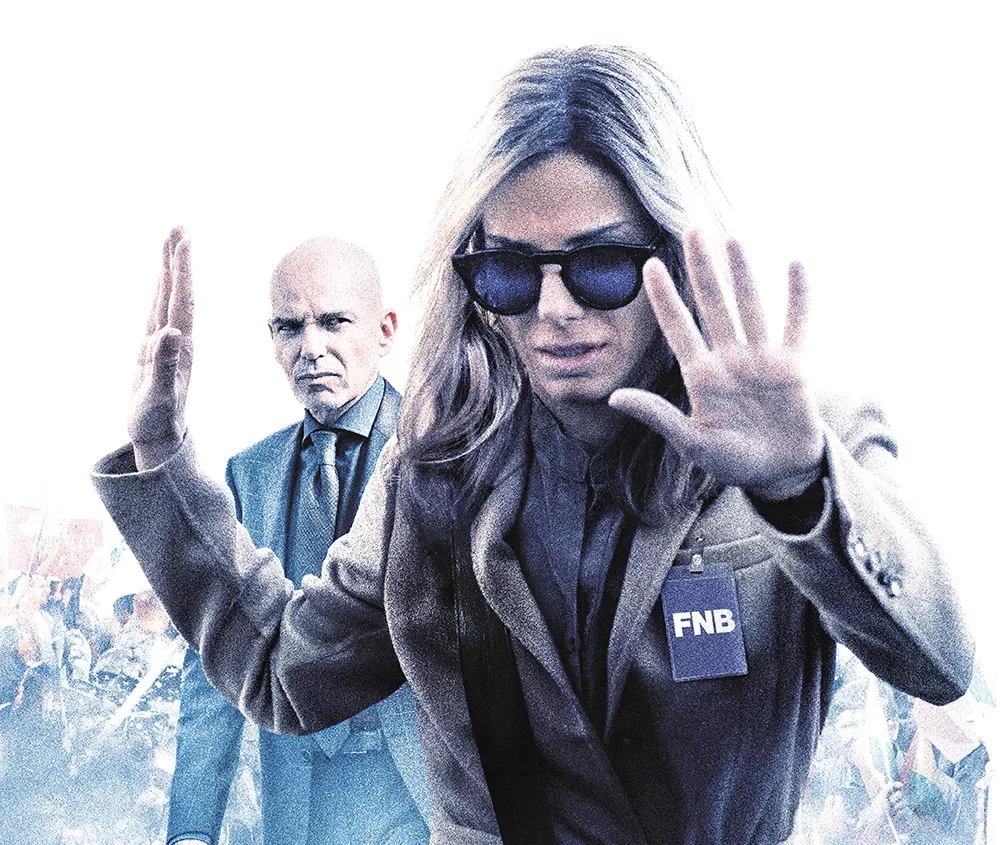 The older Sandra Bullock gets, the better she gets as a performer. Now that she's done her time in the romantic comedy coal mines, Bullock can make space for pricklier performances, like her OCD cop in The Heat, or her emotionally stripped-down turn as an imperiled astronaut in Gravity. Part of her newfound charm is that Bullock doesn't seem to give a shit whether you like her or not, which is a refreshing change for a woman in Hollywood.
Her performance as campaign consultant "Calamity" Jane Bodine in the political thriller Our Brand Is Crisis takes Bullock's evolution even further: Bodine is not interested in sex, or love, or motherhood, or any of the other things that the movies tell us a woman should always be thinking about. She's a Machiavellian political genius, and she's seriously emotionally damaged, and she's tired of losing. When Bodine is called out of a complacent early retirement ("I'm better than happy," she says to her recruiters, "I'm calm.") to head to Bolivia to manage the "shitbucket" campaign of a flailing presidential candidate, all of her old addictions — cigarettes, alcohol, risky behavior, competitiveness — come roaring back. Bullock is fascinating to watch as her character treats the locals with contempt (almost none of the Americans who head to Bolivia to rake in consulting cash bother to learn Spanish) and falls in love with the brinksmanship of head-to-head political combat all over again.
Bodine sets her sights against her counterpart, an American consultant for the other major presidential campaign with the delightful name Pat Candy (Billy Bob Thornton, in smirking, ice-cold killer mode). Candy and Bodine have clashed in the past "three or four times," and Bodine has never won. Can she beat Candy this time? Should she beat Candy? What does it mean to beat someone in politics, anyway? Isn't this supposed to be about the people, or something?
Directed with surprising confidence by David Gordon Green (George Washington, Your Highness, Pineapple Express), Our Brand Is Crisis is built on some strong supporting performances (the characters played by Anthony Mackie, Scoot McNairy and Zoe Kazan could each easily support their own films) and a cynicism that pairs nicely with our current Trump-infatuated media cycle. This is not a mass-market crowd-pleaser of a film — it's hard to imagine audiences embracing Bullock's willfully unlikable protagonist — and it's probably not quite complex enough to score any Oscars, but fans of political dramas and dark comedies will find a lot to like here.
Granted, some of the political stuff is regrettably dumbed-down; no political consultant would ever have to explain the hoary campaign stories about LBJ and Adlai Stevenson that surface over the course of Crisis. But of course, political movies are never really about politics. Primary Colors (also starring Thornton as a political strategist) was about the death of the boomer generation's idealism. Game Change was about what happens when you fall for personality over substance. Wag the Dog was about the pursuit of narrative over truth. (Probably the best movie about American politics made in the past 20 years? Alexander Payne's Election.)
What Crisis is interested in is control. Do politicians control us, or are they controlled by us? Do our addictions control us? What about mental disorders? While the conclusion of Crisis feels a little too pat, it at least tries to engage with the Big Ideas that it raised before. I don't know about you, but I'd rather watch a dozen flawed-but-ambitious movies that wrestle with big questions about politics and self and community than another warmed-over Oscar-bait biopic. ♦