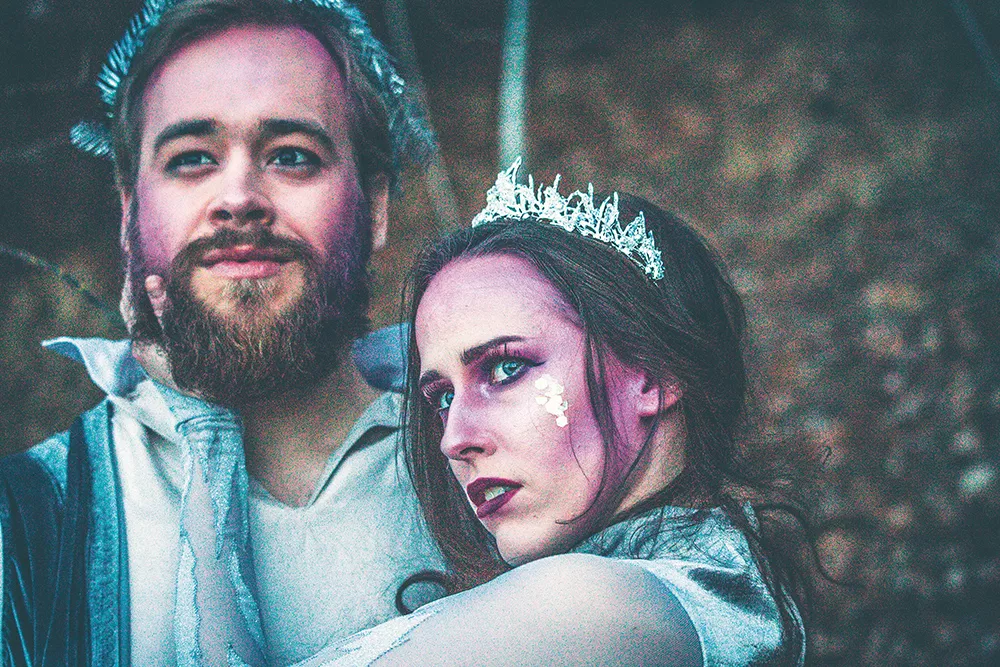 This past summer, while temporarily residing in a green, bucolic area somewhere roughly in the pinky of Michigan's mitten, Stephen John all but willed himself into a Yuletide mood. As he sat indoors and contemplated the 90-degree heat outside, he tried to imagine mistletoe, clouds of breath in freezing air, ice skating and snowball fights.
"It was completely unnerving," he laughs. "I was between two beautiful, giant vistas of lakes and all these wonderful pine trees and oaks, living in a cabin for seven weeks, and working on a winter show."
What made that process slightly more difficult was that the winter show he was working on was A Midsummer Night's Dream, which, even based on title alone, is about as estival as it gets. A few months earlier, John had been tasked by the University of Idaho's theater program with adapting Shakespeare's oft-quoted, widely performed romantic fantasy-comedy into its 2018 holiday production.
Nor was summoning suitable inspiration the only creative hurdle. Where Shakespeare is concerned, the source material isn't always straightforward. There can be several different versions — both historical and contemporary — of a single play. In the case of A Midsummer Night's Dream, there's the Arden edition ("the one you'll most likely see in almost every Barnes & Noble," he notes), the First Folio edition from 1623 and the Folger, a slightly more modern edition. John also consulted more recent edits of the play with various directorial cuts.
"They're all different in subtle ways. Specifically, there's language that's different, and there's intent that's different. It comes down to punctuation at times and gets very tricky, because where a comma is versus where a semicolon is can totally change the meaning of a line."
Then there was the matter of transposing the play's summer setting to a winter one. Like translating a text from one language to another, that had a literal aspect as well as an atmospheric one.
"If I take the actual text and look at things I needed to change to give us a winter feel, it's really about 20 to 40 words at most," he says. "But instead of just saying 'winter' [in place of 'summer'], what's the overall feel? A Midsummer Night's Dream is about love, but it's also about conflict. It's about going into this scary place of the woods, finding out who you are, and coming out the other side — and there being some sort of revelation or a fix to all of those problems."
Although some of that conflict is essential to the play, John thought the emphasis of a family-oriented, holiday-themed show should fall more on the inherent air of enchantment of the season.
"For us, A Midwinter Night's Dream is a show about magical and elusive love," he says. "And that's our starting point. We kept it away from Christmas and anything like that and actually went several hundred years older into a Celtic consideration of what the holidays were, more of a sympathetic magic."
That means that Puck, played here by Megan Woodward, is still a mischievous imp who "changes our world and effects change" in this version of the play. Oberon (Gerrit Wilford) and Titania (Paige Erbele), King and Queen of the Fairies, still have their raging lovers' quarrel. The Mechanicals — the manual laborers turned troupe of amateur actors — are still there, too, including Nick Bottom, who's transmogrified into the ass with whom a spellbound Titania falls madly in love.
But, as John points out, the focus instead falls more heavily on the characters' "very specific wants and needs."
"They're looking for love, and if we look at it that way, that kind of fits with our holiday theme quite well. What are the holidays about? They're about family and being with the people you love. They're also about giving and receiving. So we've turned a midsummer into a midwinter by very few words but really [reimagining] the intent."
John, who's also directing this production, has likewise been working with his design team to complement the adapted story with "elements of frost and snow" so the set "feels like one of those window displays" that appear in downtown department stores. The way that the dancing fairies move is "almost more like ice skating than prancing through the glade."
Taken as a whole, he says, the resulting adaptation aspires to be kid-friendly, "fast-paced," fun and, above all, "informed by the audience," particularly the individual traditions that theatergoers bring to the show.
"I've stayed away from a Christmas show because it's not a Christmas show. It's a holiday show," says John. "I know that seems semantic, but I go back to Theseus' line: 'If we imagine no worse of them than they of themselves, they may pass for excellent men.' It's more about the overall feeling that's locked up in all those Hallmark movies." ♦
A Midwinter Night's Dream • Nov. 30-Dec. 9; Thu & Sat at 7:30 pm, Sun (and Dec. 1) at 2 pm • $10-15 • Hartung Theater, 625 Stadium Dr., University of Idaho, Moscow • uidaho.edu/class/theatre • 208-885-6465