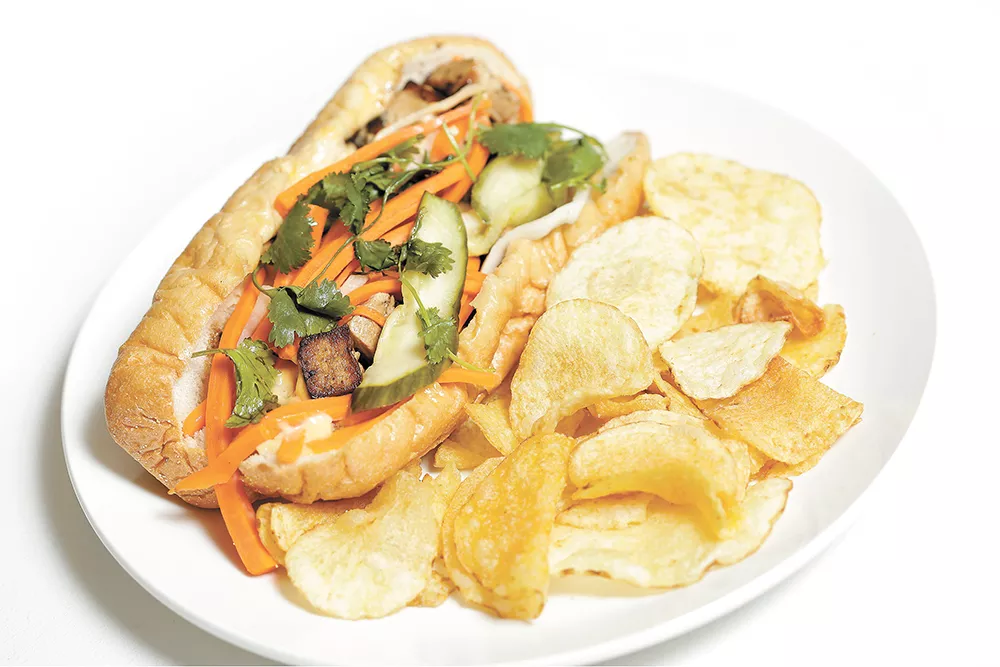 If you're vegetarian or vegan, you're probably already well aware of local hot spots like Boots Bakery & Lounge, Mizuna, and Allie's Vegan Pizzeria and Cafe. Still, it can be daunting to sift through all the carnivore options on a menu to find the good stuff at other favorite restaurants. Never fear! We've done the work for you. Here are a few of our faves.
Bahn Mi Sandwich, $8
Ruins, 825 N. Monroe, 443-5606
If you were used to getting your sandwich fix from Stella's Cafe, take heart — it isn't gone, they've just moved inside Ruins, a couple of blocks down Monroe. Chef and owner Tony Brown puts his own spin on a classic — this sandwich is a delicious blend of daikon radish, carrot, cucumber, and jalapeño cut into precise matchsticks, mingled with protein (be sure to choose the tofu option to make this vegetarian) nestled into a fresh roll and topped with a savory house made sauce and cilantro. It's one of those sandwiches that calls to me regularly. If you're avoiding bread, this one is good as a salad, too. It's also possible to make this vegan, so ask your server if that's what you want.
Curtis Roll, $9.95
Sushi.com, 430 W. Main, 838-0434
Who says vegetarians can't eat sushi? One of several vegetarian rolls on the menu, this eight-piece roll features deep fried squash, onion, and carrot on the inside and it's topped with avocado and inari and a creamy wasabi sauce. If you're still hungry when that's gone, check out the other affordably priced vegetarian rolls (and don't forget the deep fried ice cream for dessert).
Curried Cauliflower, $7
Midtown Bluebird, 816 N. Fourth, Coeur d'Alene, 208-665-3777
This savory and sweet appetizer is a tantalizing blend of pears, golden raisins, walnuts, honey (and of course, curry and cauliflower). You'll need to ask for both the vegetarian and vegan options on this (both are available). Although it's on the dinner menu, I'll bet they'd make it for you at lunch if you asked nicely. The staff at the Bluebird like the challenge of meeting specific dietary requirements, so if you're still hungry when the cauliflower is gone, give them a holler.
Spiced Rhubarb Compote Crepe, $5
Fleur De Sel Artisan Creperie, 909 S. Grand Blvd, 242-3725
Bite into this crepe and prepare yourself for the ultra-local, tangy, tart sweetness of rhubarb perfectly spiced and enfolded into a spacious, ultra-thin crepe the size of a generous pizza, folded in half twice. Make this crepe (and many others from the menu) vegan by asking for socca batter (it relies on chickpeas and is also great for the gluten-free crowd). You can find this creperie, a brainchild of Patricia and Laurent Zirotti, who own Fleur De Sel in Post Falls, tucked into the South Hill, just behind Sacred Heart Medical Center.
Vegetarian Quiche of the Day, $5.75
Rockwood Bakery, 315 E. 18th, 747-8691
Every day, you'll find a new vegetarian quiche on offer at this friendly neighborhood bakery, according to the creativity of the baker (when we last checked it was asparagus, red bell peppers, broccoli and cheddar and pepper jack cheeses). There's nothing quite like this custardy concoction (with crust that flakes apart in your mouth). I've never had a combination of quiche flavors here I didn't like — and just as much care goes into the vegetarian option as the corresponding meat quiche. If you're especially hungry, or want to have a party, they sell these by the whole quiche as well, and you can customize what's inside.
Falafel Pita Sandwich, $10
Azar's, 2501 N. Monroe, 326-7171
Tap into your Mediterranean side, no lamb required. Azar's has been around Spokane for many years, and there are lots of reasons why. One of them is their excellent gyro game (to say nothing of the baklava). Hummus, falafel, lettuce, tahini and tomatoes are waiting inside this vegetarian gyro. Plus, you can add some flaky, buttery baklava for dessert — did I mention that?
Brussels Sprouts, $8
Durkin's Liquor Bar, 415 W. Main, 863-9501
In the last few years, the humble Brussels sprout has been elevated to an art form by forward-thinking chefs. This version from Durkin's tastes to me like vegetable candy, in a good way (I promise, you'll become addicted). These marvelous morsels are made with bourbon, Sriracha, brown sugar and alchemy. I know you're supposed to share small plates, but with this one I never do. If you want the vegan version, just let your server know.
Sweet Potato Fries, $9.49
Ambrosia, 9211 E. Montgomery, Spokane Valley, 928-3222
Sweet potato fries are a staple on many menus, but when I think about the genre, these always top my list. A generous portion of perfectly crispy fries (still soft in the middle) are topped with creamy, spicy garam masala cream sauce, goat cheese and green onions. The result is a side dish that feels an awful lot like a meal. These fries are addictive, and worth the drive to the Valley, wherever you may be. ♦