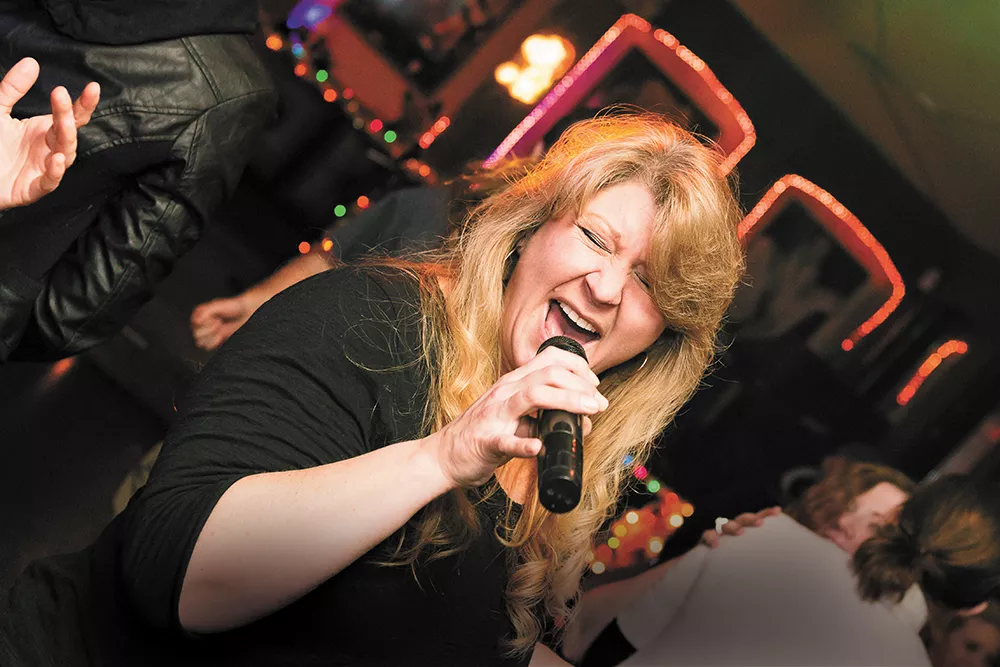 It's a Friday night, and people are getting drunk. The bar is producing rounds of shots in the dozens. Every table is packed. It's the kind of night when big groups of friends grab each other by the shoulders when the speakers emit their favorite songs, sloppily yelling the lyrics as their beers slosh to the floor.
Most nights, groups of friends come here — a working class South Hill bar called Studio K — to get liquored up enough to belt out Journey and Dixie Chicks and Bon Jovi in the karaoke room and not care what anyone else thinks. Tonight, a crowd of about 15 people huddle around two microphones and shout the B-52s' "Love Shack" horribly. But nobody's really listening. Everyone's just worried that their name will be called next.
So no one seems to notice when the cocktail waitress steps up to the microphone. She's a pretty, blonde 46-year-old named Janice, but everyone here calls her J.J. She works the weekend shift and calls her customers "sweetie" when she hands them their drinks. Standing on the karaoke stage, she nervously fidgets with the microphone as she waits for her song to start.
When it does, out of this woman comes a voice like a thunderclap. She belts out "Chain of Fools" like she was taught how to sing it by Aretha Franklin herself.
The place comes alive. People jump out of their seats and start dancing and clapping along. Two women grab each other's hands and run onto the dance floor, twisting as they sing. When she finishes, the place erupts in applause. One of the "Love Shack" guys hops up, grabs her by her shoulders and says, "I feel like I want to ask for your autograph!"
She just smiles, collects her tray, heads to the bar and grabs her next round of orders.
If you blink too hard, you could miss Studio K. Maybe that's why the owners decided to paint it yellow — to yell out to the busy thoroughfare that their tiny strip-mall bar was there. It's an unassuming place, overshadowed by three grocery stores, a pet store, a constant snarl of traffic and the greasy aroma of nearby drive-throughs.
It's where J.J. White got her first bartending job at 21, where she came back to nine years ago to tend bar and serve drinks. And when there's a lull in the karaoke lineup, it's where she'll step up to the microphone and let that big voice of hers out for a few minutes.
White doesn't sing much otherwise. She was in a blues band once, but that didn't work out. Music was one of her first loves. Not demure, sweet songs, but big, powerful ones sung by women who meant it. She'll admit there was a time when she was young when she thought her voice might make her famous.
"But then you know, I had kids. Got married, had kids. Became a single parent. So all of my needs kind of got put on the back burner for awhile," she says.
She can't complain, she says. She loves everything about her life.
"You know, things change," she says. "I don't know, somewhere in the back of my mind, it would be cool to have just a one-hit wonder somewhere, you know?"
Customers come into Studio K all the time and try to give her tips to sing. She'll make them stick the cash in the bar's Toys for Tots collection bin.
People beg her to go on The Voice: "First of all, I would never know even how to do that. And, I don't know. I'd probably be way too scared. You can ask my boss. Sometimes, I get done singing karaoke, I'll be shaking so bad."
But deep inside, she loves how she feels when she sings.
"Sometimes when I'm singing and I'll just close my eyes, and I won't even be concerned if I can hit the note or not. I just let it out. And I figure if it's gonna happen, it's gonna happen. And if it doesn't, it doesn't. Bear with me. And for the most part, it always has."
Even more than the way it makes her feel inside, she loves what it does to people. The realist inside of her — the practical one who scraped together meals from empty cupboards, the single parent, the one who works the closing shift at the bar and is in school by 7:30 the next morning — is still a little surprised when someone likes how she sings. When they ask for her autograph, or when they find the one CD her old blues band ever made, she can't help but laugh.
"I did have one of my customers say he was at a yard sale ... and he found the cover of [my] CD. The CD wasn't inside," she says, giggling. "I was like 'Yay! I made it to a yard sale.'" ♦