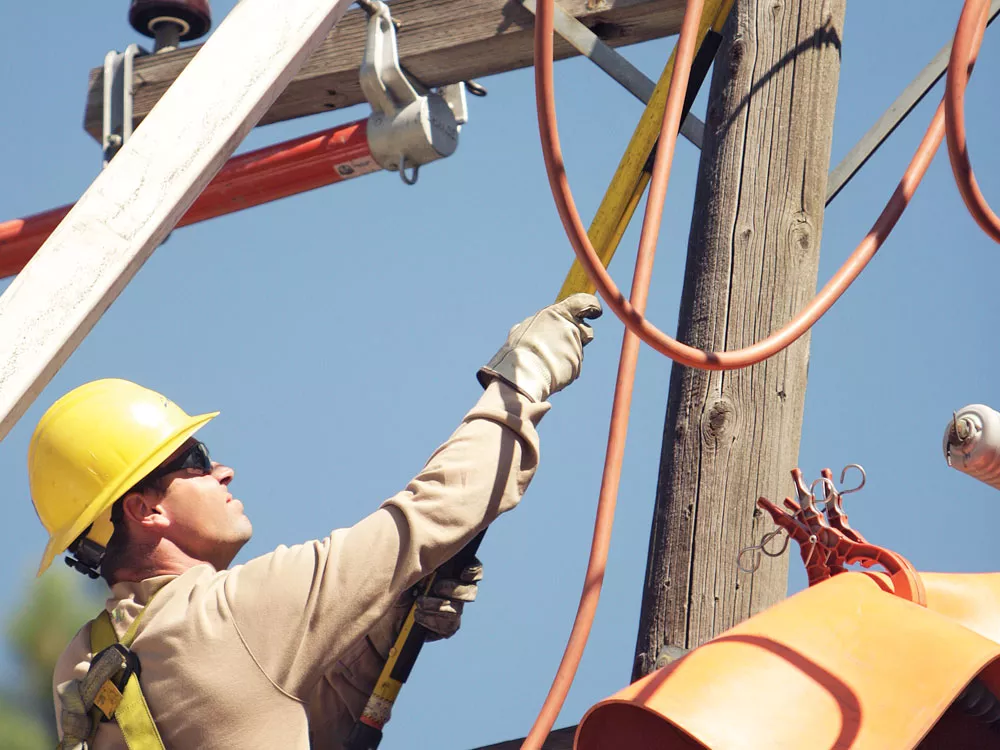 "When you do something long enough, it sounds easy," says Kelley Hendry, a line crew foreman for Avista.
It looks easy, too. Hendry and his crew are out on Magnesium Road, where they'll be for the better part of a month, preparing to upgrade poles and power lines. The work involves hoisting two crewmembers up in a bucket truck about 30 feet off the ground, where they can interact with the three uppermost wires on the pole.
Using a red fiberglass extension-rod, they take the strand closest to the street and shift it out a few feet farther, creating a hole between the (energized) wires to pull the new wire through. Electric general foreman Eric Rosentrater explains all this to me while I stand there feeling silly for wearing a fluorescent green vest and yellow hard hat.
Then he tells me that all it would take is the simplest of incidents — two people working on different lines, brushing elbows — and they'd immediately be consumed by a 25,000-degree fireball.
Hear that scream? Purely involuntary, a muscle reflex.
And any conductor — say, a tree branch — lying across two wires can create an arc, generating a plasma ball that would fry anything in the vicinity.
The vest-and-hard-hat combo suddenly seems silly for entirely different reasons.
It's not as though plasma balls and deep-fried flesh are common occurrences, though. Rosentrater says the last local fatality occurred two years ago. Still, it doesn't change the fact the men and women working on the lines are exposed to up to 13,200 volts per line. It's enough that 19 electric-line installers and repairers nationwide died from on-the-job incidents last year, according to data from the Bureau of Labor Statistics.
But while it may seem like rogue electricity is the worst risk facing the line workers, it's not. Hazards can come from any number of sources — height, spontaneous equipment failure, even traffic.
Rosentrater talks about Jake Booth, who worked for Kootenai Electric as an apprentice. In 2007, Booth's four-person crew was putting a new pole into place and discovered it needed to be moved slightly. When they picked it up, the top swung and contacted a live wire, which sent electricity coursing through the pole and into Booth, who died at the scene.
Incidents like that are why the entire crew undergoes extensive safety training, up to and including today. Hendry, the foreman, keeps a sharp eye out for any possible changes that could affect safety, even a change in the wind. If he notices something amiss, he'll call everybody down and talk things over, says Rosentrater.
Hearing about all these potential dangers brings the obvious question to mind: Why on earth do they work on live wires? They control the power — why can't they just shut things down?
"The customers," says Rosentrater. "This area probably has about 1,200 customers, and there's a Home Depot right over there … With home businesses and telecommuting and everything, they can't afford to be without power."
Despite the vehemence directed toward utility companies after rate hikes or outages, the front-line workers still seem focused on the customers. While this doesn't absolve the company of any slights against it — real or imagined — it says something about the people who put their lives on the line for customers who, as on at least one occasion, chase them down an alley, screaming.
"It stinks when it's five below zero, but one of the best things is when you roll up to a job during a storm, and somebody's been outta power for eight, 10, 12 hours," says Rosentrater. "I tell you what — there's nothing they wouldn't give to have their heater turned back on. And you're the crew that's gonna be there and do it for 'em."