He's not sure when he first heard about the Way, as it's known, or exactly why he decided to take that first journey at age 50. But after walking 1,500 miles of the Camino de Santiago trail — a feat that required three trips (2003, '07, '12) snaking through parts of Belgium, France and Spain — Fr. Kevin Codd says he is finished. Unlike some of the travelers who continually make repeat trips, Codd isn't addicted. He's happy to be in Spokane, the hometown he moved back to last year. Yet the experience walks with him daily. He wrote one book about the trail's challenges and enlightenments, and he hopes to have another published soon.
This weekend, the priest, who formerly taught at an American seminary in Belgium, invites those who have walked the Camino, are headed there soon, or are simply interested in the trail to attend a pilgrimage celebration of the feast of St. James at his Sacred Heart Parish. He wants the gathering to become an annual event, and says that if he can complete the journey, anyone can. But you have to want it.
"Walking is an ancient form of prayer, and that's something our culture has lost," Codd says.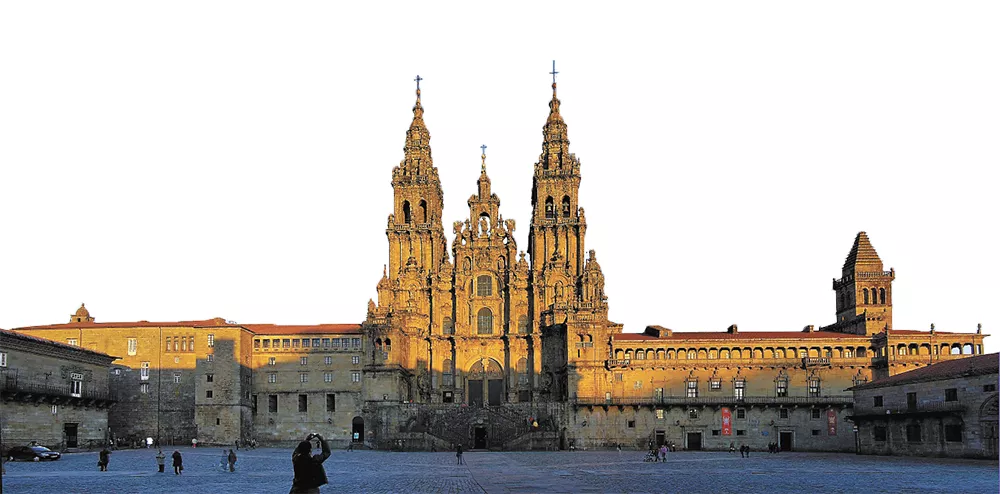 Santiago de Compostela, just short of the coast of northwest Spain, is the destination. According to legend, St. James the Great (the apostle) was buried in the city, and Catholics have been traveling to see his remains at the city's cathedral since the 9th century. They walked to come closer to God and find forgiveness. Throughout the decades and various wars, the journey fell out of popularity, but after WWII, the tradition was picked up once more, mostly by Europeans.
Just as the Pacific Crest Trail saw greater numbers after the release of Cheryl Strayed's Wild, many Americans were introduced to the Camino trail through 2010's The Way, directed by Emilio Estevez and starring his father Martin Sheen (available for viewing on Netflix). Codd, who also speaks fluent Spanish, says it was rare to meet another American when he walked, but now that has changed.
In 2003, about 75,000 people finished the Camino. In 2014, the Pilgrims' Welcome Office in Santiago de Compostela noted that more than 230,000 people completed the pilgrimage. "That puts a lot of stress on infrastructure," Codd says. "And now people tend to document everything. Through social media, people can now follow along with you on your journey, but you lose some of the solitude."
Codd says he believes that the religious aspect of the path enriches the journey, but there are other ways. Many pilgrims are Catholics and Protestants, while others are searching for something larger than themselves, or perhaps just exercise. But he wrote To the Field of Stars: A Pilgrim's Journey to Santiago de Compostela to provide a spiritual vocabulary for the experience, something he doesn't want to be lost.
"Along the path there's this New Age word that's used a lot, synchronicity — to explain when something happens that can't be described," Codd says. "But Christians would call that grace or providence."
The Way is difficult. Few have the three months of vacation time needed to complete the entire trek, which is why many only walk the Spanish portion of the trail. Codd remembers the mud in his boots and on his clothing, the rain that never seemed to cease. After walking 12-mile days and landing at a hostel, he says he could grow grumpy with others. Sometimes his tendinitis would act up, and the second time he did part of the path, while in France, plantar fasciitis ended his walk entirely. But the beauty was there as well.
On the trail he was just Kevin. At a time when our species struggles to find unity, Codd says the Camino is like a planet unto itself.
"The deep experience of getting cared for, a world where no one is afraid, it is incredible," he says. "Out there, you don't know what people do for a living and you may only know their first name. You eat, drink, pray and play together. That's what touches you. It's hard to come home. When you come back there is a new innocence, a freshness to your existence. You've had this powerful experience and you go home and it's the same old world." ♦
St. James Celebration for Pilgrims • Sun, July 24, at 5 pm • Free and open to the public • Sacred Heart Catholic Parish • 219 E. Rockwood Blvd. • To RSVP for dinner email spokanesantiago@gmail.com • 747-5810