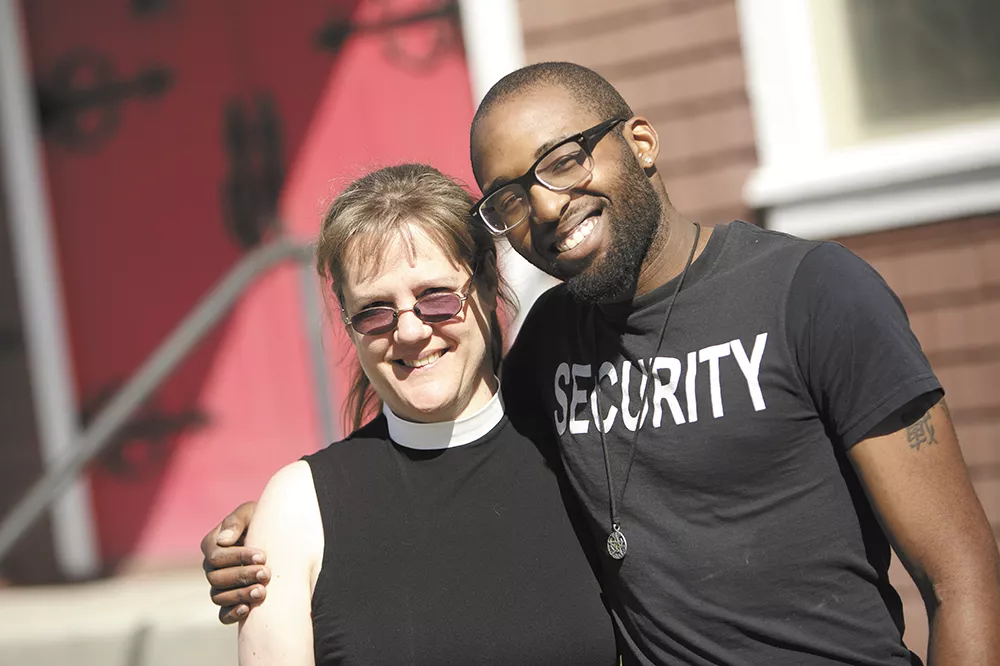 Holy Trinity Chapel sits a couple of blocks west of where Ash loops down to the Maple Street Bridge — right in the heart of the West Central neighborhood. It's been there for 120 years — in fact, it's the city's oldest continuing house of worship. Inside the chapel is a special place — cozy, a bit haunting, with a soaring ceiling held up by dark, hefty beams. The original wood-carved altar still presides. In historical photos, you can see the priests in all their finery conducting a mass in 1945; another, in faded color from the 1950s, shows the 1895 structure being painted.
That scene is being repeated during my visit Monday, as volunteers participating in Spokane Gives Week are slapping a fresh coat of "we care" white on the chapel's trim and garden fence.
"This is fitting," says Kris Christensen, the priest at what is now the West Central Episcopal Mission, "because we are completely dependent on volunteers."
There's no congregation here anymore; no regular services, either — just on Holy Days and for the occasional funeral. Today, this is a full-time outreach program of the Episcopal Diocese of Spokane. With the annual attention West Central gets from Bloomsday runners, and their participation in Spokane Gives Week, Christensen hopes citizens take a closer look.
"Jesus didn't just heal people," she says, her priest collar framed by a denim shirt, "he healed them of something that was separating them from their community. Poverty is not about individual failure; it's much more systemic than that. What we're doing here, it's really about breaking down the barrier between the giver and the receiver; it's about dignity."
Last September, the Mission opened up the St. Lawrence House across the street from the chapel — a place where the homeless and needy can, in return for a couple of chores, drop in for a shower, do some laundry or grab some coffee and conversation. When I walked in Monday, three young men were sleeping on the couch — perhaps a long night in the homeless camps. A few people are telling tales in the kitchen; an unfinished game of chess waits on the table. Tasheem Gresham is checking his phone. The 23-year-old pulls out his earbuds and tells me he volunteers and helps with outreach, handing out cards inviting people to the St. Lawrence House — often from his skateboard.
"I try to have a conversation with people on the streets," he says. "When it seems like everyone hates you, having a friend can mean a lot."
Christensen tells me later that Gresham is a military veteran; the Queens, New York, native came to Fairchild with the Air Force and stayed after his tour.
When Gresham and fellow volunteer Renee Ray show me the St. Lawrence House's library, you see the pride of kids showing off their favorite room to a new visitor.
"We like to spread a little education, too," says Gresham, pointing to the impressive wall of books.
Across the street in the Holy Trinity Hall, I meet Matt David. He's checking over the dining room, where every Saturday morning and Wednesday evening they host 100 or so at a free meal. He tells me more about his job — paid staff, he adds with a smile — and how he started as a client at the St. Lawrence House. David, 21, loves the family style meal on Wednesday, where they pass the platters around the table to people who often need a lot more than food.
"I like talking to them all," David says, a "Thy Will Be Done" pendant around his neck. "I myself just got off the streets. I know what goes on there."
Trying to find common ground, I tell David how back in the '90s the Inlander's office was just two blocks away on Dean and Ash, and how we're still part of West Central with our office in Kendall Yards. He finds common ground, too, telling me that of course he knows where our office is: "When I was homeless, I used to camp right below your building down on the river."
Christensen points out that her mission is located in one of the poorest neighborhoods in the state of Washington. She serves people on drugs, from broken homes, with mental illness and suffering a nagging poverty that spans generations. She's been physically threatened and watched clients be taken away by ambulance. The level of need is profound. It's a surprising place for someone who, 20 years ago, had left the church. In 2010, she was ordained and took over as the leader of the dedicated team behind the West Central Mission.
"Ten years ago, I would have been afraid to come here," she says as the painters' classic rock plays from a pickup window. "This all started as a fluke — or by the hand of God, you might say. It's amazingly hard, amazingly rewarding, and heartbreaking, too. It takes all kinds of patience and understanding."
It also takes volunteers, donations and the rest of us tuning in to the struggles in our own neighborhoods. ♦