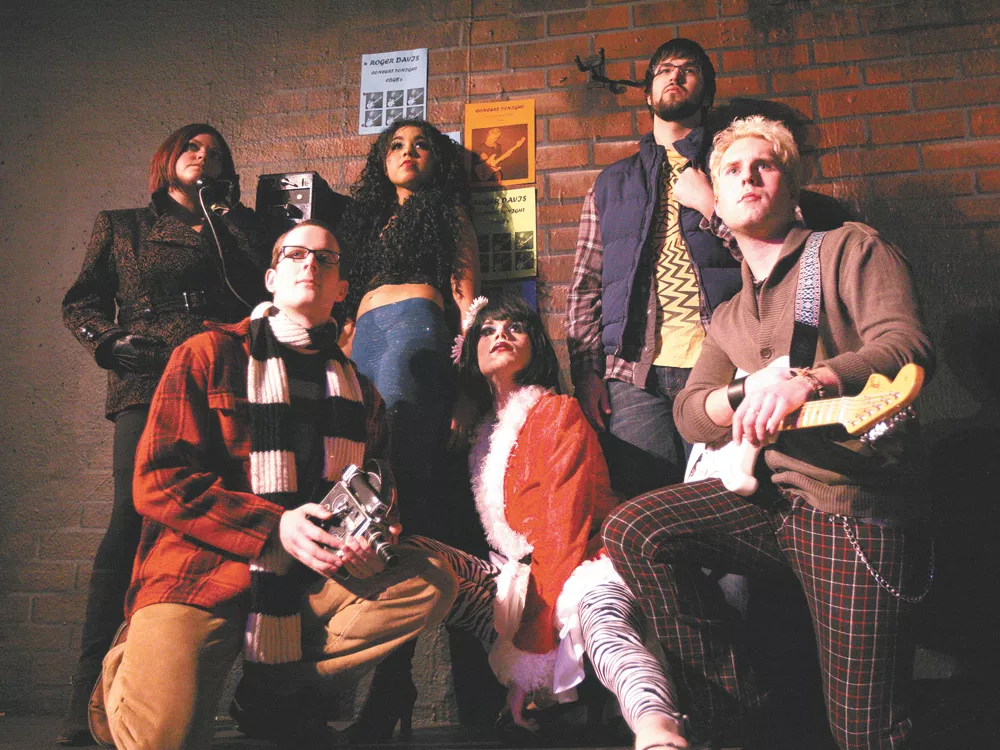 The Lake City Takes Sides
Jan. 13-19
Out of nowhere last winter, sinners, drug addicts and rock anthems were all the buzz around the sleepy lakeside town of Coeur d'Alene. After the Lake City Playhouse announced that it would be the first Inland Northwest theater to tackle Rent — the Pulitzer and Tony award-winning musical that deals with AIDS, homosexuality and drugs — local media was atwitter with letters from angry Idahoans demanding that the "degenerate musical" that "celebrates sin" be canceled. Once the story was picked up by Huffington Post and other national media outlets, the naysayers saw the opposite effect happen: ticket sales skyrocketed. Executive director George Green says Rent "sold out faster than any other show" in the theater's history. Goes to show you: a little controversy can go a long way in the arts world. (LEAH SOTTILE)
Best of Broadway Hits 25 Years
Jan. 18
It's not easy to bring full Broadway shows to Spokane — The Lion King required 24 semis, and that was after all the scheduling logistics. So it was notable when Best of Broadway, produced by WestCoast Entertainment, hit 25 years of bringing Broadway shows to the INB Performing Arts Center in January with Beauty and the Beast. More than 2 million people have seen the performances, beginning with Cats in 1987 and finishing up most recently with Jersey Boys in October. Some of the shows coming in 2013 are Rock of Ages, War Horse and West Side Story. (LISA WAANANEN)
SpIFF Creates Matthew Modine Madness
Late January
The films appearing at the 2012 Spokane International Film Festival warranted ample excitement in and of themselves, but Spokane went really nuts-bonkers-bananas when Matthew Modine straight took over the city upon his arrival. In town for the inclusion of his new short film, Jesus Was a Commie, in the festival, Modine played along with the people of Spokane who still really, really love the fact that the actor's 1985 film Vision Quest was filmed here. Modine recreated a scene from the film by going on a jog with fans, appeared in a flash mob to benefit the fire-damaged Milk Bottle and Ferguson's Café and did any and all interviews asked of him. (MIKE BOOKEY)
Historic Olympic Women's Boxing Trials Arrive in Spokane
Feb. 13-19
Women's boxing debuted as an Olympic sport in London, and in February the first-ever U.S. qualifying trials were held here at Northern Quest Resort & Casino. During the weeklong trials, 24 athletes vied for just three spots on the U.S. team. (The three winners also had to finish in the top eight at the world championships in May in China.) Lightweight Queen Underwood, a 27-year-old Seattle native and competition favorite, delighted the hometown crowd by fighting her way to one of those spots. She ended up losing her first bout in London, but in doing so became the first American woman boxer to ever compete in the Olympics.
The other Washington native, flyweight Alex Love, won her first bout at the trials but lost in the semifinal to Marlen Esparza, who went on to win bronze in London. The biggest surprise of the trials was Claressa Shields, a boxer from Flint, Mich., who was only 16 years old at the time. She upset top-ranked Franchon Crews to represent the U.S. in the middleweight class, and ended up winning gold in London by beating a Russian boxer nearly twice her age. If not for the women, the U.S. would have gone home without a boxing medal for the first time in Olympic history. (LW)
Jerry Dicker Buys the Bing and Interplayers
February and April
Local real estate mogul Jerry Dicker was heralded this year for his purchase and subsequent revival of two historic buildings, both downtown Spokane landmarks and facilities vital to the Inland Northwest arts community.
In February, Dicker bought the 756-seat theater named after hometown hero Bing Crosby and credited for being the place Crosby's musical career was launched. Dicker — whose company, GVD Commercial Properties Inc., also owns the nearby Hotel Ruby and several other area properties — bought the theater from Mitch Silver, who owns Silver Collector Car Auctions Inc., on North Monroe. Silver sold the building because of needed repairs he didn't have time for. Dicker is well on his way to not just making repairs, but re-envisioning the future of the Bing.
Then, in April, Dicker stepped in and prevented Interplayers Theatre from going into foreclosure by purchasing the 1923 building, which at the time was plagued with leaky roofs, and the organization with debt. After the purchase, Interplayers signed a new long-term lease and will remain the sole tenant. (CHEY SCOTT)
Seeing Stars at SFCC's Planetarium
April
You need to see Spokane Falls Community College's new planetarium to truly grasp its impact. It arrived on campus in spring of 2011 as part of Spokane Falls' new 70,000-square-foot science building, making SFCC one of only two community colleges in the state to offer a planetarium to its students. An added bonus: it's open to the public, so we can all marvel at its shockingly realistic replication of the night's sky.
"I think this can give you a changed perspective once you realize what you're part of. It sounds dramatic, maybe, but it certainly does change the way you think about what you might think as a big problem once you put it in context of all this," says John Whitmer, the SFCC astronomy professor who oversees the planetarium and its operation.
The next public shows begin on Jan. 11. Visit spokanefalls.edu/resources/planetarium for tickets. (MB)
The MAC Fires Forest Rodgers, Then Rehires Him
April-July
We'd be hard pressed to find any story from the past year in the Inland Northwest's cultural landscape that generated as much drama as the one that came out of the Northwest Museum of Arts and Culture (MAC) this spring. One afternoon in late April, we learned that Forrest Rodgers, the MAC's executive director hired just eight months prior, had been fired.
Rodgers had no idea why he'd been let go and the president of the MAC's board of trustees said she couldn't tell us. From there, public outrage over not just Rodgers' firing but also the handling of his abrupt termination was widespread, as prominent donors fumed publicly and board members resigned in protest. A public meeting a month later featured angry speeches from tribal members, board members, neighbors and members of the arts community — but there were still no answers. Around the same time, Rodgers hired lawyers who filed a wrongful termination lawsuit against the museum.
All the while, Rodgers told The Inlander he would gladly go back to the museum if he had a chance. And that's what eventually happened in mid-July when the MAC's board voted 11-3 to bring Rodgers back on the condition that he dropped his lawsuit, which he did. So, after all of that, things essentially came back around to where they started. (MB)
Desmond Tutu Speaks at Gonzaga Commencement
May 13
Against the protests of some alumni, Archbishop Desmond Tutu came from Capetown, South Africa, to speak at the Gonzaga University commencement. The Nobel Laureate and renowned inspirational speaker urged the largest graduating class in Gonzaga history to dream of a world without poverty and war, and work with God to make change for social justice. His selection had been opposed by some alumni who said his more-liberal social views contradict Catholic moral principles. Tutu has supported abortion rights and gay rights, and has been criticized as anti-Israel. A petition against Tutu's selection gained some national attention, but the university stuck by its invitation. (LW)
The Spokane Music Scene's Coming Out Party
June 1
So there we were, weeks before Volume — The Inlander's first local music block party — biting off our nails, obsessively asking each other "will anyone come?" And then on June 1, we got our answer. Within minutes of opening the doors at six downtown venues, we had a sort of if you build it, they will come kind of a moment. Almost 2,000 people crammed inside venues to see local bands. There was no one famous here. No one signed to a record label, even. Spokane fans came out to see their own bands play music the way we do it in here in the Lilac City: hard, fast, loud and with a hell of a lot of heart. Volume was the proof everyone needed that our music scene was not only alive and well, but ready to get even bigger. (LS)
Theater Stalwart David Gigler Passes Away
June 16
Perhaps the most shocking moment of the theater season came in June when longtime Spokane actor David Gigler died on stage of a heart attack during a rehearsal at Interplayers Theatre. His death, at age 47, came just days before the opening of Ruthless, a play to be directed by Gigler's life partner Troy Nickerson. The production was canceled while the cast, crew and the entirety of Spokane's theater community mourned the loss of one of its most talented members. A few weeks later, Interplayers staged a production of Greater Tuna in tribute to Gigler. (MB)
Spokane: Home of Weird People Doing Quirky Things
Summer/Fall
Sometime around June, we started feeling like Spokane was, well, a little weird. Not because of the garbage goat or David Lynch rumors, but because weird championships of odd activities kept coming here — like the 61st Annual National Square Dancing Convention. Riverfront Park and downtown Spokane were, suddenly, all hoop-skirts and frilly sleeves. More than 5,000 people registered to dance. Before the do-si-do'ers got here, there was the U.S. National Field Championships and World Archery Field Championships back in May — bringing some of the best real-life archers here to, you know, shoot arrows and stuff. And then in October, the World Trophy Accordion Championships came to town — bringing the best accordion players from 17 different countries to squeezebox their little hearts out. It's all kind of fitting though, don't you think? (LS)
Mobius Science Center Opens
Aug. 3
Science is pretty darn cool, and since the long-planned Mobius Science Center opened in downtown Spokane this past summer, more kids — and adults — are coming to realize this statement is true. With more than 60 hands-on science stations, including a digital autopsy table, the entire community can dive head first into the technology and science behind aerospace, fluid dynamics, the human body, space, physics, music and other mind-blowing phenomena. The best part? You don't have to be a genius to experience any of it. The state-of-the-art, multi-million dollar, private and publicly funded center is staffed with plenty of smart folk whose job is to help all visitors become enlightened. (CS)
Northwest Bach Festival Director Announces Departure
September
After two decades at the helm of one of the area's premier classical music events, artistic director and conductor Gunther Schuller announced in September that he will retire from his position with the Northwest Bach Festival after its 35th annual program in March. In honor of his career with the organization, Schuller will conduct two programs rather than just one next year. His successor, Zuill Bailey, is one of the world's top cellists and will perform Bach's Suites for Solo Cello at the upcoming festival, held at St. John's Cathedral. (CS)
Arts Commission replaced by Arts Fund
Oct. 22
After a few years on the budget chopping block, things didn't look good for the Spokane Arts Commission. In May, City Arts Commissioner Karen Mobley told The Inlander there was a high probability she would lose her job. Spokane Mayor David Condon and City Council President Ben Stuckart made the announcement in October: The Arts Commission would be eliminated once and for all. But it would be replaced by the Arts Fund, a nonprofit organization supported by city boosters and a gradually decreasing amount of city money. Mobley did lose her longtime job with the city, but then became interim director of the Arts Fund. The organization's new board members met in December and will meet again the second week of January to make plans for the coming year. (LW)
Symphony Goes On Strike
Nov. 3-Dec. 4
In early November, the members of the Spokane Symphony Orchestra traded their instruments for picket signs. After weeks of unsuccessful contract negotiations with the symphony board and a potential salary cut on the table, the musicians went on strike. And they would stay on strike for the next four weeks — causing the organization to cancel a handful of shows. In the meantime, local editorial pages blew up with letters in support of the musicians, who played two benefit concerts to standing-room-only crowds during the strike. On Dec. 4, though, the two sides came together: the musicians threw their hands up, accepting a salary cut (though not as deep as the original proposal) but gaining an increased flexibility in vacation time. The compromise came just in time to get the orchestra back on stage for the annual performances of The Nutcracker, thus saving Christmas. (LS)