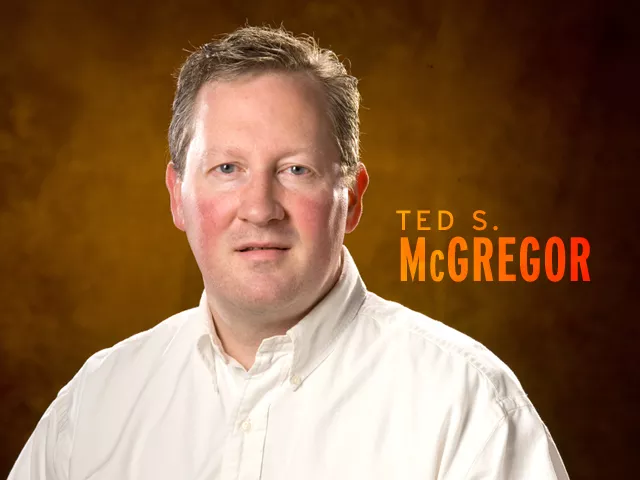 Even though I went to Cataldo School up at St. Augustine's Parish as a kid, I had no idea who Father Joseph Cataldo was — until now. On the occasion of the Gonzaga schools' 125th anniversary next year, I called in Robert Carriker, the Gonzaga University history professor and expert on Jesuit history, to tell us about the old Sicilian. I've known Bob and his wife, Eleanor, for some time, as I went to Gonzaga Prep with their son, Tom. (We annoyed them, I'm sure, with our Led Zepplin records blaring down in their basement.)
The connections are like that around here sometimes. I feel connected to Father Cataldo through my grade school and now through an old friend's dad. In fact, everybody who's rooting for the Zags this weekend is connected to Father Cataldo — he built the university.
But my connections run even deeper. I lived the Jesuit tradition for four years at Gonzaga Prep, as my dad did before me. Of course I learned my subjects, like you can at any school. (Current Principal Al Falkner was my freshman English teacher; maybe The Inlander was born in his classroom?) But what has stuck with me even more is the strong undercurrent of social justice flowing through the place. For centuries, the Jesuits have comforted the afflicted and fought for the oppressed. They wanted us to work for heaven here on earth — to use our education to create progress and take up causes bigger than ourselves. I see that in Carriker's history as, again and again, Father Cataldo kept bringing his mission back to the Native Americans he was first called to serve.
That sense of service is a key element of the Jesuit tradition. Or, as the founder of the religious order, St. Ignatius Loyola, put it, "Go forth and set the world on fire."
Through this story, I've been impressed to learn how the administration at G-Prep is working to keep the Jesuit tradition available to everyone. Through their Fair Share program, the school is seeking to create an unprecedented scholarship program that will allow them to continue to accept all students, regardless of financial status. Later this year, they'll kick off a major fundraising effort to fill that endowment.
So it's inspiring to remember how Father Cataldo, who scraped together a Jesuit college out in the Wild West, devoted his life to just those kinds of missions.

Ted S. McGregor Jr. is the Editor and Publisher of The Inlander.