Basketball has become an international game. Which should come as no surprise if you've been paying attention to Gonzaga basketball for the past two decades.
There are more than 100 international players on NBA rosters this season. Two of those, Lithuanian Domantas Sabonis and Canadian Kelly Olynyk, played at Gonzaga. In head coach Mark Few's nearly two decades at the helm, Gonzaga has sent 14 players to the NBA, and of those 14, six came to Gonzaga from somewhere other than the United States.
"People are starting to know the name Gonzaga because of basketball, even abroad," says Sarah Alami, senior international student advisor at Gonzaga.
Rui Hachimura (11.3 points per game) and Killian Tillie (13.4 points per game) look ready to become the latest international players to make their way to the NBA after a stop in Spokane. Zag fans have watched the pair of sophomores, from Japan and France respectively, go from bit players as freshmen to become high-level talents this year. What fans weren't able to see, however, was everything that happened behind the scenes and off the court to make that possible.
That's where Alami and the rest of the staff in Gonzaga's Center for Global Engagement come into play.
For Hachimura, lauded by some as the greatest Japanese basketball talent of all time, something very simple limited his minutes last season: the English language.
"It's been really cool because Rui is a student who, when he came in, there was a lot of potential," Alami says. "Everybody talked about him and everything he was going to do. And then, because of his English language, he didn't do that much with the team. He didn't play that much and that was kind of disappointing."
Hachimura played in just 28 of Gonzaga's 39 games last season. During Gonzaga's NCAA tournament run he averaged only one minute per game.
"A lot of times when the international athletes come, their priority is the sport," Alami says. "Students like Rui or others may forget that they really do need the English language, and to continue improving on their English to be successful in basketball and in their other academic activities."
Hachimura has put in the work to improve his English skills, and it's already paying dividends on and off the court. The 6-foot-8 forward has become Gonzaga's leader coming off the bench and was named to the All-West Coast Conference first team for his performance this season.
"We've seen him improve tremendously and grow tremendously in both language and in maturity," Alami says.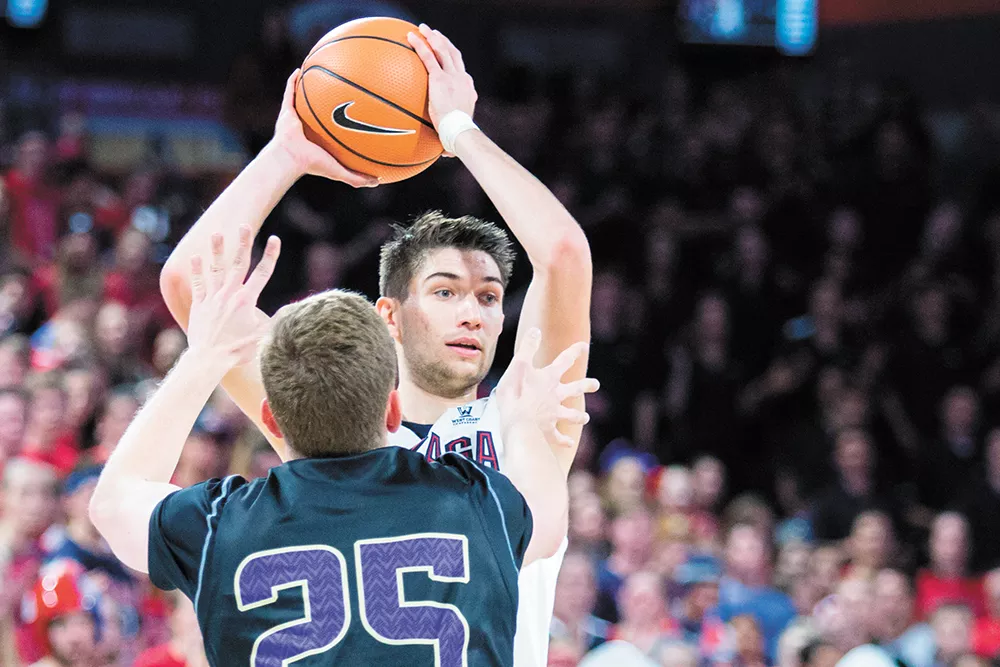 That growth was put on public display during Gonzaga's dominant win over BYU in the WCC tournament championship game March 6.
Hachimura drew the assignment of defending BYU's star player, sophomore forward Yoeli Childs. The two players are athletic talents otherwise unmatched in the WCC, and both were named as all-conference first team performers this season. So, guarding Childs is no small task. He scored 20 points in that game.
But not one of those points was scored while Childs was being defended by Hachimura.
"Rui's really, really came on on that side of the ball," Few said after the game. "He's gained a much better understanding of the terms and what the game plan is."
Once seen as a defensive liability, Hachimura's growth with language has transformed his ability on the defensive side of the ball.
Even though his English has improved dramatically, he still rarely faces the media from the podium of a postgame press conference. During the WCC tournament that responsibility fell on Killian Tillie's shoulders. When the Frenchman arrived on campus, he didn't have as much trouble with the language as Hachimura did, but that's not to say his experience has been a cakewalk.
"The language is hard," Tillie says. "All the classes are a little bit more challenging because of the terminology. But once you get through one year, it's way easier."
Now in his second year on campus Tillie, like Hachimura, is flourishing.
As a freshman, Tillie was a rotation player for the Zags. His minutes were limited more because of the talent Gonzaga had ahead of him rather than any difficulties he had with the language. This season Tillie is one of the very best players on Gonzaga's roster. And, for the past three games, he has been the best player.
Tillie was named most outstanding player at the WCC tournament. He averaged 24 points per game and made seemingly every shot he took. His performance elevated him into the pantheon of elite big men to play at Gonzaga. It's a club overwhelmingly dominated by international players.
"Obviously Gonzaga has a lot of experience with international players," Tillie says. "It was the success that the international bigs had before that made me want to come here."
Like Ronny Turiaf, Kelly Olynyk, Domantas Sabonis and Przemek Karnowski in seasons past, Tillie is now one of those international bigs that Gonzaga is having success with. Their time at Gonzaga has a two-fold effect on the international players who follow. Their success draws the next generation of big men, like Tillie. But, before they leave, they pass their knowledge on to the next generation.
Last year, the wise elder of Gonzaga basketball was Poland's Przemek Karnowski. His knowledge helped Gonzaga to 136 wins over the course of his career, making him the winningest player in NCAA Division I history. It also helped with far simpler things, like showing the freshmen where to find food.
"We have lots of international guys coming in," Karnowski told the Inlander before last season. "As an international player, I've been here for so long that I try to help them out even with simple life things, like showing them where the store is."
One of the guys Karnowski helped was Killian Tillie.
"Przemek was very helpful last year," Tillie says. "Explaining the plays, explaining English things, American things."
Barely a year later, Tillie is already inheriting some of Karnowski's responsibilities. Next season Tillie will be playing alongside Filip Petrusev, a 6-foot-11 center from Serbia. This year he's getting a smaller-scale crash course in mentorship with a fellow Frenchman, freshman guard Joel Ayayi.
As basketball becomes a more and more international game, competition for international players will continue to rise. Don't expect Gonzaga to fall behind, though. And not just because of their track record of success.
"Nowadays they're used to it and it's easier for us," Tillie says. "Also, the fact that everybody is so friendly and welcoming here is a good thing." ♦
Gonzaga starts its 2018 NCAA tournament journey at 10:30 am Thursday against UNC Greensboro. The game will air on TNT.