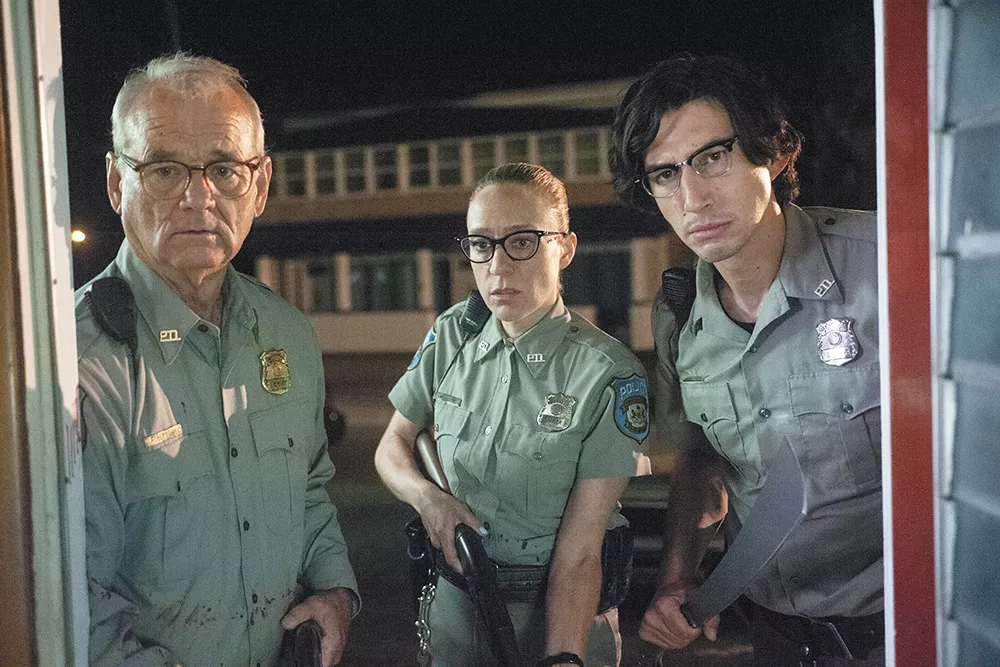 Zombie movies are never really about zombies. Case in point: The Dead Don't Die, in which a zombie apocalypse is a thinly veiled avatar for political complacency, xenophobia and the precarious state of the planet. But because this is a Jim Jarmusch zombie movie, its flesh-eating ghouls crave coffee and cigarettes as well as vital organs.
The film features a deep bench of A-list actors, many of whom have appeared in Jarmusch's older films and seem to know they're in another one. When characters hear a song on the radio (also called "The Dead Don't Die," and recorded by alt-country star Sturgill Simpson), they remark that this same song just played over the opening credits. They make backhanded comments about the very screenplay they're performing ("Jim let you read the whole script?!"), and a character played by Adam Driver has a Star Wars keychain, because ha ha, get it?
Amidst all the straight-faced lunacy, Jarmusch also seems to be performing a kind of metatextual autopsy on his own career. He's trying to cover a lot of ground, badly, and all at the behest of a comic premise that would have seemed outdated a decade ago.
But let's back up a bit. The film is set in an Anytown, U.S.A., known as Centerville — "A real nice place," its generic welcome sign reads — and news reports reveal that the government has bankrolled a scientific process called polar fracking, which has knocked the Earth off its axis. Politicians assure citizens that they have nothing to worry about, and everyone seems to shrug and accept it. But something has caused all the neighborhood pets to run away. And the days are getting longer. And when the moon does come out, there's a purple haze around it.
Oh yeah, and there are zombies. As radio signals turn to static and cell phones lose reception, the only heroes left are the town's police chief (Bill Murray) and his two deputies — Driver, slicing up the undead with the efficiency of a lumberjack chopping wood, and Chloë Sevigny, who flinches with every blow. Their rapport can be boiled down to a single joke: The local graveyard has some unexpected vacancies, and yet they treat it with all the urgency of a kindergarten chickenpox outbreak.
For a town with fewer than 800 residents, there sure are an awful lot of supporting characters in Centerville. Steve Buscemi is the conspiracy theorist who wears a "Make America White Again" hat even as he sits next to his black friend, played by Danny Glover. Caleb Landry Jones is the proprietor of the town's only gas station, which is inexplicably stocked with zombie memorabilia. Tom Waits is the local hermit who lives in the woods and shoots at everyone with an air rifle. As for the trio of telegenic 20-somethings (led by Selena Gomez) driving through town, and the scrappy teenagers in a nearby correctional facility — their function in the story is a complete mystery to me.
I can see why so many stars opted to play around in Jarmusch's genre-film sandbox. This movie probably looked dynamite on paper. But the very idea of Tilda Swinton as a samurai sword-wielding Scotswoman, or an undead Iggy Pop gnawing on a bloody intestine, or RZA turning up as a driver for a delivery service called (wait for it...) Wu.P.S. — all of this sounds so much more entertaining than it actually is.
I have often loved Jarmusch's films, from his brilliant breakthrough Stranger Than Paradise (1984) to the recent Paterson, a gentle character study that found poetry in mundanity. All of his work exists on the same deadpan, laconic wavelength, which has worked wonders in the past, but here decapitates any sense of comedy as cleanly as a machete to a zombie's neck.
I don't know, maybe there's an audience out there for this movie who will applaud its ironic distancing, its allegorical trappings, its inexplicable fourth wall-breaking. But I have to be hip enough to admit that I just don't get it. When I saw The Dead Don't Die, a guy in the front row of the theater yelled out a hearty "f—- you!" as the credits rolled. You won't read a better review than that. ♦