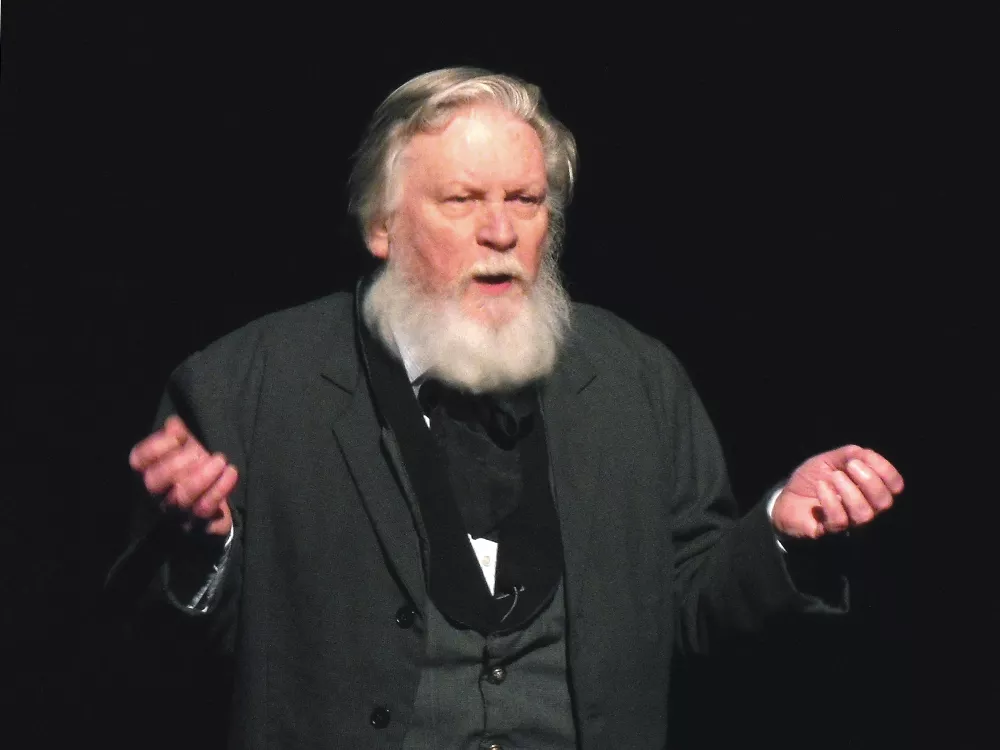 "Thank God, an audience!" These are the first words out of Karl Marx's mouth as he takes the stage for Marx in Soho, a one-man, one-act play penned by the activist historian Howard Zinn, who died in 2010.
Leaving aside its droll irony in light of Marx's atheism, the line itself is as interpretively pliable as Lady Bracknell's "A handbag?" in The Important of Being Earnest. Is it said with jovial satisfaction? Gruff matter-of-factness? Relief? Shock? The manner is key, because it sets the tone of the 90-minute monologue that follows.
In Stage Left's inaugural production, Bob Nelson as Marx utters this line in casual surprise, almost as a source of private amusement, as he enters briskly through the side door. And here, in this nearly full house on opening night, one can't help but wonder if some real-world authenticity has crept into his delivery: Stage Left has barely leapt into Spokane's theatrical fray, yet just around the block, other theaters are struggling to fill seats at unconventional plays like this one.
The premise of Marx in Soho is straightforward. Marx, ever the agitator, strikes a deal with the heavenly host to return to his old stomping ground. He wants to clear his name and distance his theories from their Soviet-style implementation ("I am not a Marxist!"). However, a bureaucratic glitch lands him not in the familiar Soho of London during the latter half of the 19th century, but in the Soho of 20th-century New York, where the disparity of wealth in class-based capitalist society is still evident.
With his bushy beard, Nelson certainly looks the part. At times he lacks the stern revolutionary zeal one might expect, and the first few minutes are an uneasy shuffle of not quite knowing where to put his hands. Crucially, though, Nelson has the necessary conviction to truly inhabit the role. He therefore does justice to Zinn's imperfect primer to Marx's life and ideas, and by extension its subject, perpetual bogeyman of the right wing.
Marx in Soho • Through May 4: Fri and Sat at 7:30 pm; Sun at 2 pm • $10 • Spokane Stage Left • 108 W. Third Ave. • spokanestageleft.org • 838-9727