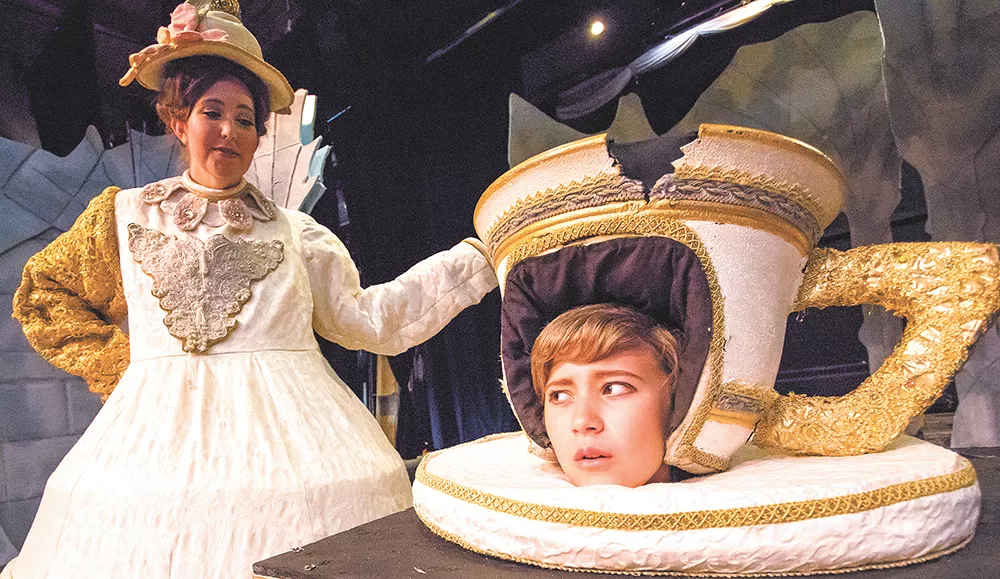 Adults certainly aren't immune to the charms of a good Disney musical, but the basis of their enjoyment is likely to be very different to the qualities that tickle children's fancy. In the case of Beauty and the Beast, a 10-year-old might walk away giggling at the clownish interplay between suave Lumière and anxiety-ridden Cogsworth, whereas parents might find themselves humming the evocative title ballad long into the evening.
With that in mind, and to help widen the critical perspective beyond jaded adult eyes, two younger audience members accompanied this reviewer to the current Spokane Civic Theatre production of Beauty and the Beast directed by Interim Artistic Director Jack Phillips. Here are some of their unvarnished comments in a sort of dialogue with my own.
"The costumes were really good." — Eva, age 9
They were outstanding. Summer Berry and her team have outdone themselves. All the enchanted details are precisely in place: Lumière's (Preston Loomer) glowing candlestick arms, Cogsworth's (Dan Griffith) ornate yet functional clock getup, Belle's (Kaitlin Webster) iconic yellow dress, Mrs. Potts' (Misty Cusick) rotund teapot figure and the cleverly designed serving cart on which she wheels her teacup son Chip (Noelle Fries), Madame La Bouche's (Samantha Schneider) velvety and voluptuous armoire, the Beast's (Jack Siebel) shaggy mane and fangs.
"The Beast wasn't scary enough." — Adele, age 7
It's true. Siebel's Beast exhibited little of the savage ferocity that should define Belle's early encounters with him. More ominous, feral movements would have made more of the costume and heightened the sense of threat that makes his emotional and physical transformation more poignant. Loomer's carefree, charismatic Lumière and Cecil Trail's cluelessly narcissistic Gaston were more quintessential embodiments of their characters.
"I liked how the set turned around and you could see different things. It had really great scene[ry]. I also liked the movie parts." — Eva
Using circular revolving platforms like inverted periaktoi, set designer David Baker has allowed minor scene changes to take place fluidly, almost magically. One part of the castle becomes the forbidden west wing with a simple rotation. The "movie parts" are short film clips that depict key scenes — the prologue, later Belle's flight into the forest and rescue by the Beast — that would have been more challenging with live action. The hybridization works well, even if the clips themselves are a bit faint.
"I wouldn't go to it every month. Maybe once a year." — Adele
This verdict was more lukewarm than Eva's ("It's not exactly like the movie, but you should still go see it.") but does parallel mine. Aside from some expected highlights, such as the well-choreographed large-ensemble numbers "Be Our Guest" and "Gaston," this was an exceedingly competent but strangely low-energy season opener that could do with just a little more Broadway-style tautness and spark.
Disney's Beauty and the Beast • Through Oct. 9: Thu-Sat, 7:30 pm; Sun, 2 pm • $22-$30 • Spokane Civic Theatre • 1020 N. Howard • 325-2507 • spokanecivictheatre.com