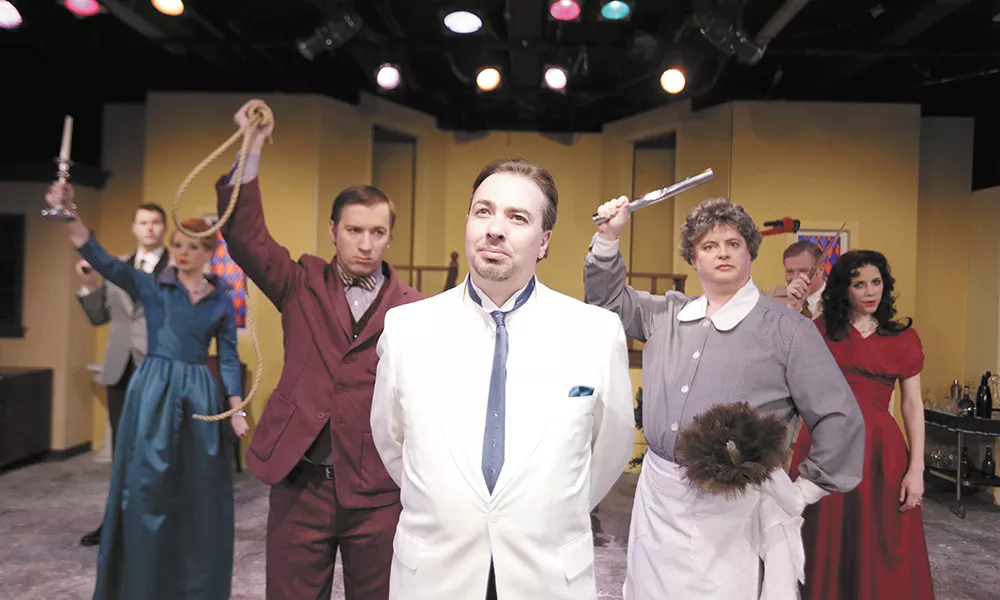 With Clue: The Musical announcing a sold-out run before opening night (an extra show on April 11 at 2pm had been added just before press time), audiences have already decided it's worth seeing. The critic thus becomes even more superfluous than usual — a quality he could claim to share with this stage adaptation of the Parker Brothers board game.
That superfluousness — at least insofar as this lighthearted musical goes — isn't necessarily a bad thing, though it has the potential to be. In fact, Clue: The Musical makes a questionable habit of walking the slender line between assets and liabilities. The chief charm of the show is that it differs every evening, its outcome determined by a random selection of three cards depicting the murderer, weapon and location. That also brings it closer to its origins than the endearingly manic 1985 film version. At the same time, the fixed points of the play have to remain flexible enough to accommodate those 216 possible permutations, so the whole whodunit construction ends up feeling tentative and insubstantial. Mr. Boddy's (Ben Dyck) pool of catch-all rhyming clues is less suited for amateur sleuths than creating a false sense of audience participation.
Nor is that the only example of weaknesses born of strengths. Suave Mr. Green's (Cecil Trail) mangled idioms are amusing — up to a point. The same can be said for the protracted literary quote-off between Professor Plum (David McCarthy) and the high-strung detective (Kristen Nauditt), who has a further penchant for cramming nursery rhymes into noir-ish gumshoe lingo. But when does cute start to eat itself? What number of self-referential board-game gags constitutes overkill? When exactly does enough become too much? The answer is subjective, of course, but that doesn't stop Clue: The Musical from raising the question over and over.
For this production, directed by Keith Dixon, big kudos go to Matthew Egan, who's transformed the tight confines of the Civic's Firth J. Chew Studio into a marvelous color-coded manor à la the board game, with six entries and exits. Summer Berry complements his setting with stitch-perfect costuming. However, the trio (drums, piano, cello) under Andrea Hall's direction frequently overpowered the actors, some of whom were said to be battling colds. And though Mr. Boddy is the character charged with carrying the show, it's Danielle Read, criminally brilliant as Mrs. Peacock, who sustains many a scene.
Clue: The Musical • [SOLD OUT] March 20-April 12; Thu-Sat at 7:30 pm, Sun at 2 pm, Sat Apr. 11 at 2 pm • $27 • Spokane Civic Theatre • 1020 N. Howard • spokanecivictheatre.com • 325-2507