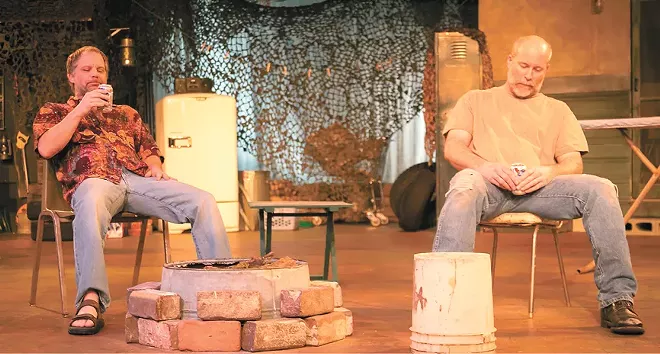 The Modern Theater announced last week that its Spokane venue will close at the end of the year.
For those familiar with the theater, such announcements are not altogether new. In its previous iteration as Interplayers, the theater experienced several near-shutdowns, most recently in September 2014. At that time it merged with Lake City Playhouse as part of an agreement that saw the Coeur d'Alene-based community theater assuming much of the professional theater's debt. The two were then united and jointly renamed The Modern Theater.
This past June, Executive Artistic Director George Green left abruptly to take a top position at The Playhouse San Antonio. Green had been at the forefront of the merger and several internal expansions, including the ultimately unrealized Mielbrecht Theater for experimental plays that was to be housed on the first floor of the Spokane playhouse. Key staff members followed him to Texas, leaving the theater to fill multiple marketing, design and managerial roles.
"When myself and the board of the CDA Community Theater and Academy decided to take on the challenge of maintaining professional theater in Spokane, we were well aware of the risks," Green stated via text message. "Our hearts were in the right place and the fact that we created art that thrived for a little over two additional years should be considered a success."
Actors, staff and benefactors who were contacted broadly agree that the theater's profitability was challenged by a number of factors: the circumstances surrounding Green's departure, operating arrangements that hinged on strong personalities over institutional sustainability, an overall decline in ticket sales despite a record-breaking season opener with Chicago, the sheer expense of running the building, limited grant opportunities and marketing that did not reach new theatergoers.
"Are any of them the [final] straw?" asks Sarah McNeice, who sits on the Modern's board. "No, I think it's a combined effort. You can't pinpoint it to one thing."
The board had realized by the time of its November meeting that continued operation was untenable. Speaking on their behalf, McNeice says, "There really is no mystery or controversy behind our closure. The Modern made a gallant effort to rescue a professional theater, but in the end, the overhead to operate our two theaters was just too great."
All Is Calm, the theater's first production as the Modern in 2014, was also the final show it staged before closing.
At the moment, there are no known plans to resurrect or repurpose the Spokane venue; the Coeur d'Alene location will remain in operation. McNeice says that no immediate policy is in place to issue season ticket holders with a prorated refund, but they hope to find some equivalent means of compensation, possibly through additional shows in Idaho.