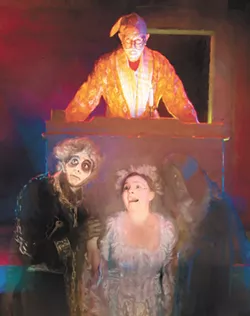 Marley was dead: to begin with. Still, that doesn't stop him from trudging and clanking his way to the witness stand as he's called to defend himself against Ebenezer Scrooge's litany of charges, which include breaking and entering, kidnapping and emotional distress. It's been exactly one year since the infamous miser was visited by three spirits and experienced his life-changing epiphany. And yet we nevertheless find ourselves here, along with Jacob Marley and his ethereal companions, in a chilly courtroom on Christmas Eve, 1884, at Scrooge's insistence. His shot at redemption would seem to have missed its mark.
Save for the Ghost of Christmas Present, whose fleeting existence leaves no time for courtroom proceedings, nearly all of the key characters from Charles Dickens' holiday morality tale appear in The Trial of Ebenezer Scrooge, a somewhat misleadingly titled 2007 sequel written by Mark Brown. There's Scrooge himself (Ron Weaks); Bob Cratchit and Jacob Marley (Blake King-Krueger); nephew Fred and the Ghost of Christmas Future (Timothy Linton); as well as Fan, Belle and the Ghost of Christmas Past (Emily Geddes). Dickens' originals are rounded out by irritable Judge Stanchfield (Joe Smeader), barrister Solomon Rothschild (Bryan Durbin), a put-upon bailiff (Stephannie Gerard) and, finally, a court-appointed "translator" (Whitney Robinson) for the mute, reaper-like Ghost of Christmas Future. Though his crutch is introduced as evidence, Tiny Tim is notably absent.
Kearney Jordan's costuming makes good use of the Civic's wardrobe, not least with the Ghost of Christmas Past's illuminated white dress. And director Chris Taylor hasn't neglected the broad gags — like Stanchfield's short-tempered fits or an indignant Mrs. Cratchit in the audience — that help this piece move beyond an overextended conceit that reads slightly better than it plays. Those with a decent working knowledge of Dickens' text are best positioned to appreciate the citations and callbacks that Brown weaves into the dialogue.
Durbin (who also oversees set and lighting) and Geddes are the most polished actors among a cast with varying abilities but no lack of gusto. Smeader is conspicuously young for the role of Stanchfield; Weaks hasn't yet settled into his Scrooge, resulting in a globetrotting accent and hesitant delivery that flattens the final twist. The single-interior set, though functional, puts Scrooge's and Rothschild's backs to the audience. But regarding the play in general and this production in particular, The Trial of Ebenezer Scrooge comes from an earnest, good-hearted place, and it's easy to see this despite — and in part because of — some of its clunkier moments.
The Trial of Ebenezer Scrooge • Through Dec. 18: Thu-Sat, 7:30 pm; Sun, 2 pm • $18 • Firth J. Chew Studio at Spokane Civic Theatre • 1020 N. Howard • 325-2507