FOR STARTERS
You Can Never Go Home Again
The poet Carl Sandburg described the past as "a bucket of ashes." For some, however, it's a lost Eden to which they're forever trying to return. Horton Foote's The Trip to Bountiful, which runs at Stage Left Theater until June 25, is about that irrecoverable idyll, the romantic idea of home and the ferocity of family dynamics. This production is directed by Troy Nickerson and features a skilled cast. Tickets, as always, are just $10. Go to spokanestageleft.org for info.
A Comedic Tenor
Cultures collide in Impropera, which pairs improv comedy with opera and lets the sparks fly. The format is simple: An opera singer — in this case, mezzo-soprano Ann Benson or tenor Brandon Michael — sings an aria, then the performers of Lilac City Improv use the lyrics as a starting point for an ad-libbed skit. The arias are subtitled, the comedy is family-friendly and the tickets are a reasonable $17. Catch it at Lake City Playhouse (lakecityplayhouse.org) on June 16 and 17.
Playground Politics
If you missed the production of God of Carnage at the Modern back in 2015, Moscow Art Theater (Too) is offering a second chance to catch Yasmina Reza's tense, critically acclaimed play about two pairs of parents who try to resolve a playground dust-up between their preteen children — only to end up in a childish spat of their own. It runs from June 22 to July 2 at Moscow's Kenworthy Performing Arts Centre. Tickets are only $10. Visit moscowarttheatretoo.com for details.
Improving Their Improv
In addition to its lineup of staples like Safari (every Saturday at 8 pm), After Dark (first and last Saturdays at 10 pm) and teen improv classes (Tuesdays from 6:30 to 8 pm), the Blue Door Theatre has some new and updated shows on its schedule this summer, including Nerve Damage and improv jam sessions.
Artistic Director Frank Tano, returning to the Blue Door after a four-year hiatus, says that the jam sessions (Mondays at 6 pm) are sometimes called "playgrounds" by other improv theaters.
"Think of it more like an open practice. Basically, we open up our stage for two hours, and anybody who's interested in improv at all can come to our theater and use it to work on anything they want to," he says. "It's a nice way to dip your toe in the water and explore."
A Blue Door player acts as a jam session facilitator, and every topic is — in true improv spirit — decided on the fly. There's no cost to participate. The only caveat is that if you show up, you have to take part.
Nerve Damage, on the other hand, is an audience show that aims to bring newer, inexperienced Blue Door players together with the growing number of indie improv teams that have sprung up within the theater itself and across the wider region over the past few years.
"It's a night where our players get a chance to tackle new things, and to expose the audience to something that isn't necessarily the full Blue Door brand." As such, Nerve Damage is a late-night (10 pm) show geared for mature audiences. It takes place July 7 and Aug. 4.
Along with ticket prices and group reservations, the full summer schedule of what Tano describes as "insanely affordable, unique live entertainment and comedy" is available at bluedoortheatre.com.
Trouble Brewing
With a title almost as long as the play itself, Bad Business at the Brewery, or Who Botched Bessie's Brew? is a lighthearted tale about a woman who finds her brewery under threat from a dastardly landlord. The troupe at Sixth Street Melodrama and Theater (sixthstreetmelodrama.com) is staging Bad Business four days a week for nearly all of July, so there's a good chance that you can pair a visit to historic Wallace, Idaho, with some fun, affordable ($10 per ticket) live entertainment.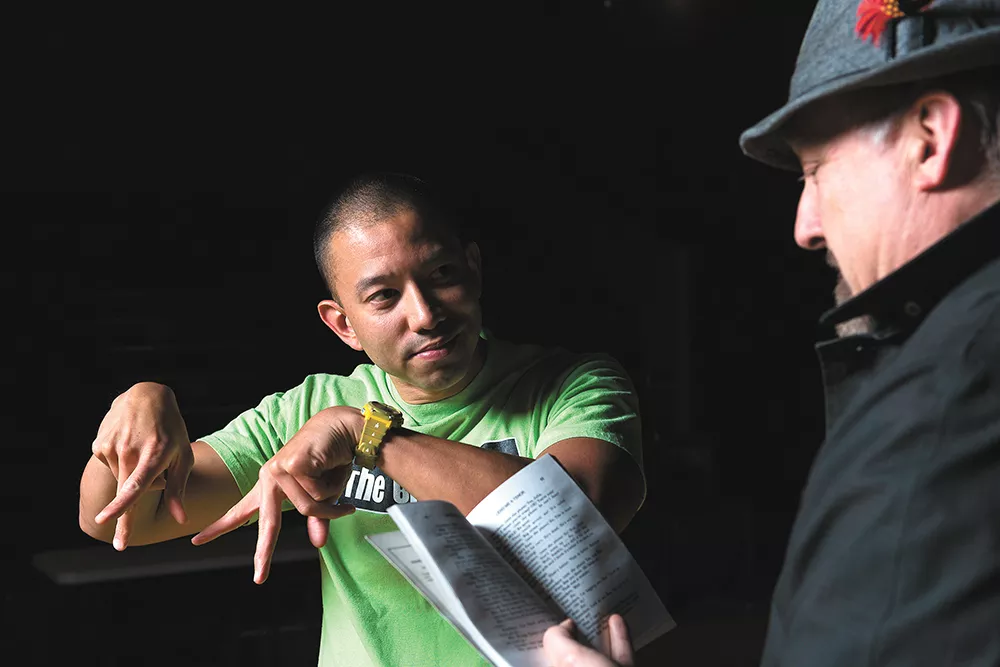 Spy Kids
Named for the fictional group of street urchins in the Sherlock Holmes stories, The Baker Street Irregulars is a circus-based murder mystery that sidelines the famous detective and focuses instead on his ad hoc team of young sleuths. They get to the bottom of the crime — and Holmes' strange illness — by questioning acrobats, clowns and animal trainers. Liberty Lake Community Theatre (libertylaketheatre.com) stages this all-ages show from July 7-15 for just $12 per ticket.
Garden Show
An award-winning musical based on the children's book by Frances Hodgson Burnett, The Secret Garden transforms a classic of literature into a live-action experience. From July 21 to Aug. 5, Spokane Valley Summer Theatre (svsummertheatre.com) will recreate the tale of young Mary Lennox and her discovery of a garden with magically restorative powers. Tickets are $20 to $38.
The Play's the Thing
Montana Shakespeare in the Parks (shakespeareintheparks.org) won't hit Spokane this summer, but you can still see this talented troupe in two area locations. On Aug. 19, they'll be in Liberty Lake's Pavillion Park performing You Never Can Tell, a farce of mistaken identities by master dramatist George Bernard Shaw. The following day, they'll stage Macbeth, Shakespeare's supernatural tragedy, at the Bonner County Fairgrounds in Sandpoint. Both performances are outdoors, of course, and both are free.
THE NEXT LEVEL
Cars, Wars and Music Stars
The theatrical watercooler event of any summer is typically the Coeur d'Alene Summer Theatre lineup, and this year it looks like there will be more to talk about than usual.
"It's our 50th anniversary, and we've amped everything up," says Kay Poland, CdA Summer Theatre's marketing manager. "We've gone whole hog on the sets, the costumes and the actors."
That golden-anniversary indulgence starts with Chitty Chitty Bang Bang (through July 2, tickets $27-$49). It sees whimsical inventor Caractacus Potts, his children, and love interest Truly Scrumptious take a fantastical adventure in a flying car, which might in fact be the real star of the show.
"We built it entirely in our warehouse. It's handcrafted, hand-painted and it's amazing," she says. During the show's run, CdA Summer Theatre is holding a silent auction for the titular car.
Then comes Rodgers and Hammerstein's South Pacific (July 13-30), a landmark wartime musical about love and prejudice, and, as it happens, one of the first shows that CdA Summer Theatre ever staged.
Closing out the season is Million Dollar Quartet. This popular jukebox musical is based on a real-life event in December of 1956 when Elvis Presley, Jerry Lee Lewis, Carl Perkins and Johnny Cash met in the Sun Records Studio and recorded a marathon jam session that included some of their biggest hits.
"It's going to be one of those shows," says Poland. "Best of all, all of these actors are going to be playing their own instruments."
Standard adult season tickets to all three performances are $128, which Poland says will save "an average of about $7 per show." Outside of the season tickets are two staged readings (Steel Magnolias on June 20, The 39 Steps on July 18), a Wild Women of Broadway concert and multiple performance camps for kids. Head to cdasummertheatre.com for all the details and ticket prices.
On the RADAR
Know any young actors with their sights set on the Great White Way? They might be interested in RADAR, a new three-day (June 20-22) performance art training program at the Spokane Civic Theatre full of master classes, creative symposia and even a Q&A session with Shoshana Bean, star of Broadway's Wicked and Hairspray. The workshops will cover fundamentals as well as advanced skills. The cost is $150. Find out more and sign up at spokanecivictheatre.com/radar.
When You Know the Notes to Sing
OK, not everyone is comfortable singing in public. But if you can channel your inner Von Trapp without embarrassment, you'll want to join the audience chorus at The Sound of Music Sing-a-long on June 25 and Sept. 9 (tickets $15) at the Kroc Center in Coeur d'Alene. As part of this event, they'll screen the ever-popular film starring Julie Andrews and even provide subtitles for anyone who might have forgotten the words to "Do-Re-Mi." More info at lauralittletheatricals.com.
Heavy Light
The new North American touring production of Andrew Lloyd Webber's The Phantom of the Opera is pulling out all the stops and cranking up the spectacle through flashy pyrotechnics, as well as other special effects. In its latest design, the iconic chandelier weighs 1,500 pounds and comes crashing down at a rate of 10 feet per second. The run is in Spokane for a little over a week (June 28 to July 9) at the INB Performing Arts Center (inbpac.com). Tickets costs $32.50 to $77.50.
High Culture in Coeur d'Alene
Opera Coeur d'Alene (operacda.com) is offering several summertime performances for opera newbies as well as aficionados. On July 16, you can enjoy a sunset cruise on Lake Coeur d'Alene while experiencing Gilbert and Sullivan's beloved H.M.S. Pinafore in the round. Ticket prices are $50-$65. For $75, there's a special gala performance and auction at a private riverside residence on Aug. 5 featuring artists from the company's forthcoming production of Puccini's Tosca. And on Aug. 18 and 20, Opera CdA will perform Tosca in full at North Idaho College's Schuler Performing Arts Center. Tickets range from $13 to $59.
Days of Wine and Showses
Coeur d'Alene Murder Mystery Theatre (cdamurdermysterytheatre.com) is performing Plunder & Murder, a playfully pirate-themed story of suspicion and intrigue, at Coeur d'Alene Cellars on two late-summer evenings, Aug. 11 and 18. Tickets cost $40 and include a beverage. You'll need to RSVP by email or phone to the winery (cdacellars.com) to reserve your seat. The audience is limited to 50. ♦