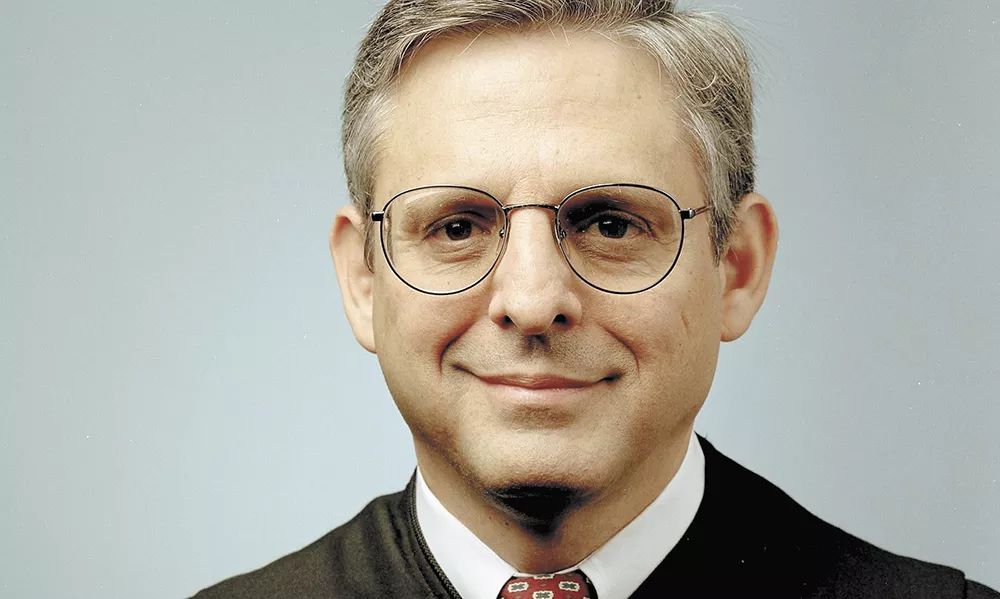 Lingering behind the almost daily headlines about President Barack Obama's most recent (and likely last) nomination to the U.S. Supreme Court — and the Senate Republicans who refuse to vote to consider his choice — is a broader question about diversity on the nation's highest court.
Not since Thurgood Marshall's retirement 25 years ago has there been a justice with real criminal defense experience on the Supreme Court.
Defense lawyers and legal scholars say that's a problem. They point to the trend of justices with an elitist pedigree, beginning in an Ivy League law school, maybe followed by a clerkship with a federal judge, a stint as a federal prosecutor, a post in the Justice Department or an appointment to the federal circuit court bench.
All eight of the Court's current justices graduated from Harvard or Yale, with the exception of Ruth Bader Ginsburg, who graduated from Columbia University after first attending Harvard. Only two justices — Samuel Alito and Sonia Sotomayor — have criminal law experience. Both were prosecutors.
In the days and weeks following former Justice Antonin Scalia's death in February, shortlists of Obama's potential nominees began to surface. Among the candidates were Jane Kelly, an Eighth Circuit U.S. Court of Appeals judge, who would be the first public defender ever appointed, and Merrick Garland, chief justice of the U.S. Court of Appeals for the District of Columbia. Garland ultimately got the nod, but Republicans are still refusing to vote on his approval.
The absence from the high court of someone with experience defending the accused could have serious consequences — some argue that it already has — as the court decides cases that shape the criminal justice system.
"The Supreme Court is designed, in some important instances, to be an anti-democratic check on the majority through the Constitution," says Brooks Holland, an associate professor at the Gonzaga University School of Law and a federal appellate lawyer in the Ninth Circuit. "Someone who's been trained to maintain fidelity to constitutional principles, even in the face of popular resistance, might be especially well suited for the job of a Supreme Court justice. Defense lawyers are trained to represent unpopular people zealously."
THE WARREN COURT'S EROSION
A large portion of the Bill of Rights is dedicated to protecting those accused of crimes. Many of those constitutional rights exist as we know them today because of Supreme Court decisions, and in some cases because of heinous criminals.
Ernesto Miranda's 20-to-30-year sentence for rape and kidnapping was based largely on his confession during a police interrogation. But the Supreme Court threw out the conviction, ruling that his confession could not be used as evidence because the police did not inform Miranda of his Fifth and Sixth amendment rights against incrimination and to have an attorney present during questioning. As a result, police are now required to read suspects their "Miranda rights."
Defendants' due-process right to know about all the evidence against them — including evidence that could prove their innocence — is bolstered by the case of a man convicted of murder and sentenced to die. And the decision that some say changed policing in America forever came from a woman convicted on obscenity charges. In that case, the Court ruled that state courts could no longer use evidence seized without a search warrant, a rule that, until then, only applied in federal court.
These decisions all happened under former Supreme Court Chief Justice Earl Warren. Since his retirement in 1969, the high court has chipped away at some of the rights of defendants bolstered by the Warren court rulings, according to Holland, who also used to be a public defender in the Bronx and Manhattan.
But it's the Gideon v. Wainwright decision, and its erosion in the years since, that Holland points to as especially pertinent to a discussion about a Supreme Court bench void of the criminal defense — specifically public defense — perspective.
The 1963 case of Clarence Gideon, a small-time Florida criminal, established a defendant's right to an attorney. But in the decades since, Holland and other legal scholars have lamented rulings undermining that right. In 1984, the Court refined that ruling to its detriment, Holland argues. By an 8-1 vote in Strickland v. Washington, the Court said defendants must show that their lawyer was deficient and that deficiency denied them a fair trial — a tough legal standard, Holland says.
"Strickland really lowers the floor of the quality of representation that can pass constitutional muster," Holland says.
Marshall, the last criminal defense attorney to sit on the Supreme Court, was the lone dissenting vote in that decision, which has contributed to what Holland calls a nationwide "Gideon crisis."
Holland points to the public defender system in New Orleans. Attorneys who work in the Orleans Public Defenders Office, which is in the midst of a budget crisis, have actually begun turning away clients. The ACLU sued the Orleans Parish defenders and the board that oversees them for violating the Constitution. The chief public defender Derwyn Bunton has said his office can't afford to defend itself in the lawsuit.
The ACLU of Idaho also sued state officials, arguing that indigent defendants statewide are denied their right to a fair trial.
And in 2013, a federal district court judge found that the cities of Mount Vernon and Burlington in Washington's Skagit County were not providing adequate counsel to indigent defendants, because staffing limits on public defenders fostered path-of-least-resistance lawyering. The judge ordered them to establish new policies and contracts, including how much time attorneys should spend with their clients, and to remain under supervision for three years.
Notably, the judge in that case cites Gideon, not Strickland, as the standard for his decision, Holland points out.
The decision hasn't been appealed, which means the Supreme Court hasn't had a chance to weigh in.
"No one on the Supreme Court right now can say they've seen 'meet 'em and plead 'em' lawyering, and know what that does to real people in the real world," Holland says. "That doesn't mean the current court would be insensitive to the 'Gideon crisis,' but I think they would benefit from a public defender's perspective."
NOT ALL CREATED EQUAL
In theory, justices' opinions on how much restriction to place on constitutional rights should be a matter of applying facts to the law, absent of any personal ideology. But a 2005 study by legal scholar Ward Farnsworth, now the dean of the University of Texas School of Law, found a different pattern.
In non-unanimous criminal law cases from 1953 to 2005, justices who tended to side with the government on non-constitutional issues — like the interpretation of a procedural rule, for example — also tended to side with the government on constitutional issues.
"Knowing how often a justice votes for the government in the constitutional cases gives us a very strong sense of how often he votes that way in the cases not involving the Constitution," Farnsworth writes.
Although his data may show evidence that individuals consistently vote along personal leanings, the idea that all prosecutors (or criminal defenders) are created equal doesn't necessarily follow.
"To assume that a prosecutor or a defense lawyer is going to come into a job with a particular bias is oversimplifying," says Jim McDevitt, commenting from his perspective as former U.S. Attorney for Eastern Washington. "My experience is that as long as lawyers are ethical and they understand the law and the Constitution, it's unfair to label them as defense-oriented or prosecutor-oriented."
Indeed, one need look no further than the two former criminal prosecutors currently serving: Justices Sonia Sotomayor and Samuel Alito.
Sotomayor, a former assistant district attorney in the New York County office, wrote the following in a 2010 dissenting opinion on a decision involving a defendant's Miranda rights: "The Miranda warnings give no hint that a suspect should use those magic words [that he wanted to remain silent], and there is little reason to believe police — who have ample incentives to avoid invocation — will provide such guidance."
Alito, a former assistant U.S. attorney, wrote the 2013 opinion requiring defendants to explicitly state their right to remain silent in order for it to count.
A SHORT COURT
So far, no Senate Republicans have said they support Merrick Garland's appointment to the Supreme Court at this time. They have also abdicated their responsibility to hold hearings and schedule a vote to weigh their decision.
In the meantime, the Supreme Court is left with eight members. When the Court is split 4-4, either the appeals ruling is upheld, or justices can decide to set the case aside until the next term in October, hoping it can be decided by a full court. As of press time, the court appeared deadlocked on a yet-to-be-decided immigration case over President Obama's plan to shield millions of undocumented immigrants from deportation and allow them to work legally in this country. In March, the court split on a case involving public unions. Still remaining in this term, justices are expected to make decisions involving contraception, abortion, affirmative action and jury selection.
"We've asked the Supreme Court more and more to break political logjams in very important, divisive, legal issues," Holland says. "What kind of diversity is essential for those decisions to be accurate and legitimate constitutional decisions in the public eye?" ♦