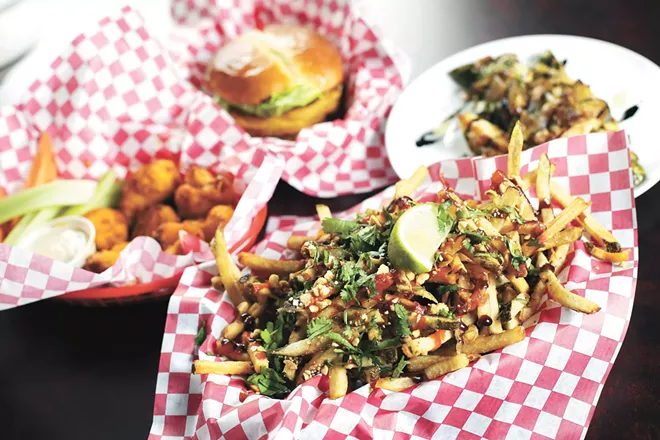 If you're vegan in Spokane, you're well aware of the drool-inducing pumpkin waffles with chai "butter" at Boots Bakery & Lounge. You've already devoured a pizza or hearty brunch at Allie's Vegan Pizzeria & Cafe. Vegan Spokanites know that Main Market Co-op and Huckleberry's carry nondairy yogurts. Mizuna, Wild Sage and Queen of Sheba are obvious spots for meatless celebration dinners and fancy dates.
But what if fancy isn't in your budget? What if you're a vegan lunching with someone who'd rather eat chicken than chickpeas? Conversely, what if you're a beef lover who's in love with a hardcore vegan? Fear not, because here's a helpful roundup of places that offer delicious compromises and not-so-obvious vegan options.
Garageland, 230 W. Riverside
Not all vegans are hippies! A big reason I went vegan at 15 was political punk (Bikini Kill, in fact). So it makes sense that Garageland — a bar named after a song by political punk icons the Clash — serves vegan fare. Meat's on the menu, too, and most appetizers can be made vegan by simple omissions or substitutions. Ask for a vegan version of any burger and the kitchen will send you a falafel patty instead of beef. I ordered Brussels sprouts without bacon ($7) and was delighted by perfectly blackened, quartered Brussels sprouts sweetened with caramelized onions and dijon vinaigrette — delighted! Garageland really does cruciferous vegetables justice. Their Buffalo cauli (hunks of cauliflower treated like Buffalo wings; $7) boasts a golden tempura coating that gives way to tangy, creamy white sauce inside. Its crispy, tender texture and spiciness make dipping sauce truly optional. Garageland's pad thai fries ($7), meanwhile, are a zippy, peanut-topped innovation. Their house fries ($5) — hand-cut daily and served with curry ketchup — are great, too. I did find the soyrizo tacos with no sour cream to be too dry, though. Perhaps avocado or grilled pineapple would moisten up the vegan version? Garageland is soon rolling out a new spring menu, retaining many vegan faves and introducing new items like a tofu-kale bowl.
Ephata Cafe, 1908 W. Northwest Blvd.
Out on Northwest Boulevard near Audubon Park, Ephata Cafe has the opposite of Garageland's loud, dark, punk vibe. The bright, calm cafe decorated with biblical wall art is a soothing place you can take your grandma (they serve eggs and bacon!) or pick up a post-jog juice or smoothie. With an emphasis on fresh ingredients and a large dispenser of cucumber-lemon ice water in the corner, Ephata feels a little like a health spa. The eclectic food menu includes Korean dishes, pastries, meaty croissant breakfast sandwiches and avocado toast ($6). Vegetarians will find plenty here, and vegans can sub tofu in many dishes. For a late lunch, I tried the mung bean pancake ($7), a crispy vegetable pancake that's more of a savory omelette than a sweet flapjack. The chewy pancake came with salty-sour sauce flecked with sea vegetables. Thin strips of carrots, napa cabbage and protein-rich sprouted mung beans made the dish filling, but not too heavy.
Cascadia Public House, 6314 N. Ash
Justin Oliveri, head chef at Cascadia (and co-owner of the South Hill's newly opened all-vegan restaurant Rüt) happens to be vegan, which explains all the dairy-free and meatless choices at this casual establishment with flat screens tuned to ball games. From cheeseless curry mac ($7-$16) to three types of meatless patties, Cascadia's menu features many plant-based possibilities for both meat and cheese. While the pub serves both the Impossible ($16) and Beyond Meat ($15) burgers — two heavily hyped vegan patties designed for meat eaters that appear to bleed when sliced — I opted for cashew queso nachos ($14), and nibbled on a friend's Buffalo cauliflower flatbread ($12). The heaping plate of bean-topped nachos was more than enough for two people. Vegan cheese is hard to get right, but Cascadia's nutty, scratch-made cashew cheese impressed me. Cashew queso and a side of guac made for rich, satisfying nachos. I plan to return to try the barbecue tofu and soft pretzels, maybe while taking in an M's game.
Sushi Maru, 808 W. Main
Conveyor belt sushi restaurants in bigger cities tend to showcase a multitude of veggie sushi options on their display belts. However, at Spokane's Sushi Maru (part of a Western Washington-based chain), accessing fish-free items like steamed edamame pods often requires placing an order. If you don't see cucumber rolls ($1.95/each) scooting along the belt, just ask! Sushi Maru's color-coded plate system lets you customize the price of your meal, and most veggie sushi is quite economical. The sesame balls ($2.80 for three) — hot, sesame seed-coated dough filled with slightly sweet red bean paste — bring tears of pleasure to my eyes. The inari nigiri ($1.95 for two), a pouch-like fried tofu "skin" stuffed with white rice seasoned with sesame oil, sesame seeds and hints of seaweed, is a genius balance of salty and sweet. Inari nigiri may be the closest a vegan can get to eggy, syrup-kissed French toast.
Other Cheap Vegan Treats
Vegans don't subsist on carrots and lentils alone. We, too, get the munchies, the drunchies and intense cravings. We eat fast food and occasionally enjoy tater tots for dinner. For feel-good vegan foods that hit the salty or sweet spot, try these tips when dining out and while grocery shopping.
Grocery Outlet sells a line of delicious fermented raw kimchi (King's brand) that doesn't contain fish. The bargain market also carries frozen vegetable potstickers, along with heavily rotating miscellaneous vegan items. The bulk bins at Winco also offer thrifty vegan choices, including falafel and hummus mix.
The veggie pho and tofu rolls at Pho City are wonderfully savory and protein-rich.
And when it comes to fried potatoes, I'd say Post Street Ale House and Dick's Hamburgers are tied for best French fries.
When your sweet tooth is calling, Casual Friday Donuts on Division prepares a few vegan pastries daily. (Be warned, though, as sometimes they sell out.) I recommend Casual Friday's maple bars, coconut-sprinkled donuts and fried cinnamon rolls, called Persians. But don't bother with the fritters; they're too dry and yeasty.
Pop into Northwest institution Taco Time for piping-hot, cinnamon-and-sugar-dusted cherry or apple empanadas ($2.29) — both are vegan! ♦