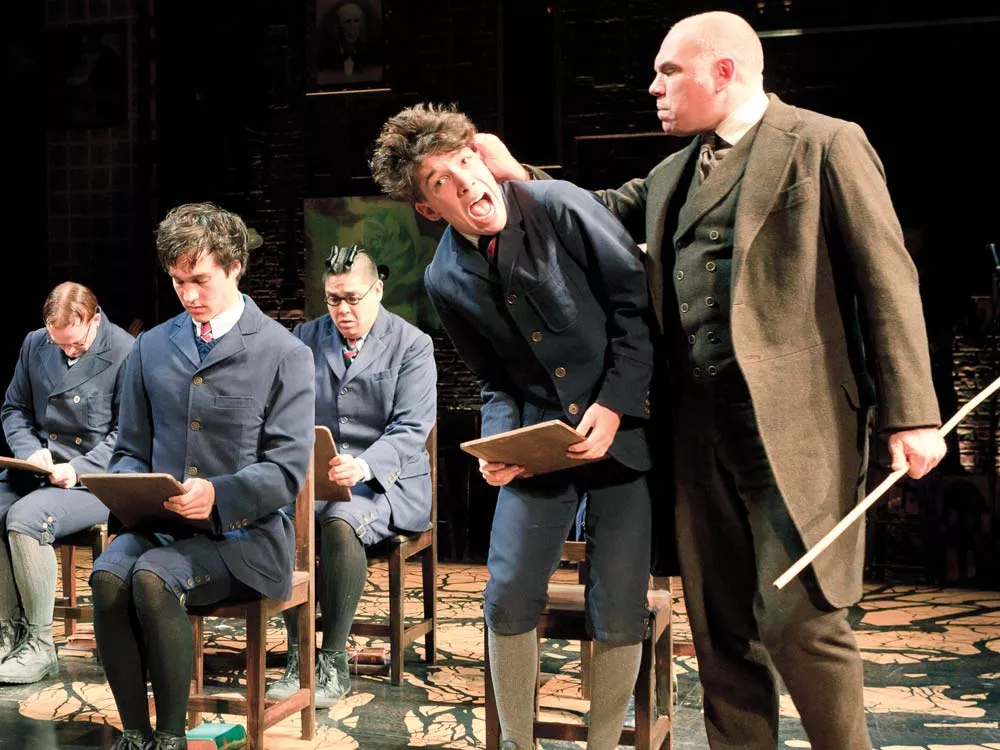 An all-boys German classroom, 120 years ago. The look is colorless, buttoned-up, severe. A glowering headmaster is actually drilling his students in Latin. And then suddenly, they all whip out hand-held mics, and the classroom erupts in spontaneous protest, and everything's chaos — guys are jumping on the schoolroom desks and shouting about how they want to rebel against something, anything, and how they want to pleasure themselves, or maybe both at the same time: "Give me that hand, please, and the itch you can't control/ Let me teach you how to handle all the sadness in your soul."
It's "The Bitch of Living," the third song in Spring Awakening, and the one that best encapsu lates the entire show: from repression to rebellion, a plea from angry teens — let us live our lives more fully, tell us what we need to know.
Earlier, the girls of this German village have sung a protest-ballad about mothers who, as a form of control, keep their daughters in ignorance:
"Mama who bore me,
Mama who gave me
No way to handle things,
Who made me so sad."
Before this rock show is over, systematic repression is going to have its consequences.
A show about masturbation, abortion, homosexuality, child abuse, teenage rebellion and suicide? Even if it did win a slew of awards on Broadway, how is that kind of musical going to be received in a conservative area?
Christopher Wood, who plays the lead role of Melchior in the current national tour, has a surprising response: "Sometimes in big cities," he says, "you don't get much of a reaction. But in random cities — mostly in the Midwest, where we've been the last couple of months — we often get huge, wild reactions. People soak it up. They crave this kind of stuff."
What we crave is art that acknowledges what we feel: Beneath the starched collar and the prim manner, passions are surging, roiling. And it's not just sex. Sure, the teenagers in Frank Wedekind's 1891 play are horndogs. But what Duncan Sheik and Steven Sater realized in their 2006 rock musical is that Melchior and his gang, like the rest of us, want a life that's full, without any arbitrary restrictions. And involved in there, somewhere, is sex.
Lots and lots of it, preferably, and in all its permutations. When the kids sing "Touch Me," for example, some of it involves boys fantasizing about other boys. And because some of Spring Awakening's conclusion involves waste and shame and tragedy, this autumn's rash of gay suicides "absolutely validates the show," Wood says. "Because you can't say it doesn't still happen." Cast members talk about it all the time, he says. Some of that jumping-around protest energy comes from the fact that several of them know kids who have killed themselves. Sometimes even the fiction and artifice of musicals take on real-life concerns.
Spring Awakening takes on another issue, too: our ambivalence about sexual desire. When Melchior and his love interest, Wendla, find themselves alone together for the first time ("Haven't you heard the word of my wanting?"), their mutual passion is muted. But by the time they meet again, things have changed: Wendla has heard about how her friend Martha is being physically and sexually abused ("There is a part I can't tell/ About the dark I know well"). Wanting to feel what her friend had gone through, Wendla asks Melchior to make her feel something like the same kind of pain.
Wood says that the ensuing scene, which touches on the sadomasochistic, is difficult to perform: "It's like a switch is flipped — [Melchior] just leaves all thought, all playing, behind. For the first time in his life, he goes entirely on emotion. She exposes her bare legs, and this is the closest he's ever been to a girl, and it does something to him."
He wants it, in other words, and he doesn't want it. He has fantasized about it, and he feels guilty about it. He can't take his eyes off her, but he has to punish her, too.
"It sends him," Wood says, "on a downward spiral, a sexually frustrated explosion of energy."
Repression gets blown up in Spring Awakening, but the refusal to teach, inform, and set free extends, by implication, to lots of other areas. Parents conceal knowledge about plenty of other topics (alternate careers, drugs, self reliance, family secrets), from their teenagers. And the teens, they aim to protest.
With songs that sound like today's music — not Grandpa's — Spring Awakening is a cry from the heart. Repressed desire usually finds its way. n michael@inlander.com
Spring Awakening • Wed, Jan. 19, at 7:30 pm • $35-$57 • INB Center • 334 W. Spokane Falls Blvd. • bestofbroadwayspokane.com • (800) 325-SEAT