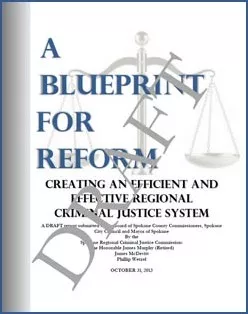 A yearlong examination of countywide law enforcement, court and jail services by the Spokane Regional Criminal Justice Commission has resulted in an ambitious five-year reform plan to improve efficiencies, cut incarceration costs and expand alternative justice programs.
The commission, created in November of 2012, released a draft report last week of more than 40 proposed recommendations, ranging from the consolidation of redundant services to the eventual construction of a Community Corrections Center for directing defendants into specialized courts, social services and drug treatment.
"It's going to take a great deal of political will" to implement, says retired Judge James Murphy, who chaired the three-person commission. "It was a pretty ambitious project."
The commission set out a timeline to monitor progress over the next five years. The first steps recommend a permanent Regional Justice Commission along with a Law & Justice Coordinating Committee, then hiring a criminal justice administrator to oversee smaller work groups and continuing reforms.
Murphy says he hopes to see those initial groups move the justice system toward offender-based programs that manage defendants according to their risks or needs. Committees would also take charge of consolidating services, upgrading technology and breaking down obsolete barriers between departments.
"It has become clear to us that the regional criminal justice system is maladapted for current and future needs," the report states. "As it exists, it is stove-piped and inefficient. ... There is a lack of trust, no unified leadership, duplicated services between and among jurisdictions across the system, and it unnecessarily costs the city and county taxpayers thousands of extra dollars each day."
From there, the commission would like to see more electronic home monitoring or alternative sentencing. They also recommend expanding therapeutic courts and diversion programs, eventually establishing a 24-hour corrections clearinghouse for "triaging" defendants into their appropriate programs.
"There are some functions that are going to take some time," Murphy says. "Those are some big things."
Many of the commission's recommendations closely reflect ideas and initiatives championed by the Smart Justice Spokane campaign. Mary Lou Johnson, a volunteer advocate with the campaign, says the commission has presented a strong and compelling argument for reform. "We think it's really a landmark report," she says. "They have some really clear ideas."
Breean Beggs, a local attorney and justice advocate, says the new report contains an unvarnished assessment of the complicated problems plaguing the Spokane justice system.
"They told the truth of what the current situation is and what needs to happen," Beggs says. "The public really got what they deserve ... a straight answer."
Beggs says the preliminary recommendations read almost like a checklist of Smart Justice proposals.
As proud as he is of the final product, Murphy says city and county officials will need to uphold their commitment to changing how the justice system "does business."
"The [commission] and community have been promised that this report will not be 'put on the shelf,'" the report states, "and it is our hope that the city and county will follow through on this promise to carry out the recommended reforms." ♦
Read the full report here.