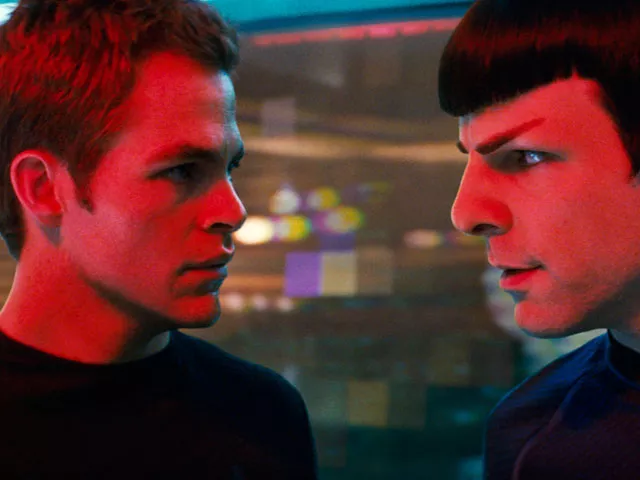 A Christmas Carol

Nov. 6 Jim Carrey plays four roles (Scrooge and the ghosts of Christmas Past, Present and Future) and Gary Oldman plays three (Bob Cratchit, Marley and Tiny Tim) in the CGI/3D version of the Dickens classic.

While this may be the gazillionth time somebody's remade the Western world's most-beloved tale, the latest fi lm directed by Robert Zemeckis (Forrest Gump, The Polar Express) — with its stunning visuals, action-packed sequences, and did I mention Jim Carrey? — might change the way we see Dickens for good. Rated PG (TLM)

Pirate Radio

Nov. 13 With rock 'n' roll now the domain of truck commercials and TV crime procedural intros, it's easy to forget that, at one time, it was once the go-to way to cheese off the squares. In the 1966 Britain of Pirate Radio, loosely inspired by a sorta-true story, rock 'n' roll music has been effectively banned from the radio. But the stuffed shirts can't control one thing: international waters. A band of rogue DJs set out to sea, using a large ship to broadcast their corrosive brand of rhythmic fi lth on public airwaves and thereby warping the minds of innocent youngsters. Fortunatelya heroic squad of determined bureaucrats rolls into action, intent on thwarting the malefi cent musical madness. At fi rst blush, Pirate Radio looks phenomenal, featuring great British character actors (Bill Nighy, Kenneth Branagh and Nick Frost) and great American character actor Philip Seymour Hoffman. A longer version of Pirate Radio has been out since April 1 in Britain under the title The Boat That Rocked. Most British movie reviewers used some variation of "Pirate Radio does not rock" — calling the movie muddled, incoherent and disappointing. What a bunch of squares. Rated R (DW)

Fantastic Mr. Fox

NOV. 25
Let's be honest. If George Clooney were reincarnated, there's no way he'd come back as anything but a fox in a crisply pressed business suit. So for director Wes Anderson's fi lm adaptation of the Roald Dahl classic Fantastic Mr. Fox, Clooney seems the perfect lead. Here's the light plot: After Mr. Fox steals chickens from three cranky farmers, the farmers vow Moby Dickish revenge. Fox, ever a sly gent, joins forces with other forest creatures and launches a Danny Ocean-style campaign of terror against the farmers. Requisite Anderson actors Owen Wilson, Bill Murray and Jason Schwartzman round out the cast. But plots were never very important to director Wes Anderson (Rushmore, The Royal Tenenbaums).

He prefers character to consequence. He'll reveal a quirk for the quirk's sake. He works unceasingly to be unique; he plans his carefully coiffed randomness to an exquisite degree.

From the trailer, Fox's pace seems luxurious, spending more time on preciousness and bone-dry humor than pop-culture references or genuine cleverness and emotion.

Most focus will be about Fox's vintage choppy stop-motion animation (like Rudolph the Red-Nosed Reindeer, or Seth Green's Robot Chicken, except not every scene ends with a crotch kick and a decapitation). Rated PG (DW)
Precious
Nov. 20 or later

Based on the novel Push by author and performance poet Sapphire, Precious counters the usual fatalistic outlook for a poor, young black woman with a hopeful story. Clareec "Precious" Jones is 16, illiterate and pregnant by her mostly absent father. Her mother abuses her daily. When Precious lands in an alternative high school, she's not even sure what "alternative" means, but she seizes what might be her last chance to break free. Rated R (EP)
The Road

Nov. 25

Cormac McCarthy's Pulitzer Prize-winning novel, The Road, is spare, haunting and horrifying as it describes a journey through the end of the world, following a father and his young son staggering across a devastated landscape in search of a warmer climate and kinder people. From the trailer, clips and early reviews, it appears the movie will be just as vivid and heart-wrenching.
Viggo Mortensen lost weight for the role of The Man, and he appears gaunt, dying and desperate — burdened by trying to secure his young son's survival. The apocalypse — its cause is never mentioned — happened 10 years before: Ash still rains from a sky so clouded that no food will grow.
Local note: Parts of the movie were filmed at Mount St. Helens; others in New Orleans after Katrina; and still more in Pittsburgh and some of its more environmentally blasted surroundings.
The dwindling human survivors tear apart what's left of their cold, poisoned world, seeking food. Eventually they turn to cannibalism. Lonely, grim and hopeless, it's the antithesis to a Mad Max-style apocalypse. And the trials and horrors of the father and son have all the more impact because they are not garish horror-movie horrors. This, you think in the back of your mind, could really happen.
There is already Oscar buzz for Mortensen and his young co-star, 11-year-old Australian Kodi Smit-McPhee, playing The Boy. The film has a stellar cast, with Guy Pearce (The Hurt Locker) and Charlize Theron as The Wife (a role expanded from the novel). Robert Duvall plays a pivotal character met along the way, as does Michael K. Williams (Omar from The Wire). Rated R (KT)
Invictus

Dec. 11 or later

The struggle for civil rights and racial and sexual amity. Plucky sports underdogs. Clint Eastwood. If your film has any one of these elements, it's guaranteed to do well at the box office. If your film has any two of these elements (recent examples being Million Dollar Baby, Remember the Titans, Gran Torino), it may gather critical acclaim as well.
What if, though, a film were to somehow — some way, through a freak roll of the dice — manage to have underdogs with something to prove, Clint Eastwood and a civil rights angle? That'd be like Titanic-meets-Guess Who's Coming to Dinner huge.
Nine
Nov. 25

It seems there is nothing that Daniel Day-Lewis can't do. He can play an oil tycoon (There Will Be Blood), a poet with cerebral palsy (My Left Foot), a gang leader (Gangs of New York). And in Nine, he shows he can sing, too.
DDL singing and being generally amazing is one reason to catch Nine, a film that's already catching early predictions for Best Picture this year. But here are some other reasons: Judi Dench. Sophia Loren. Marion Cotillard. Six Academy Award winners in one movie.
Or maybe you just need one reason? OK: Fergie. Nine isn't just a musical — it's a two-and-a-half hour mega-musical, one with an estimated budget of $55 million. It's a beloved story, clearly: This Nine is a musical based on a book adapted from a musical derived from a play inspired by a film. Or at least that's what Wikipedia says. This version chronicles the midlife crisis of Guido Contini, an Italian film director who's just turned 40 and is grasping at the shreds of his life. His latest film is in pieces and he's got a few too many women in his life: a wife, a mistress, a sexy muse, a bossy co-worker, a nosy journalist, a childhood whore (what?) and, of course, his mother. Damn. I'm a girl, and I'd be having a mid-lifer if I had that many women in my life. Rated PG-13 (LS)
The Lovely Bones
Dec. 11 or later

Based on the best-selling 2002 novel by Alice Sebold, The Lovely Bones is already getting Oscar buzz for its depiction of a 14-year-old girl (Atonement's Saoirse Ronan) who is raped and murdered and then goes into a kind of in-between state, from which she watches her family cope and her murderer (Stanley Tucci) prepare to strike again. Also starring Mark Wahlberg and Rachel Weisz, the film is part What Dreams May Come, part Ghost and — judging from the trailer — part schlock. Not Rated (JS)
Avatar

DEC. 18
We honestly don't know what to think. James Cameron has made a career of making enjoyable (Terminator 2) and often complex, emotionally deep (Alien, The Abyss) pieces of art out of what were essentially action-packed excuses for special effects and high explosives. Blockbusters of the fi rst order. He also somehow managed to turn a simple love story centered on a well-known tragedy into the biggest moneymaker of all time. Clearly, on several levels, the guy knows how to give people what they want. His latest fi lm — which comes an incredible 12 years after Titanic upped every benchmark for a successful fi lm — has us worried the guy might have lost his touch. A sci-fi storyline we've heard a million times mixed with copious use of computer graphics of the Jar Jar Binks variety all wrapped in a stereoscopic 3-D process of his own making has us afraid that Cameron, who has always loved technology, has fi nally gone over completely to CG I-porn Seriously: Humanity colonizes a planet for its natural resources, seeks pacifi cation of indigenous aliens by diplomacy or genocide or whatever. Paraplegic Marine is given a chance to walk again by mind-melding with an alien-looking body surrogate (an avatar) that will allow him to infi ltrate the alien society. Soon after going to live among them, the Marine begins to rethink the whole genocide thing. Eeeesh. And it's three hours long! Cameron pledged in 2003 that he'd never make another fi lm in 2-D again. Let's hope he remembered, whilst preoccupied with making his creation leap out from the screen, to give the story depth as well. Not Yet Rated (LB)
The Princess and the Frog
Dec. 11

Disney's newest love story details the hard-working Tiana's epic journey: She unwittingly falls into love when she mistakenly believes a prince-turned-frog and kisses him to break a curse. Turns out the prince's theory was all wet; she gets turned into a frog herself.
Based on a classic story by the Brothers Grimm, The Frog Prince, this leaping love story (from the creators of Aladdin and The Little Mermaid) stars the voices of Oprah Winfrey, Terrence Howard, John Goodman and Angela Bassett. Rated G (TLM)
It's Complicated
Dec. 25
No, this is not a movie about your Facebook relationship status. But if Jane (Meryl Streep) were on Facebook, "it's complicated" is exactly what her status would read. A decade after divorcing, Jane and her ex-husband Jake (Alec Baldwin) are forced into a reunion by their son's out-of-town graduation. Dinner together turns into an affair, and suddenly Jane is "the other woman" to Jake's much-younger second wife. And so, Jane's stable divorcée life is suddenly very... complicated. Not Rated (EP)
Sherlock Holmes

Dec. 25

Certain questions arise when a 19 th -century detective is dragged before 21 st -century audiences. Will he wear a tweed capecoat or a deerstalker upon his head? Will he smoke from a curvy pipe? Will he utter those famous, if frivolous, words, "Elementary, my dear Watson"?
With this new and very modern Sherlock Holmes, the answer to all three questions very likely is a "no." Starring a gaunt Robert Downey, Jr., as the famed gumshoe, and directed by Guy Ritchie (of Snatch and Lock, Stock and Two Smoking Barrels fame), the movie energetically updates what has become a well-known, and very tired, character.
Set in 1891, the movie joins Holmes with his devoted sidekick, Dr. John Watson (Jude Law), to prevent the Satanworshipping Lord Blackwood (Mark Strong) from carrying out a plan to destroy fair England. With Downey's portrayal of Holmes as a whimsical and patriotic bohemian — original traits crafted by Arthur Conan Doyle but largely ignored in other films — the battle between the flighty detective and his evil nemesis should be a romp, if nothing else.
"The more I look into the books, the more fantastic it is. He's just such a weirdo," Downey said. "When you read the description of the guy — quirky and kind of nuts — it could be a description of me on some days." Not yet rated (ND)
Up In The Air

Dec. 25
There's a lot going on in Up in the Air. So much so they had to make a second trailer, just to get the plot points across. Loosely based on a 2001 novel by Walter Kirn, the film stars George Clooney as a career transition counselor — that is, a jet-setting professional who flies from company to company, city to city, firing employees for CEOs too timid to do it themselves.
In the meantime, he collects airline frequent-flier miles like they're tickets to paradise, and he extols the virtues of living life unencumbered by relationships and other baggage. "The movie is about the examination of a philosophy," director Jason Reitman told the Wall Street Journal. "What if you decided to live hub to hub, with nothing, with nobody?" Of course, this being a Clooney vehicle, there's somebody for him, even if it's another jet-setting lone wolf.
Co-starring Vera Farmiga, Jason Bateman, Danny McBride, Zach Galifianakis and Sam Elliot, this is a big-cast dramedy with big questions about the value we place on our fellow human beings. Rated R (JS)
---
Double Your Oscar Fun
Will 10 Best Pic nominations mean that both popular and artsy films get recognized? Not as much as you'd think
It's all Heath Ledger's fault. So many last year — and the Oscar telecast ratings have fl at-lined so much in recent years — that Academy bigwigs have doubled the size of the Best Picture fi eld to 10 nominees. Throw a sop to popular fi lms, the reasoning goes, and ratings will ascend even as the best artsy fi lm still wins. (If they'd had 10 nominees last year, both The Dark Knight and WALL-E would have scored, in addition to morose stuff like Benjamin Button.)

The problem has been that critically acclaimed fi lms have done so poorly at the box office. (Two years ago, There Will Be Blood had earned only $9 million before the Oscar ceremony; it eventually earned $40 million). And box-offi ce winners tend to get snubbed at Oscar time. (Sorry, Transformers.) But what if adding fi ve more Best Pic slots just adds up, mostly, to more Oscar-typical nominations?

Based on the educated guesses (emphasis on the latter) of critics and Oscar-fanatic bloggers, I'll venture that fi ve movies picking up Best Picture nominations on Feb. 2 will be Invictus, The Lovely Bones, Nine, Up in the Air (see p. 35, 37) and Up (Pixar's animated balloon-flight to South America, and the only one of these fi lms yet released).

As for the next fi ve nominations, fi gure on: An Education (based on a Nick Hornby novel about London in the '60s, with Carey Mulligan gathering Audrey Hepburn comparisons for her ingénue role) and The Hurt Locker (which has earned only $13 million, but it's the fi rst outstanding fi lm about the Iraq War and, along with Up, it's the critics' favorite among likely Oscar contenders).

Also sneaking in: Precious (see p. 34), along with Star Trek (fi fth at the box offi ce with $256 million, and with a score of 83 at Metacritic), and Inglourious Basterds (only 69 at Metacritic, but it's a Tarantino comeback fi lm and in the year's boxoffi ce Top 20).

Just missing out (even with the expansion to 10 nominations): District 9 (with a Metacritic rating of 80 and a serious theme, but it's "only" sci-fi , and the actor-heavy, graying Academy won't give it enough votes); Brothers (a love triangle amid the war in Afghanistan; sounds too much like Pearl Harbor); A Serious Man (the Coen brothers get too personal?); and Bright Star (a costume drama that too few people have seen).
In summary: Doubling the ante to 10 will only get Oscar a couple of widely popular movies to play with. What will get recognized, mostly, are more of the usual suspects among "Oscar films."