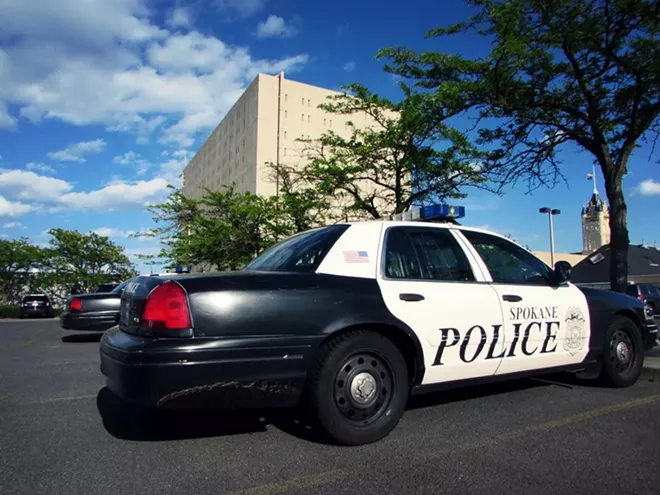 S
pokane law enforcement agencies
are stressing that they won't be issuing tickets or arresting people for violating the
stay home order
that Gov. Jay Inslee issued last night to slow the spread of COVID-19. Instead, they'll be focused on educating the public about the measure.
The
order
mandates that, for two weeks, Washington residents not leave their homes except for "essential" activities, such as grocery shopping, going to doctor's appointments or pharmacies, and outdoor exercise. Additionally, all businesses — except for those deemed as "
essential
" — must close. All social, spiritual and recreational gatherings are also banned.
"This is a human tragedy on scale that we cannot yet project. So it's time to hunker down in order to win this fight," Inslee said during a televised address on Monday evening. "We expect everyone in our state to comply with these orders voluntarily. For a simple fact, it's because everyone knows that all of our loved ones are at risk here."
But he also stressed that the order is legally enforceable. Violating an order issued by the governor during a state of emergency amounts to a
gross misdemeanor
.
"Make no mistake, this order is enforceable by law and can be enforced," Inslee says.
State
and local law enforcement agencies taking the position that they will be focusing on educating the public about the order, rather than cracking down on violators.
The Spokane Police Department stressed in a Monday evening news release that they will not be ticketing or arresting people who violate the order.
"The Spokane Police Department's primary role in supporting the governor's stay at home order is to help educate the community about how to comply. We are not being asked to detain, arrest or ticket those outside compliance," the statement reads. "Again, Spokane Police officers will be educating about, rather than enforcing the order."
Similarly, Spokane County Sheriff Ozzie Knezovich said at a Tuesday press conference that his agency will not be cracking down on violators and will be trying to proactively educate the public.
"We're expecting you to enforce that yourselves. We are there to remind you, we are going to guide you in that direction," he says. "This is not a hall monitor situation. You don't need some kind of pass to leave your house."
However, he didn't rule out consequences for nonessential businesses, for instance, who keep operating. Spokane Regional Health District Officer Bob Lutz is aware of a few businesses who are not in compliance, Knezovich says. He also says that potential options like issuing tickets or pulling business licenses are "on the table."
"They can either follow the directions or we are going to have to take steps to correct that for the safety of the community," he says. "We are going to do our best to work with our community, not punish the community."
"If we see a large gathering, we are going to recommend that it gets broke up and it will be a sterner recommendation," Knezovich says. "But the last thing that we want to do is arrest people over this because where are we going to put them?"

At Tuesday's press conference, Lutz says that the stay home order is necessary to fight the COVID-19 pandemic. The number of COVID-19 cases in Spokane County nearly doubled over the course of two days to 29.

"If I were to look right now at our local numbers, we're not flattening the curve. And I think when you look at it from a state level, we are not flattening the curve yet," Lutz says. "So we've incrementally had to increase, what we call nonpharmaceutical interventions to the point where we are right now."
"Having to go to this next step indicates that, collectively, we've not really followed through with what public health has been providing as recommendations," he adds.
When asked when Washington state may reach its peak for new COVID-19 infections, Lutz compared countries that have taken very aggressive social-distancing measures in response to the pandemic and those that were slower to react.
"My concern is that unless we really start to ratchet this up in a significant way, we're going to be one of those countries that does not have a slow flattening of the curve," he says.