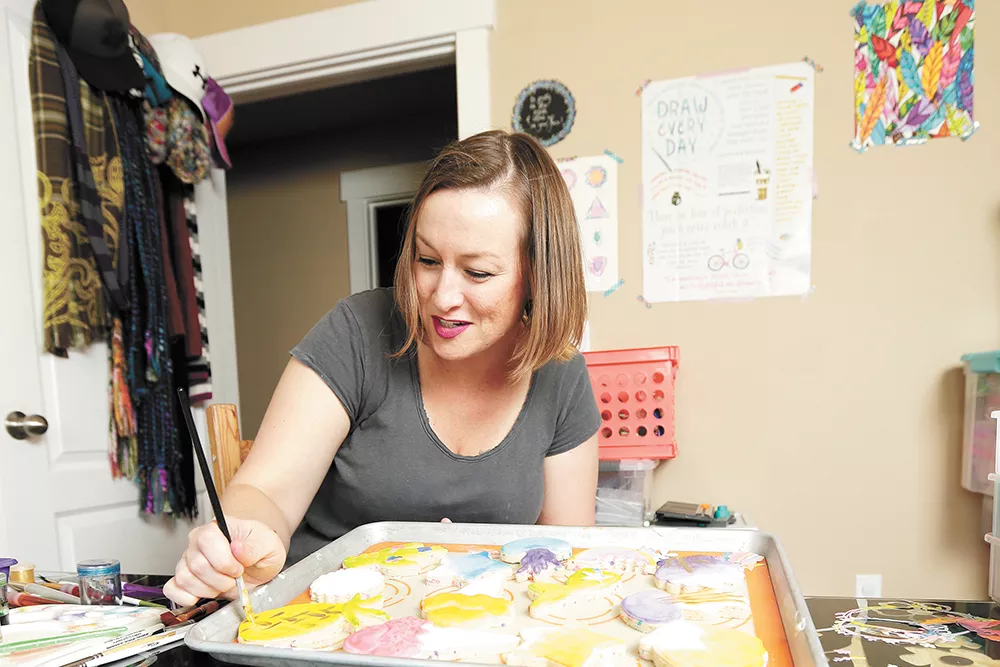 SUGAR DADDY
Just in time for Father's Day (June 21), Electric Sugar Cookie has a "pizza" kit the little ones can "cook" with dad. For $24, you get an 8-inch round of cookie dough (crust), one bag each of red and white icing (sauce, cheese) and more to make toppings like bell pepper and olives. Visit Facebook: Electric Sugar Cookie.
HOT TO TROT
Greenbluff's Harvest House is hosting the 42nd annual Cherry Pickers Trot and Pit Spit (say that without laughing). It's seriously good fun supporting Second Harvest Food Bank, July 16. Register to run, show up for the "spit" (5:30 pm) or just chill on-site. Visit greenbluffgrowers.com/cherry-pickers-trot.
TASTE COEUR D'ALENE
Art on the Green may have gone virtual but Panhandle Kiwanis' Taste of Coeur d'Alene event is on for July 31-Aug. 2 at City Park. You're outdoors by the lake eating something yummy at a picnic bench. Yeah, feels like summer. Visit panhandlekiwanis.org/taste-of-cda.html.
BINGEFEST
It's the kind of bingeing that won't impact your waistline: hours of food TV for when you can't be outside. Rediscover Ratatouille — ze rat iz ze cook? Go back in time with Anthony Bourdain. Get hooked on Netflix' Sugar Rush. Gourmet popcorn optional.
HUCK IT UP
It's ol' fashioned fun in Wallace for the annual Huckleberry Festival celebrating Idaho's favorite fruit. Shop the farmers market, queue up for huckleberry pancakes, listen to live music and have local beer from 9 am to 2 pm on Aug. 15. Visit wallacehuckfest.com.
FIGHT THE GOOD FIGHT
When the pandemic hit, Spokane Food Fighters marshaled efforts to help deliver food to those in need. Want to join? Sign up at spokanefoodfighters.org for a two-hour shift Sunday through Thursday, roughly from 4-6 pm, then deliver the microwave-ready meals to homes.
S'MORE THAN YOU ASKED FOR
Melted chocolate, toasted marshmallow and Graham crackers make for an all-ages camping favorite. Tinker with this classic by subbing gourmet chocolate or other cookies, adding fruit or peanut butter. Or try campfire cone s'mores: Fill waffle cone with chocolate and marshmallows, wrap in foil, grill, unwrap and top with ice cream. Delish!
PEACH-PERFECT WEEKEND
Enjoy peach season and the second annual Food Trucks and Fruit Festival, 10 am-4 pm on Aug. 22-23 at Beck's Harvest House in Greenbluff. It's live music, peach-themed events, and some of your favorite area food trucks. Visit facebook.com/becksharvesthouse.
DINNER DANCE
Ever heard a quiet square dance hall? Of course not; these folks know how to have a good time! Join them at their annual outdoor barbecue salmon dinner on Aug. 23 at Western Dance Center from noon to 4 pm (entertainment from 2-3 pm). Tickets are $10 for kids, $12 for 65 and up and $15 for adults. Visit facebook.com/SpokaneSDC.
STAY HOMEGROWN
Remember when you learned how to grow something, like a bean in a Dixie cup? That little fist of green emerging from the soil — you did that. Well, you helped at least. Recreate that magic and what might be a lifelong interest in growing your own food. Start with peas, beans, potatoes, or even culinary herbs in a windowsill planter and let the magic happen. Then see where your garden grows.
IN A PICKLE
Looking to eat more veggies? Pickle them. Quickly. Simply: vinegar, salt, spices and a good recipe. (We like thekitchn.com.) Easily transform garden surplus into a crisp, refreshing, healthy snack that pairs with whatever's on your plate and is fridge-safe for weeks.
FAIRLY GOOD
Mark your calendars for the fair: Aug. 26-30 in North Idaho at Kootenai Fairgrounds (nisfair.fun) and Sept. 11-20 at Spokane's Interstate Fairgrounds (spokanecounty.org). Lots of good eats at both. Just remember to let it settle before hitting the rides.
PIG OUT IN THE PARK
Nothing says savor summer's end days like Pig Out in the Park, Sept. 2-7, from 11 am-10 pm. They're celebrating 41 years of filling people up with food and togetherness in Spokane's jewel, Riverfront Park. Visit pigoutinthepark.com.
PICNIC LIKE A PRO
June 18 is International Picnic Day, a reminder that picnics get you out enjoying nature and each other's company both.
Unless there's a table handy, create a dining area with a thicker blanket you can wash later. An umbrella makes for portable shade, while a few throw pillows, according to Country Living, can make leaning for long periods more comfortable.
Travel expert Rick Steves recommends real cutlery and a good knife — wrap in a towel, which can be used for cleanup. A heavy plastic lid doubles as a plate and cutting surface.
To carry the goods, coolers provide a sturdy surface and seat, but for hikers, backpacks become soft coolers through plastic bags, ice packs and careful packing. Lidded plasticware, for example, keeps things from getting crushed and act as serving containers. Double up on water, too; partially fill and freeze freezer-safe water bottles for ice packs that melt into drinking water later.
Then there's food, which can be classic — fried chicken and potato salad — to fancy-schmancy wine and charcuterie. Raid the grocery's ready-to-go aisle, order up sushi, or hit the easy button with sandwiches. Just remember to leave no trace so the next folks can enjoy nature, too. ♦