As far as breakthrough albums go, it's hard to find one shorter than Slayer's Reign in Blood.
The California-based quartet's third album arrived in 1986, their first of four releases to sell more than 500,000 copies, and managed to cram 12 songs into less than 29 minutes. (By point of comparison, consider that the Ramones' 14-song debut comes in at just over 29 minutes.)
Of course, no one ended up talking about Reign in Blood's brevity once they heard the hyper-speed riffs from guitarists Kerry King and Jeff Hanneman, and especially singer/bassist Tom Araya's lyrics, on opening track "Angel of Death," about the atrocities perpetrated by Nazi monster Josef Mengele at the Auschwitz concentration camp. The band had to spend some time in early interviews batting off suggestions that they were condoning Nazism with the song, and eventually the media and fans' focus returned to Slayer's intense blending of metal and punk that soon had them labeled as part of thrash-metal's "Big Four," a group that includes Metallica, Megadeth and Anthrax.
Remarkably, all those bands are still recording and touring to various degrees of success. But Slayer is the first to announce its retirement. That announcement came in January 2018, and the band is currently on the seventh and final leg of its farewell tour (the aptly named "Final Campaign"). After the band hits Spokane Arena Sunday night, they'll only have three more shows before Slayer is laid to rest.
The end comes four years after the band released Repentless, their 12th album and first since founding guitarist Hanneman died in 2013. Gary Holt (Exodus) has been filling in for Hanneman since, and he'll be in the fold along with Araya, King and drummer Paul Bostoph (who's been in and out of the band several times since the early '90s, when he replaced founding drummer Dave Lombardo).
While fans can expect songs stretching across four decades, a bombastic, fiery stage show, an insane mosh pit and a preponderance of "devil horns" thrown in the air throughout the night, they can also expect a surprisingly interesting crew of opening acts that make this show feel more like a festival than a simple Slayer sendoff. Rather than trot out some thrashers-come-lately or fellow old dudes, Slayer is bringing along some bands that could easily be headlining their own gigs. Let's break it down: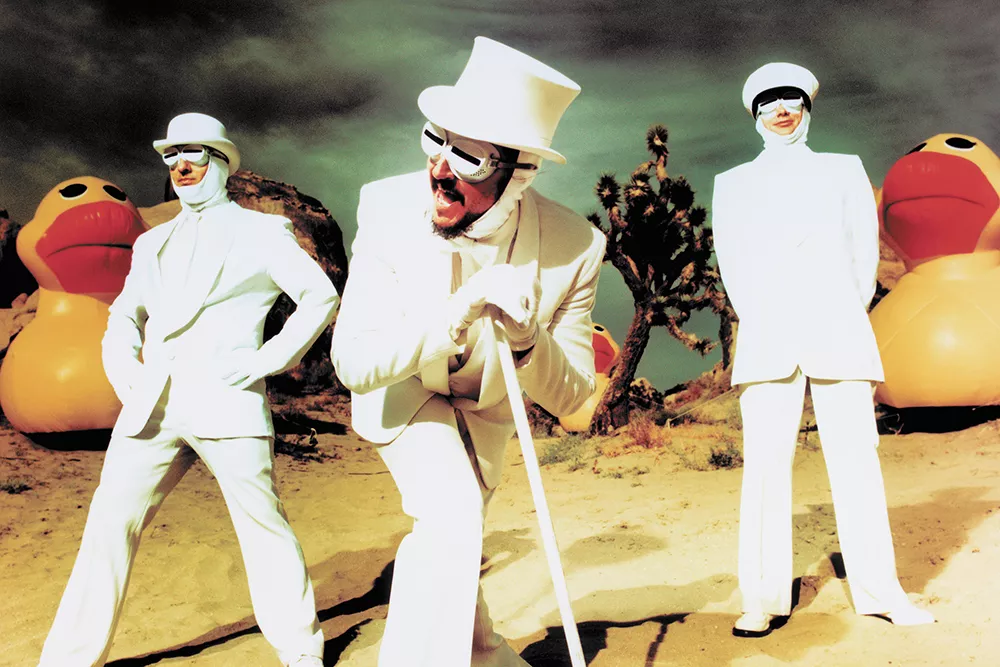 PRIMUS
It's a testament to how sonically wide-ranging Primus' music is that they're on a bill with Slayer and it's not completely befuddling. But it is a little bit! The art-rock trio hit the big-time as part of the so-called "alternative" music boom of the early '90s, when albums like Frizzle Fry, Sailing the Seas of Cheese and Pork Soda earned them mainstream radio play and a headlining spot on Lollapalooza. And, of course, they penned the South Park theme song. The band's best-known lineup of bassist/vocalist Les Claypool, guitarist Larry LaLonde and drummer Tim "Herb" Alexander are back together, and in recent years they have collaborated with jam-banders like Phil Lesh and indie-pop folks like Sean Lennon. Their music is joyfully surreal, and Claypool's bass-playing is absurdly fun. I would never think of them as metal, so I'll be curious how Slayer's fans react to them.
MINISTRY
Formed in 1981, the same year as Slayer, Al Jourgensen's Ministry evolved from a sound nowhere close to the headliners' aggression — dancey synth-pop — into an industrial-metal juggernaut. Albums like The Land of Rape and Honey, Psalm 69: The Way to Succeed and the Way to Suck Eggs and The Mind Is a Terrible Thing to Taste (celebrating its 30th birthday this year) made Ministry regulars on alt-rock radio in the late '80s and early '90s. Despite myriad lineup changes and Jourgensen's once-prolific drug use, Ministry has stayed relatively active for nearly four decades now. The band, now including former Tool bassist Paul D'Amour, released its 14th studio album, AmeriKKKant, in 2018, and they've always been pretty awesome live.
PHIL ANSELMO & THE ILLEGALS
Best known as the singer for Pantera, Anselmo's fronted a ton of bands since that band split up, including Down, Superjoint Ritual and others. This is the name for his current go-round, which released an album in 2018 called Choosing Mental Illness as a Virtue. On this tour, though, he's doing primarily Pantera tunes. If that's your thing, and considering Anselmo is first on the bill, you should prepare to enter the Spokane Arena screaming. ♦
Slayer with Primus, Ministry and Phil Anselmo • Sun, Nov. 24 at 6 pm • $40-$90 • All ages • Spokane Arena • 720 W. Mallon • spokanearena.com • 279-7000